Well, I guess it's Friday – because there is a 2000 Bimota DB4 for sale in North Alabama!
<4k miles
Complete MotoCorse kit (exhaust, carbs, tank, etc.)
Factory ½ fairing
Custom tri-color paint
4-pad calipers
Marchesini forged Mg wheels
Brembo radial master cylinders (forged, both sides)
Enlarged rear storage area
The DB4 shares the same engine as the air-cooled Ducati 900 SS but with Bimota's own alloy trellis frame, handled by Paoli forks up front with an Ohlins shock in the rear.  The DB4 in standard trim is already a very nice handling and fun bike – with all the super desirable (full Motocorse kit [!] and forged Marchesinis … oi!) go-fast goodies added, this DB4 will for sure be one wicked ride!
Just for reference, here are some other tasty DB4s:
Full Carbon Dream carbon body work, lots of titanium bits and Motocorse goodies, Ohlins forks, Marchesini wheels… the best DB4 I've seen so far!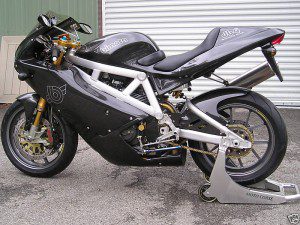 An early version (I think) of Japanese Bimota specialist Motocorse's own DB4C
Motocorse's version of their "production" (production meaning only 50 were ever made) Db4C with 944cc big bore kit, FCR carbs, titanium full exhaust system, forged wheels, suede leather seat…
Personally, I would have preferred the Carbon Dream version or Motocorse's DB4c, but considering this one has the full Motocorse kit AND the Marchesinis, I wouldn't kick it out of bed for eating crackers either!  Standard DB4s have been floating around the $9000 range, so this one at $10,000 is definitely a good deal (the seller was asking $15,000 only a little over a year ago).
If you have been wanting to join the Bimota brigade, now is the time!
phil