Harley-Davidson introduced the XR-750 in 1969 in response to an AMA rule change that made their flat head racers finally obsolete.  The 1972 revision had an updated engine design and went on to an unmatched series of flat track wins and stadium jumps.  This example is fitted with the optional rear brake and a tuneable SuperTrapp exhaust.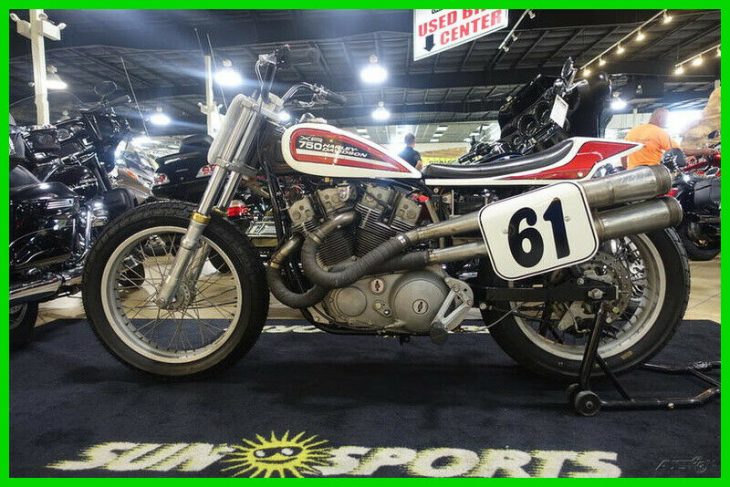 After the quick initial conversion of their Sportster race engine, Harley took more time with Rev. 2.0 and commissioned a different layout with a wider bore and shorter stroke, and alloy heads.  In an interesting redux of the sidevalve KR engine, each pushrod has its own cam, uncomplicating cam profile and timing changes.  Power was 80 hp or better, spinning pretty well for a pushrod mill at nearly 8,000 rpm.  The 19-inch front wheel is right at the end of the Ceriani forks, so handling should be true to the 26-degree rake.  Number plates and mufflers conceal the twin-shock rear, and the tank/seat combo is fiberglass.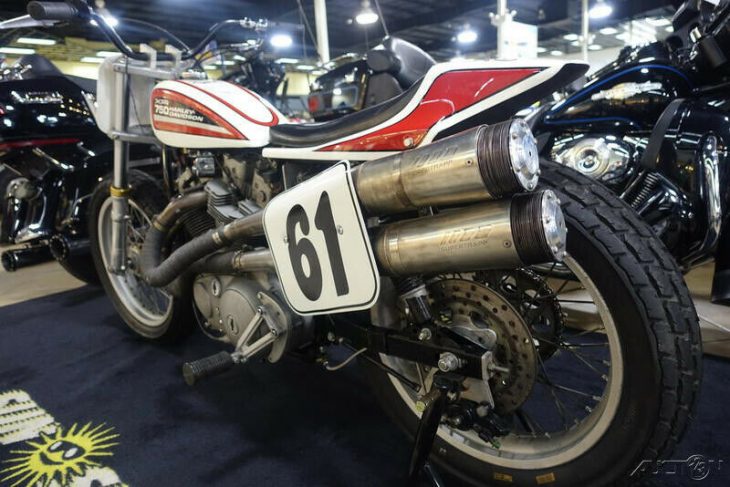 Offered by a Florida dealer, no history or past ownership is offered, but the eBay classified does hold promise.  Gotta love racebike details like both brake and shifter on the right peg.  XR fans will have to comment in their thoughts, however it would be unreasonable to expect anything on a dirt track racer to be original or unmodified ( or even un-damaged ! ).  From the eBay listing:
Blast from the past and a beautiful example! Inquire and we will answer ALL and ANY questions and we will try hard to get the answers. Hagerty values this at $50,000!

A redesign in 1972 resulted in a motorcycle that would be the most successful in the history of American Motorcyclist Association Racing.
Evel Knievel made the bike famous outside the fairly narrow lane of flat track racing, jumping his 1972 XR to a string of then-world records.
The right collector could take this XR in any number of directions – as raced by Roger Jr., an AMA champion tribute, or Evel Knievel lookalike.  Or home to the dirt as an amateur ?  Nothing as sensible or practical as a sportbike, but a could be a great project.
-donn