The 1980s were a last hurrah for the mighty air cooled four cylinder superbikes.  Soon water cooled engines would produce more power and start to dominate the performance charts.  One of the high water marks of that era was the Honda CB1100R.  Those bikes were desirable in period and remain sought after additions to many collections.  For many the closest one will ever get to these rare motorcycles is to build a plastic kit of one.  Bimota saw what Honda had achieved with the engine and thought that they could turn the wick up a bit.
Reducing the weight, adding better suspension and improving the frame design created an even more lust worthy machine.  The Bimota HB3 was the third iteration of a Bimota with a Honda engine.  Just 101 of these motorcycles were built.  As with anything this rear it is far fetched to find one local, let alone at all.  This example is located in Japan, but due to the age there should be little problem importing it to anyplace else in the world.
It was stored for a long time in the warehouse.
The inside of the tank is clean. (Because it is made of plastic, there is no rust.)
Since the front and rear brakes have been disassembled and cleaned, there is no sticking.
The rear brake master cylinder is not working.
(Repairable with general-purpose products)
I cleaned the inside of the carburetor.
Oil was sprayed and cranked in the cylinder.
Battery needs to be replaced.
I have lost my key.
(Since the handle, electrical system, and key are made by Honda, you can create a key from the key cylinder.)
There is no exterior or other rust.

There are 101 cars in the world, and the number of existing cars in Japan is probably one hand.
It is a very rare individual.
We strongly recommend checking the current car.
We have all pointed out the engine, so we will correct it.
I recognized that the engines of CB1100R and CB1100F are the same, but since the point cover and crankcase of CB1100R are gold, my vehicle is the engine of CB1100F.
will add the progress on the engine key and tank key.
Keys can be created from the cylinder. Since you can construct it on a business trip,
we will arrange it immediately if you make a successful bid.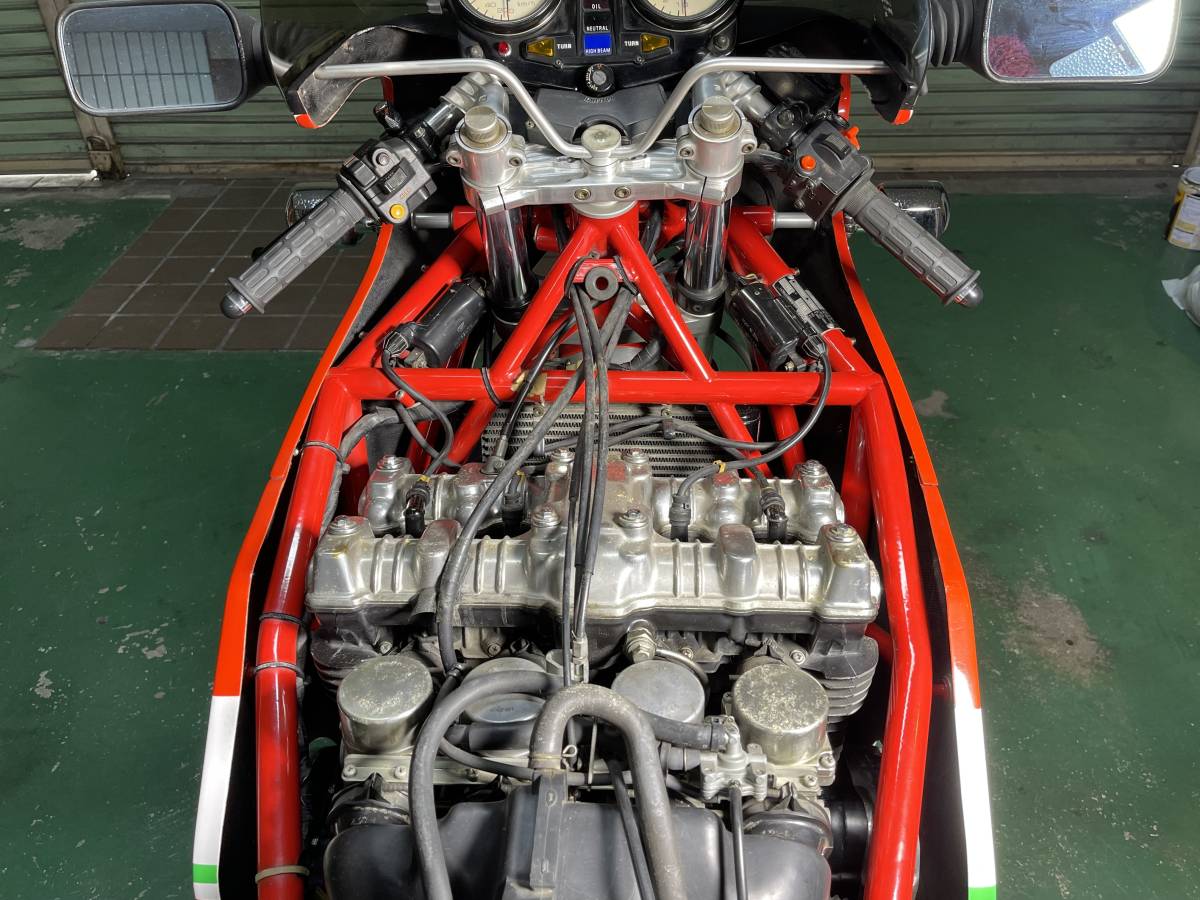 A Buy It Now price is listed of about $20,000 USD and as of writing has not been sold.  The price might be slightly optimistic after digging into the listing.  It appears that the bike has been in long term storage and will need a decent service before being put back on the road.  If static display is more you thing, a basic detail should be all that is needed to end up with a rare sport bike that anyone would be proud to stare at for hours.   The billet work is wonderful on these bikes and the engineering is rather interesting as well.