Update 12.19.2022: SOLD for $18,500. Congratulations to buyer and seller! -dc
New owner Alejandro de Tomaso sought to make a splash with a new model, and had engineers extend their 500cc four to six cylinders, with a muscular sound that caught ears by the dozen.  Friend of RSBFS Tommy has his lovely Sei over on Bring a Trailer, and asked us to make sure our readers don't miss it.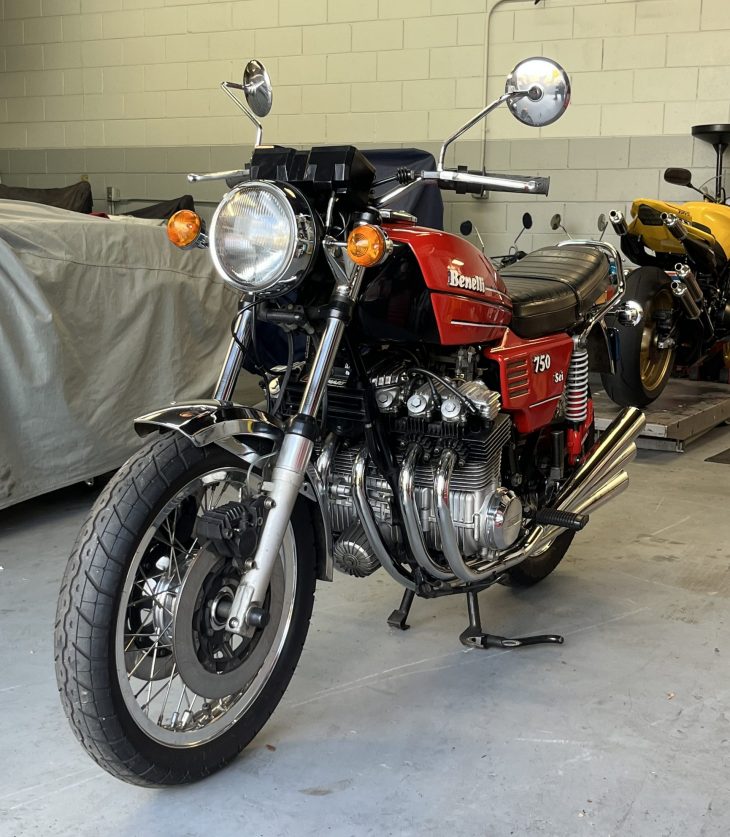 With pistons slightly over two inches and 9.8-to-1 compression, Benelli's six was the first in a motorbike and cooked up almost 100 hp per liter.  Placing the gear-driven alternator behind the crank kept the engine as narrow as possible, and despite the fairly long wheelbase the Sei handled better than the numbers said it should.  Nicer components for 1977 ensured good braking and damping, and styling by Ghia ( another de Tomaso company ) used all the angles to great result.
Tommy has owned his Sei for 4 years, and made some notable progress on its care.  Of special note is the current California registration.  He sent these detailed comments –
I have put up for auction out of my private collection my 1977 Benelli 750 Sei Series 2. The difference in the Series 2 is tighter tolerances in the gearbox.

I have owned this Sei for over 4 years. I bought it from the estate of the former owner who passed away. He was a Benelli enthusiast, and owned it for 31 years.
Included with the bike are two large binders of his service records, notes, parts and service manuals. Also included is the complete toolkit in its leather holder. 

Recent service and improvements I have performed are:

– Ignition tune-up, points, condensers and spark plugs
– Oil and filter change, new air filter and battery
– New tires and tubes
 -NOS gauge box and new bulbs installed
– Wheels rebuilt by Buchanan Spoke & Rim including stainless steel spokes
– Front brake rotors turned, calipers and pistons cleaned, genuine Brembo pads installed, system flushed and bled with Motul 600 fluid. Brakes are very strong. 

All lights function, signals, both brake lights, high/low beams, even the turn siginal indicator beeper works. The bike starts easy cold or warm, runs well, throttle is very responsive.
Transmission shifts smooth, clutch pull is nice. This bike does not leak any oil. The compression test revealed all cylinders are within 4%, and right on spec for a 9.5:1 compression engine.
Aftermarket additions are air caps and PSI gauge, Lockhart oil cooler, and a set of very rare NOS Marzocchi piggyback reservoir shocks. 
Current clean California registration and title in my name.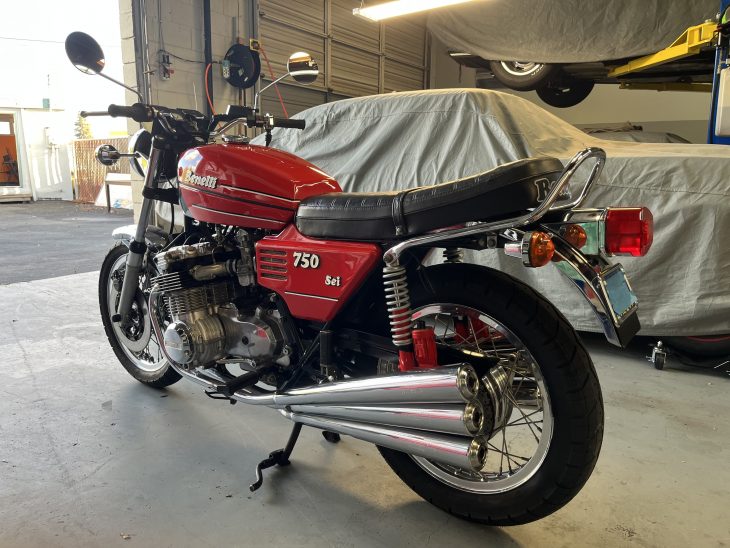 Sounds every bit of half a V12 in this informative cold-start walkaround –
A 900 Sei was produced before the end of the de Tomaso era, but the original 750 is still revered by fans, and total production was just 3,200 units.  Tommy's example pushes a lot of the right buttons – exotic, powerful, original, and continental to name a few.   Message Tommy using the Contact Seller button on the – BaT auction –.
-donn