Even a "base model" F3 brings 126 hp to the party and is something to behold when the lift brings it up to eyeball height.  Today's example has a cred-worthy 16K miles and presents its interesting AMG livery beautifully.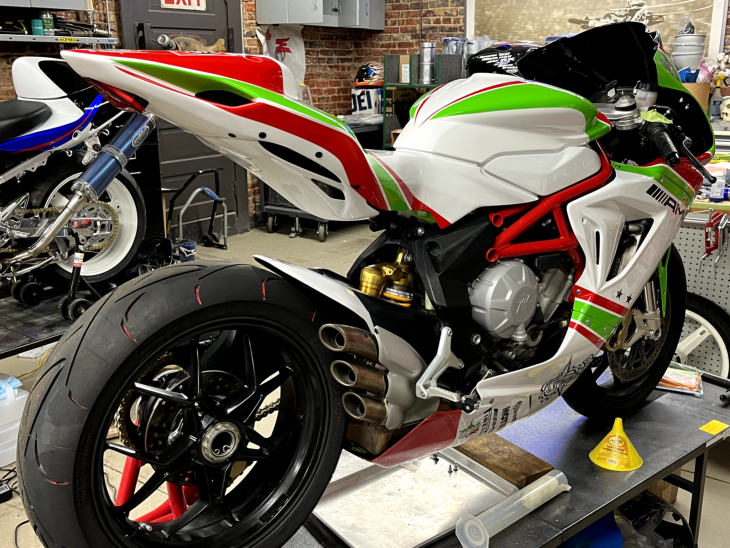 Styled by Tamburrini disciple Adrian Morton, the F3's truncated trellis and three muffler harmony echo the F4.  Very oversquare cylinders and titanium valves help rev the ride-by-wire engine controls to 15,000 rpm.  Marzocchi forks and Sachs are toward the top of their range, as are the 320mm radial mount brakes.  Wheelbase and wet weight are rather below average, with the electronic suite tailoring the power with selectable throttle and traction control maps, along with a quick shifter and pit lane speed limiter that might just keep one off the police blotter.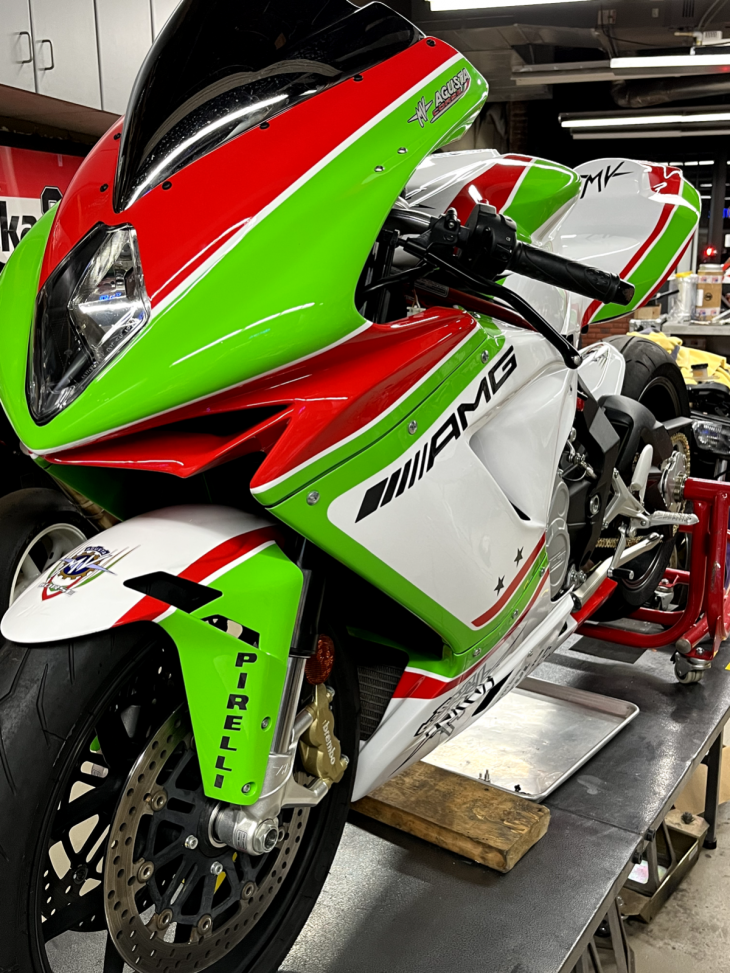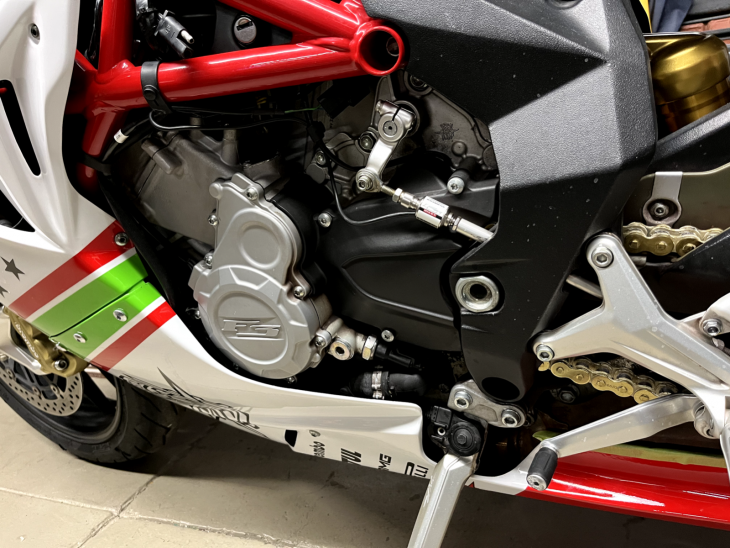 Landers Seviers is an experienced racer who thought it best to diversify, and presents this F3 through his shop – Tech46 -.  The red, white and green looks quite fresh despite the miles, and accentuates the Corse seat console – seeming to be without signals or padding.  Part of the notes from the eBay auction –
Chain and sprockets are properly adjusted, immaculately clean and like new. All painted and powder coated surfaces of this middleweight superbike are flawless thanks to proper indoor climate controlled storage its entire life. Only full synthetic oil has been used in this bike since new. Front and rear brake fluid, and the clutch fluid, was bled and flushed last spring. Coolant was also flushed and changed. Please note, that only non-ethanol fuel has been used in this bike during the last 11K miles in order to prevent any premature fuel tank or fuel component (pump, hose, injector, regulator) problems.
Charging system puts out 14.5 VDC as spec'd by MV. A new Yuasa gel battery was installed last month and has a battery tender charging port attached. Self closing, throttle response is instantaneous and responsive. This in-line 3 cylinder beast makes whopping torque and sounds wicked as it builds RPM throughout the rev range. Gauge indicators and all lighting work as delivered from factory. This bike has a racing inspired factory plug-n-play right side mounted on/off kill switch combination. A slick option that was added soon after buying new from dealer. 

This is a two owner bike with clean and clear Alabama title in hand. Never ridden in rain. Never seen foul weather or prolonged sun exposure. I do not have the OEM mirrors.
Shop MV Agusta F3 parts and accessories on eBay !
MV Agusta seem to have used computer-aided design and manufacturing to their advantage, turning out special designs in small numbers but super high quality.  Designer Morton has moved on after 18 years in Varese, but the F3 continues to catch the eye like a new bike.  This MV has some history but looks ready to provide some new experiences to the next owner.
-donn
2 Responses.