Update: Originally listed in February 2010, this bike is back. Thanks for the hat tip Scott! Links updated. -dc
1999 yellow Laverda 750S for sale with low miles on ebay.
Probably not many people know of Laverda (a small italian brand founded in 1873), and those who have heard of it may know only of the legendary 750 SFC and Jota. So probably even fewer know about one of their modern sports bike, the parallel twin engined 750S: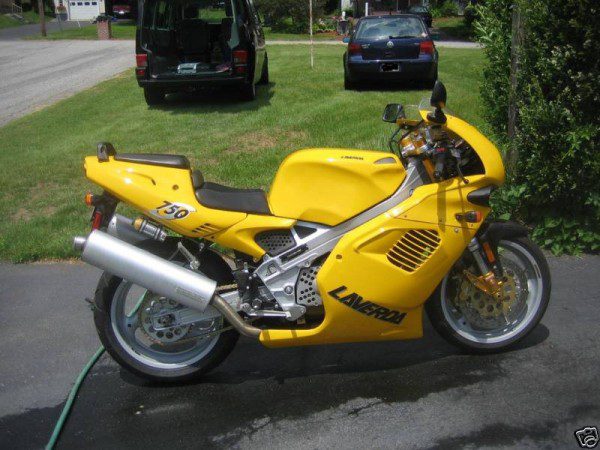 If you are looking at this ad, you know what this is.

1999 Laverda 750 S in nice condition. Recent tires, chain and lower ratio sprockets (15 vs 16 tooth front), VeniVidiVroom SS oil filter. Runs great. Periodically the tach will stop then start again, the bike continues to run fine. The tach and ignition module is the same as was in my Ducati ST2. I think there is a loose wire in the tach. The gas cap is difficult to remove, the location doesn't help. There are a few cosmetic scuffs from prior owner moving. Too many bikes and relocation force reluctant sale. This is a great back road bike with terrific transitional handling and a power band more like a multi than a Ducati twin. 12154 K Kilometers. Stock exhaust but D&D offers alternative slip-ons which would give it the bark it deserves.

ZLVSTA106X0001732

"These bikes were outfitted with Weber-Marelli electronic fuel injection, Brembo Gold Line brakes, fully adjustable Paioli suspension (White Power on some models), state of the art hollow spoke Marchesini wheels and a modern beam or trellis frame. With 65 bhp (48 kW) available at the rear wheel and a very rev-happy engine, these bikes were nothing like traditional parallel twins. Within a year and a half, a larger, water cooled 750 appeared with a new engine in an aluminum beam chassis developed by frame specialist Nico Bakker, which boasted very fine handling and finish quality."
Click HERE and HERE for some good background reading on the Laverda 750S.
If you want an Italian sports bike for not a lot of money (I'm guessing this one can be had for cheap) and are sick of seeing Ducatis, this yellow Laverda 750S just might be your ticket. The current price is at $2091 with 11 hours to go – I would be very interested to see what it fetches at the end of the auction.
Click here to see the listing on eBay.
phil