Update 12.9.2021: Sold in less than a week! Congratulations to buyer and seller!
If you have a bike for sale that would benefit from this kind of exposure, contact us for a Featured Listing. -dc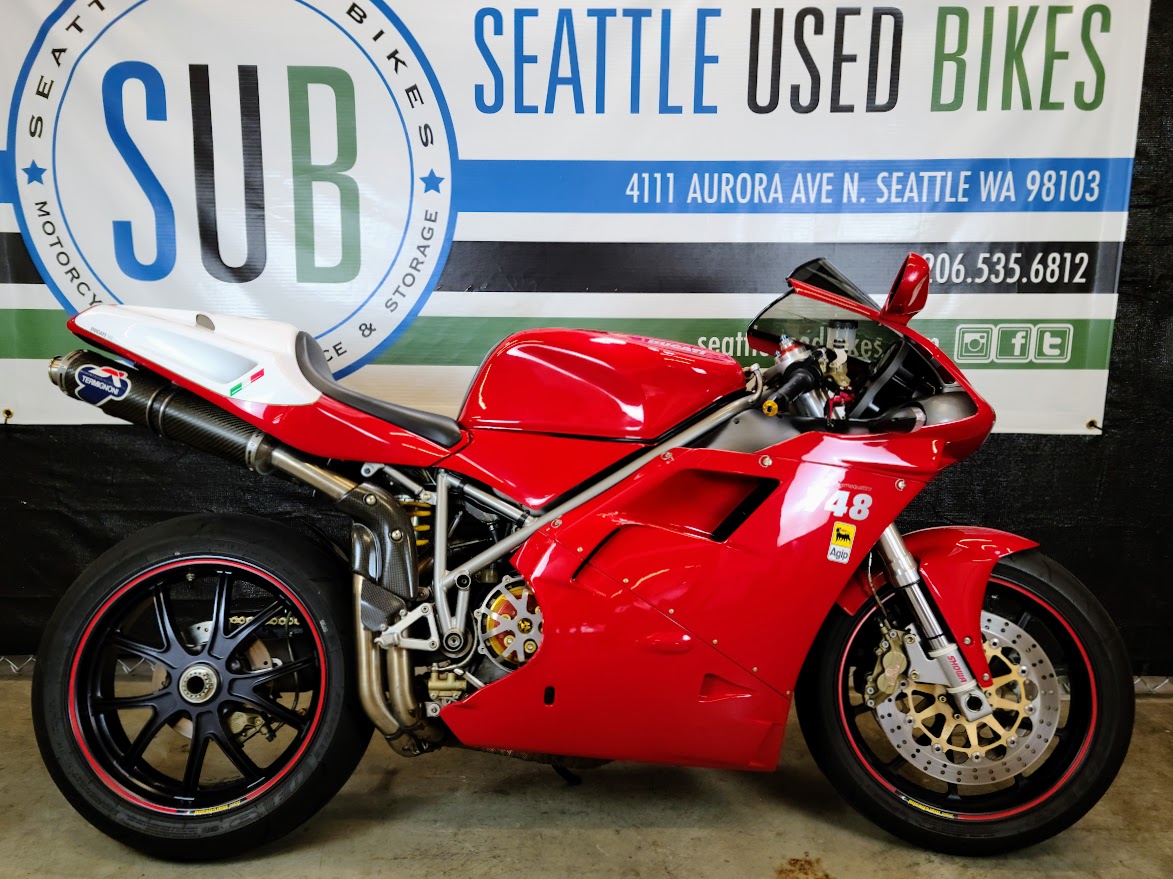 Our friends at Seattle Used Bikes have asked us to feature their beautiful Ducati 748.
It does not take any reader of RSBFS a long time to figure out that all of us are huge fans of the Ducati 748/916.  It is also not hard to figure out why it is one of the few universally adored motorcycle.  They are achingly beautiful, offer amazing performance and produce a wonderful sound.  For many they are dream bikes and something that has been lusted after for many years.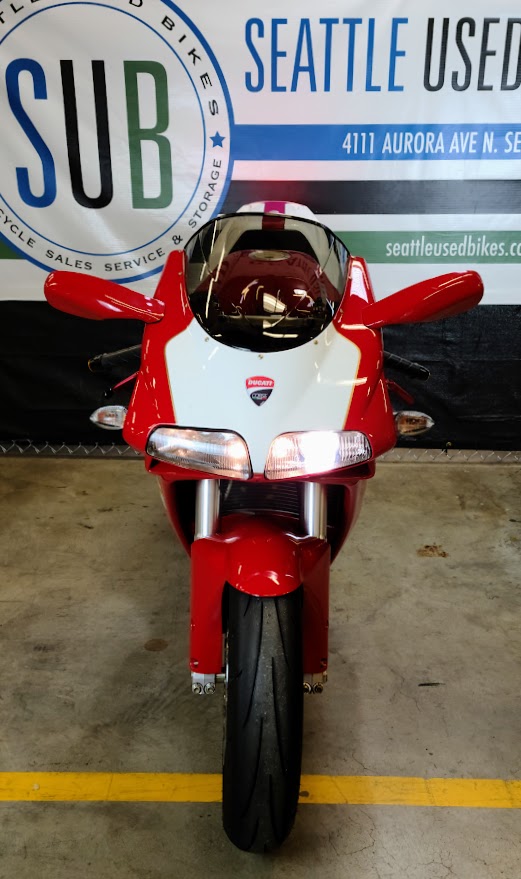 It seems to be harder and harder to find a good condition older Ducati Superbike. This 2001 Ducati 748 Superbike arrived last week and we have been asked to help find a new home for it. It has had a couple of local owners, most of its services were performed by the former Eastside dealer so no paper trail of service was provided. It started life as a base "E" model, not an "S" model, but has a few of the "S" upgrades like quick disconnect dzus fasteners on the fairing and nicer wheels. We were told it did have timing belts and basic service performed just last year and our guys gave it a good look over and made a few tweaks as well. It has some nice upgrades like the 10 spoke Forged Marchesini wheels and a Termignoni 3/4 exhaust system as well. There are a few other items like the SpeedyMoto open clutch cover and gold EVR pressure plate and springs. Out back we spot a nice carbon rear fender and chain guard, up front there is a smoke wind screen and adjustable brake and clutch levers. This particular 748 was originally sold from Ducati as a Mono seat model, that can be verified from the matching VIN under the seat. These did come with the steel Biposto sub frame so it could converted to a 2 seater if needed. We have our service records, 1 key, PitBull rear stand, Haynes workshop manual and a clean WA title
Ducati has never been shy about marketing and creating desire around their products and for years the focus was on the plethora of special and limited editions.  Over the years many have been so concerned with the R, SPS and Race Replica versions, they have forgotten how good the standard bikes are.
Traditionally if you had asked a collector what the least expensive way to own one of these gorgeous machines they would have advised you to fine a 748 Biposto.  This was due to the perception that it was the least desirable specification.  Think about that last sentence and be honest about how it makes you feel today.  Did it seem wrong? Well it should as clearly we now know all of these Ducati are desirable in some way.  That is rather evident when you see auction results like this $16,000 748 Biposto.
As time has marched on, and the markets move we are forced to accept that more and more people are entering the hobby and every day there are less and less of our beloved 748/916 available on the market.  None of these are simply used bikes any more, they are collectables and purchased with emotions, not spec sheets.  Will be interesting to look back on posts like this in a few years, willing to bet many will be kicking themselves for not picking up a clean example when they had the chance.
This example from Seattle Used Bikes offers a great opportunity to enter an ever rising market at an appealing price point of $7,999.  There are a few choice modifications that should appeal to someone that is going to get this bike out on the road and use it.  The upgraded exhaust will please the ears, and the open clutch cover will make sure everyone hears that unique dry clutch sound.  The images show that this bike is an original Monoposta.  Normally seen in yellow, the red will appeal to someone that values having something slightly different to the norm.