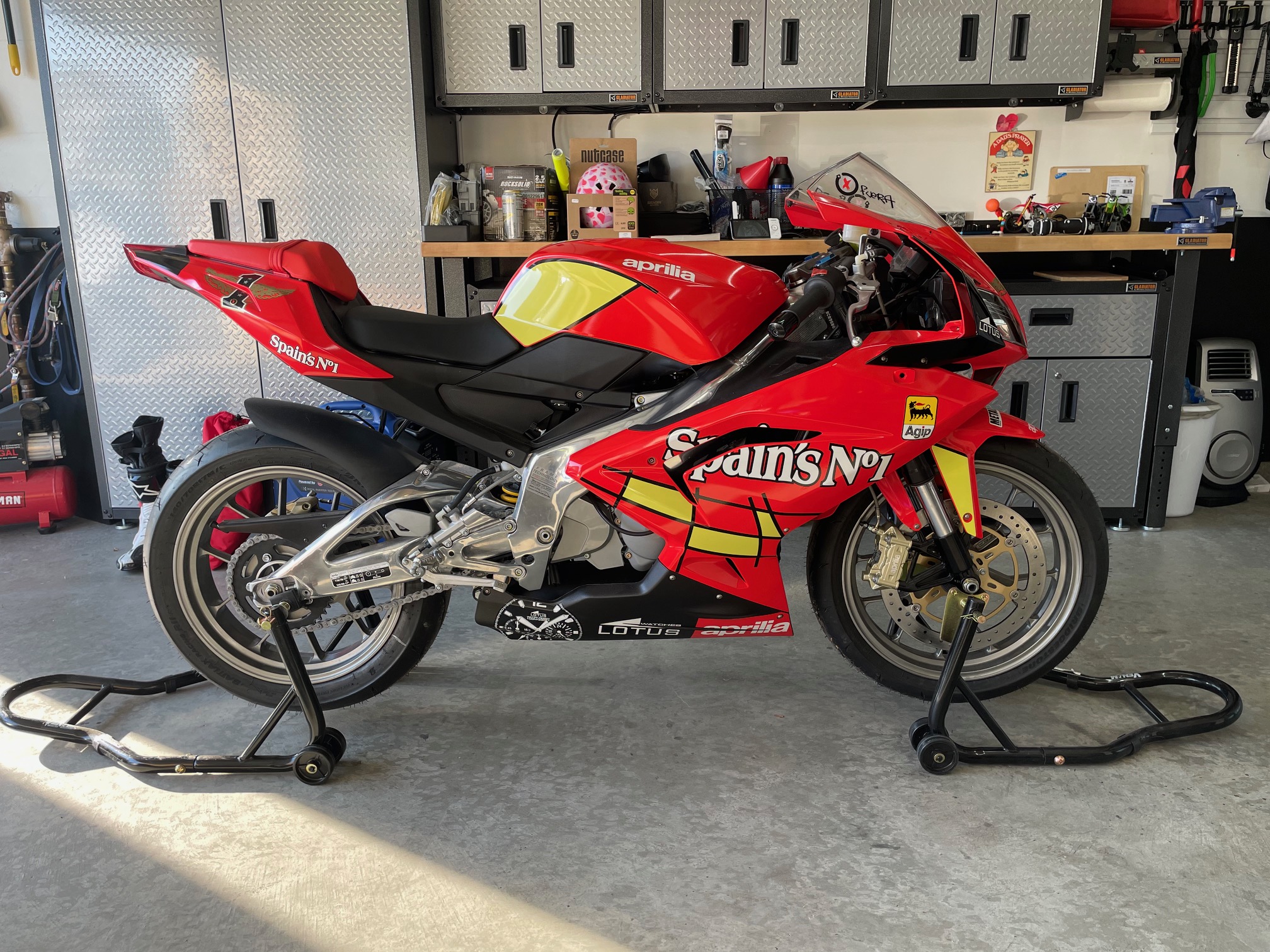 Continuing in our recent form of fantastic two strokes comes today's Featured Listing – a 2009 Aprilia RS125 Track Day bike. If you are a RSBFS reader and have seen comments in recent smoker posts you will know that there is nothing sharper for the track than a lightweight, focused two stroke. And when the bike in question comes from Aprilia – a company renowned for their small-bore racing exploits – and has been massaged and reworked to optimize track performance, you know you are looking at a bike that can punch well above its weight class.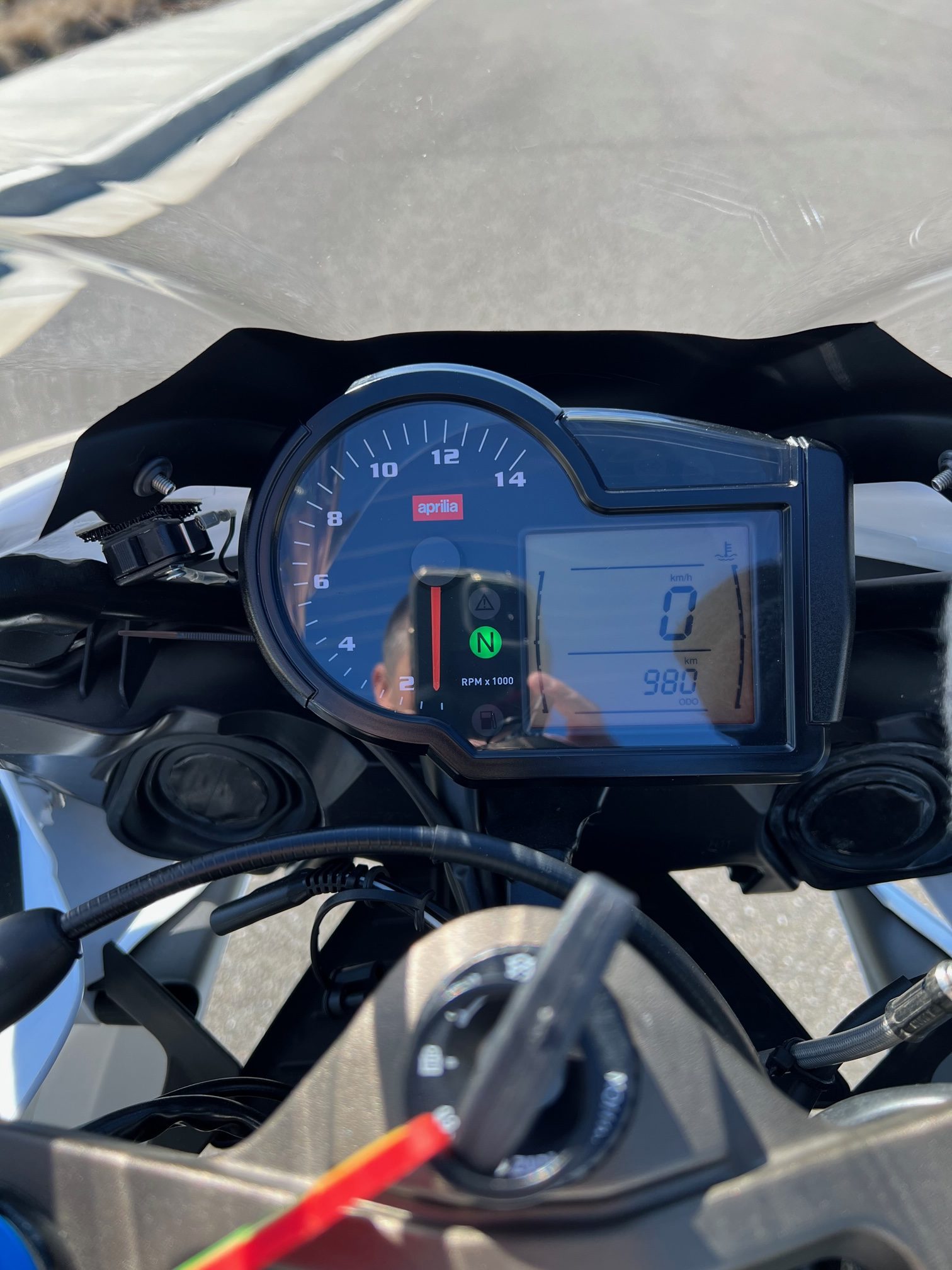 Featured Listing – 2009 Aprilia RS125 Track Bike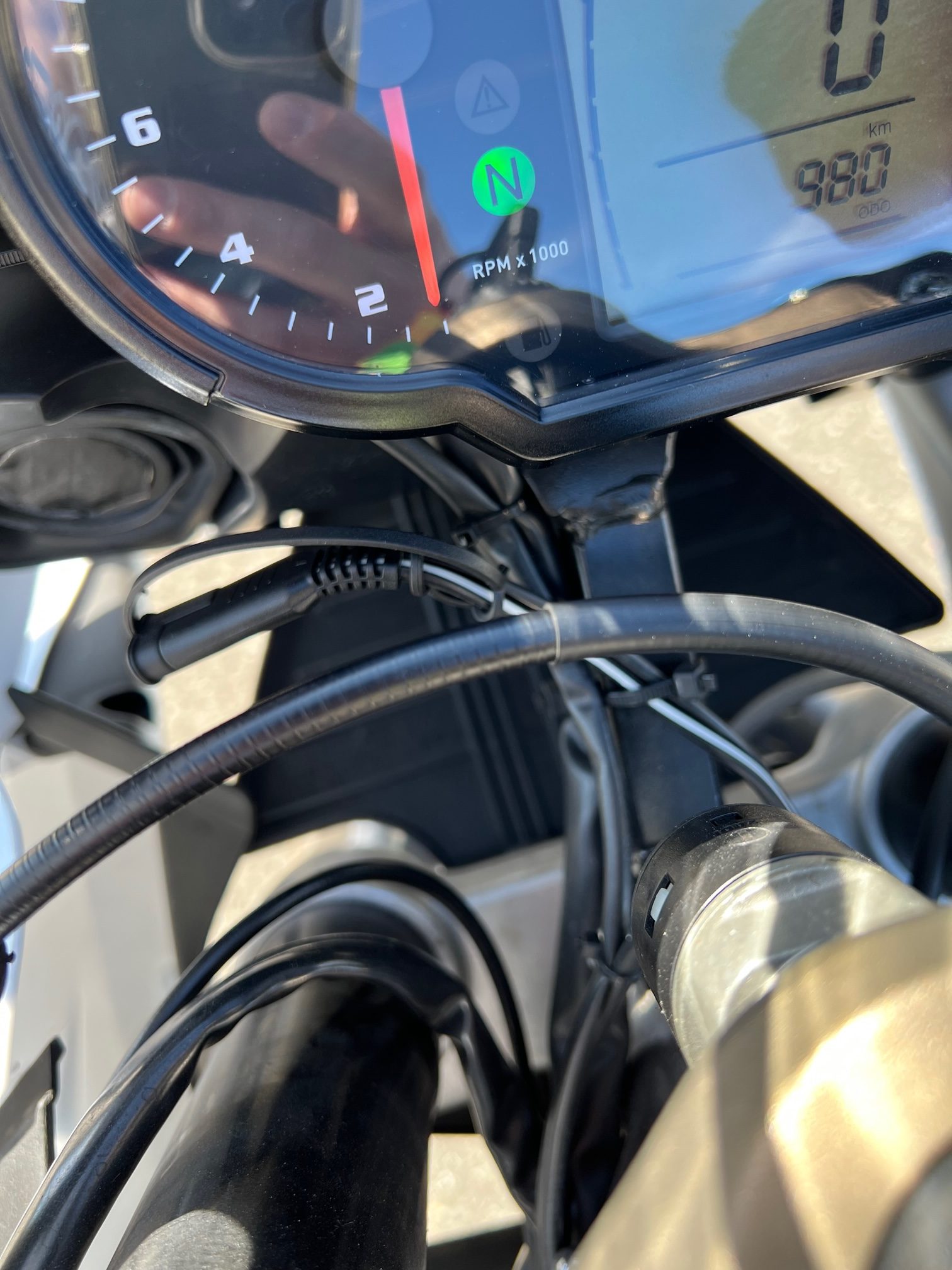 The heart of the RS125 is a single cylinder, liquid cooled, reed valve inducted two stroke breathing through a single Dell'Orto carb. Power is fed through a wet clutch to a close-ratio 6-speed final drive. On the chassis side, the main attraction is a beautifully crafted box section aluminum alloy frame, to which is mounted very sophisticated suspension components. Out back there is an asymmetrical alloy swingarm with rising rate linkage, curved and braced to allow the exhaust to mount up high and tight for maximum cornering clearance. Up front the forks are oversize and upside down, mounted to a strongly braced frame stem. There is only a single disk up front, but it is a 320mm unit squeezed by a four piston, radial mount caliper; more than enough to aggressively stop the 280 pound (dry) package.
From the seller:
Up for sale is a rare TRACK ONLY Italian performance 2 Stroke moto. This bike is one of one hundred and fifty imported in to the U.S. in 2009. It is #17 out of 150. Purchased brand new from a dealer in CO in 2021 with 1 Km.

Bike has been my dedicated track bike for the 2022 season. It has been cleaned and serviced after each track day. Currently has 979km which is equivalent to about 607 Miles. Autolube feature so no pre-mixing. I run AMSOIL Interceptor as the oil and only 110 Octane Race gas. Bike is always garage kept and on a battery tender. Bike comes with a few extras.
More from the seller:
Included:
•Front and Rear stands
•Certificate of Origin
•Chicken Hawk Tire warmers
•Full printed Service Manual
•Original OEM Spain Plastics, Rear Seat and windscreen

Installed:
•RG Frame Sliders
•Racing Windscreen
•Renthal Grips
•Adjustable Levers
•Lever Guards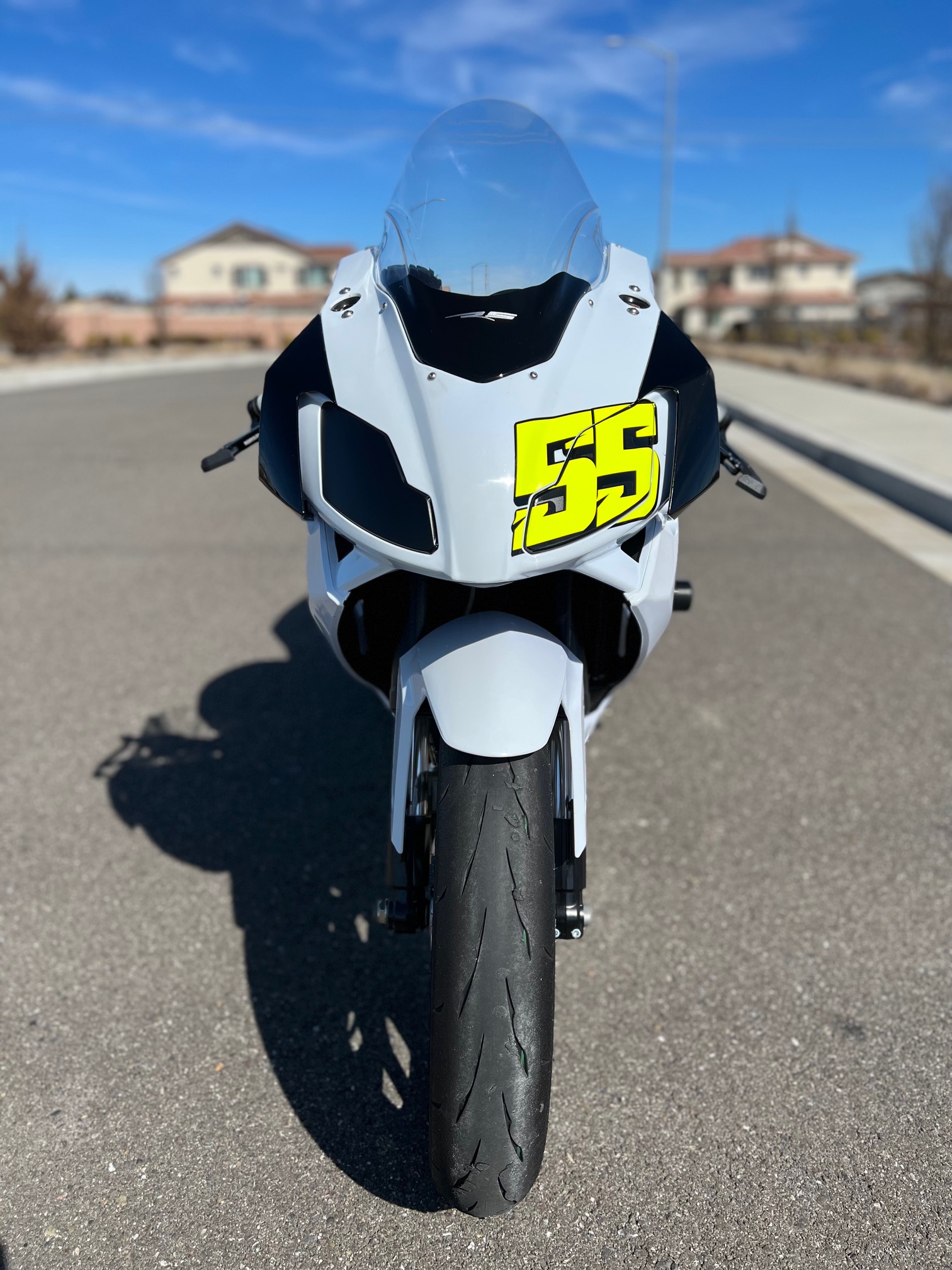 More from the seller:

Location: Vacaville, CA

Contact Mikkel at 707-666-5556 or tronomikkel@gmail.com

Price: $8,000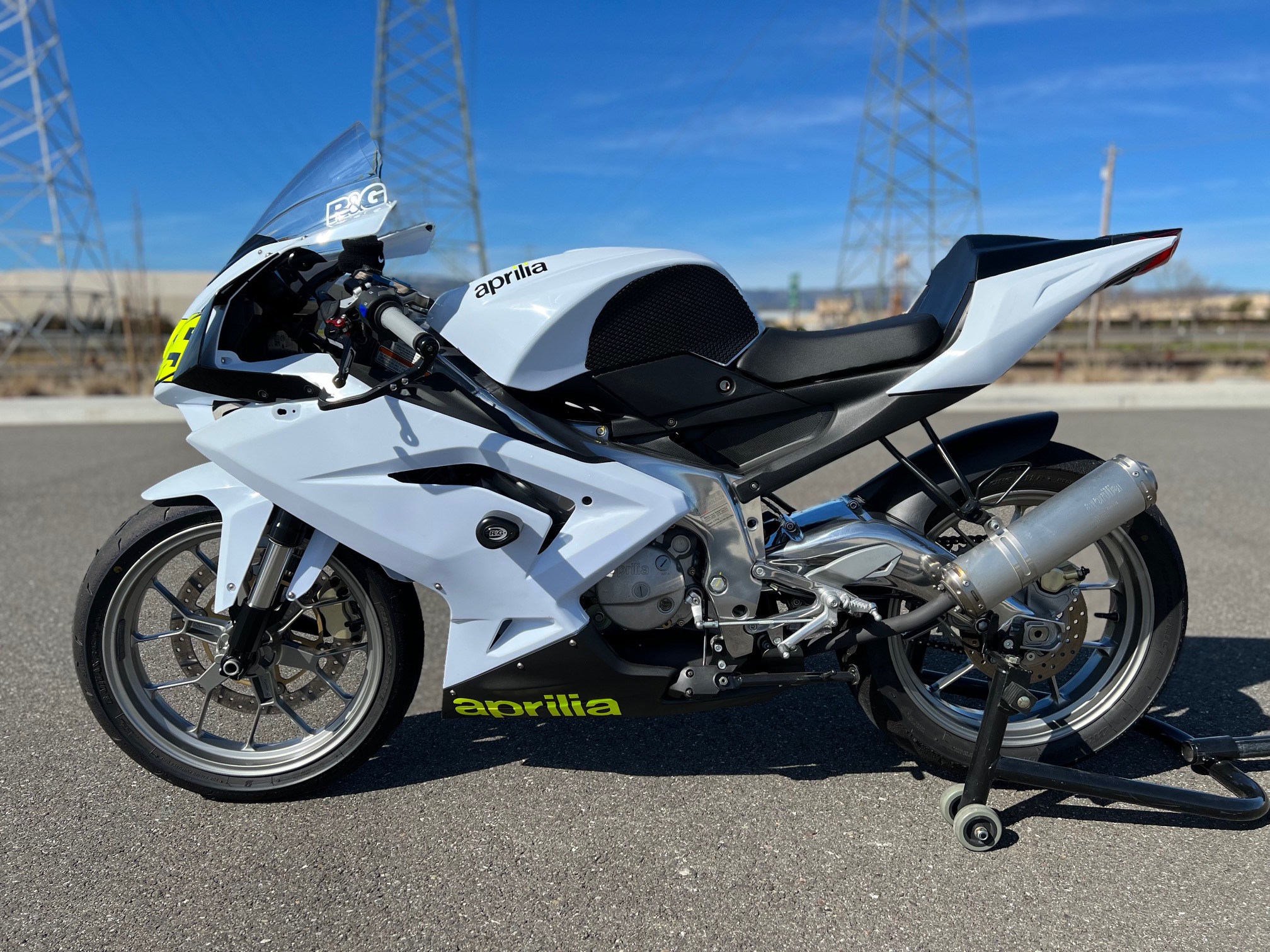 These dedicated track bikes from Aprilia are very rare in the United States, but offer the most pure antidote to your track day addiction short of a full-on GP bike. With a snappy and zingy two stroke, light weight, and excellent brakes and suspension the RS125 when ridden properly can obliterate more street-oriented bikes many times its size. And while the Aprilia is a great mount for riders of any level, it teaches smoothness and momentum conservation much more so than a bigger bike. With automatic oiling and electric start it takes no more work than a bigger four stroke, without those pesky oil change and valve adjustment intervals. That is all win!
RSBFS fan Mikkel is offering this bike at $8,000. Located in California, the bike comes with some key additions (frame sliders, levers and guards) as well as desirable paddock accessories in the form of tire warmers and stands. The bike also comes with the original bodywork to maintain authenticity. Interested readers should reach out to Mikkel here, or give him a call. A bike like this does not come our way often, and if you are committed to improving your riding by attending track days there could be no better way to do so. Good Luck!!!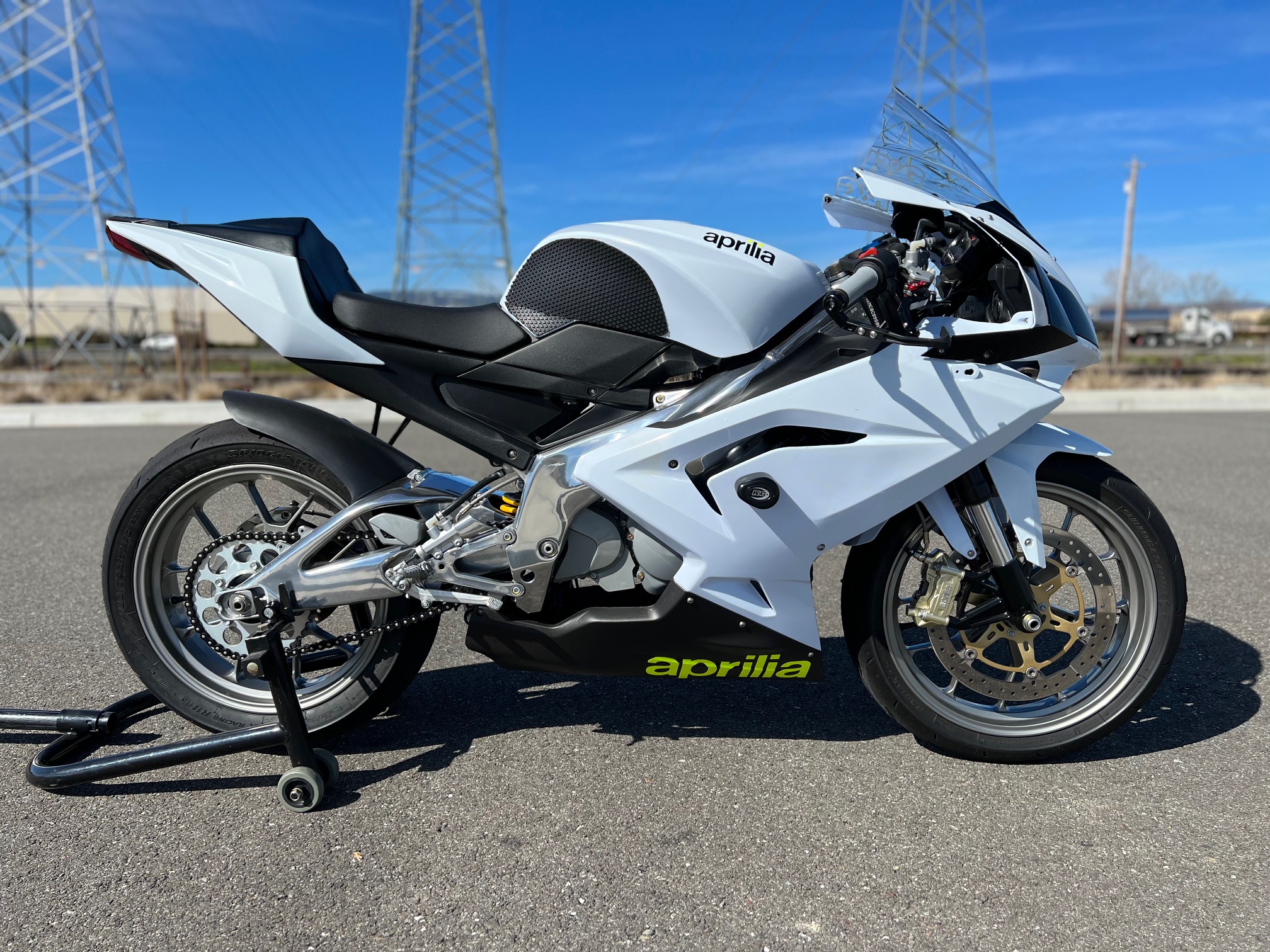 MI