Twenty-plus years down the line, an unused RS250 has surfaced courtesy of EuroCycles Las Vegas.  What some collector or racer might give for a "new" RS250 might be challenged by this time machine.
Aprilia introduced their road-going 250 a year after Max Biaggi won his first championship on their racer, though the street bike used a Suzuki V-twin engine.  For 1998 73 ponies were on tap, though a big twist of the wrist and active left foot were required to keep the engine at peak power.  Twin 34mm Mikuni carbs contribute smooth running and Aprilia's own exhaust releases pent-up power.  The twin-spar chassis and swingarm are made of aluminum/magnesium alloy stampings, with cast connectors and a fairly conventional seat sub-frame.  The livery echoes Rossi's rides from the era, though the similarity isn't much thicker than the decal set.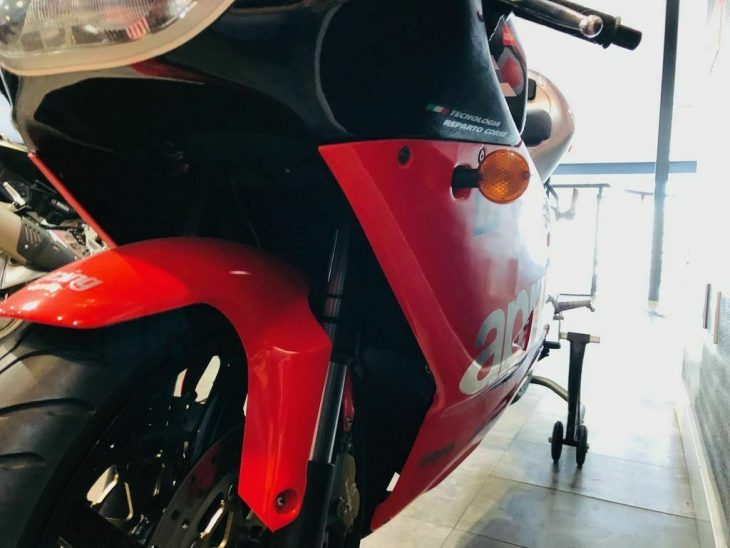 Not much history in a never-ridden example sold on a bill of sale.  Plate and key fob are from a Parisian moto boutique.  Equipped for the road, some paperwork would await a new owner intending to ride.  EuroCycle's comments from the eBay auction:
This is the grey-market RS250 that was street-legal, never sold in the US. Showroom Condition, sold on bill-of-sale. Serious Collectors only please.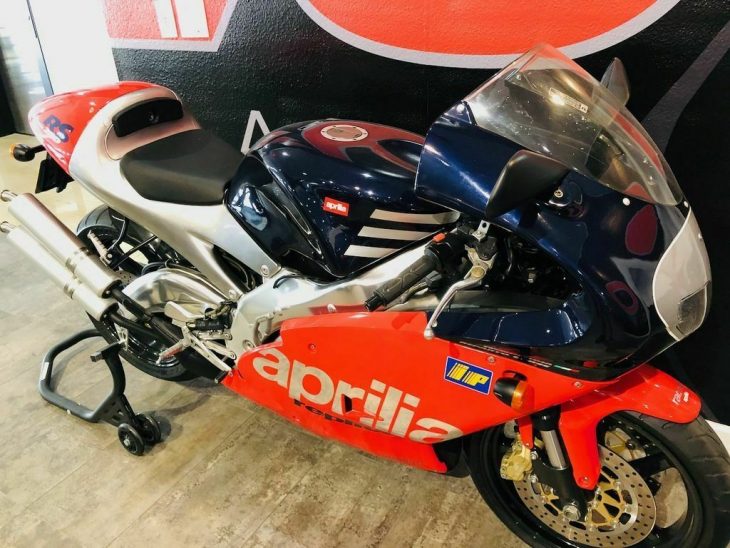 The fairing decal states "Racing Department Technology" – which is true, though it might be a year or so before the Departo Corse's ideas make it through production engineering.  Though this one doesn't have livery commemorative of a championship or rider, it's hard to stop looking at what the factory intended, especially a factory so close to the race circuit.
-donn