Back after a short break, Moto Guzzi's Le Mans returned with a raft of updates from the Mk. II.  This Bay State native has been carefully kept in red, and has a couple of nice nods to reality.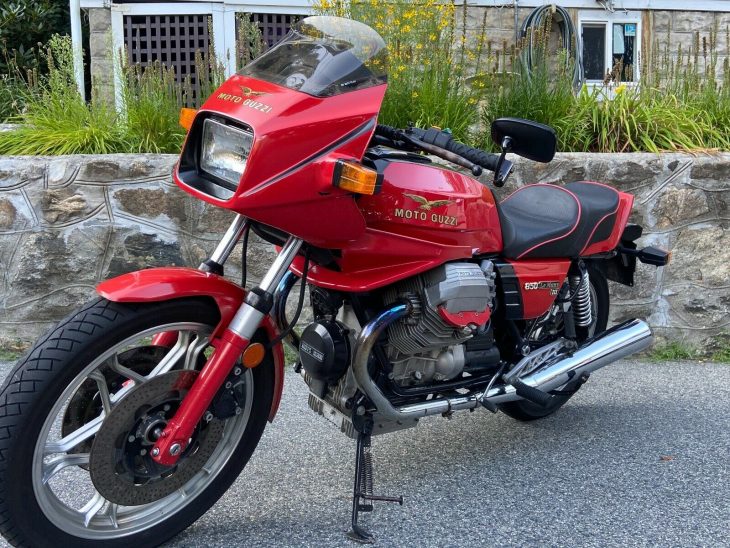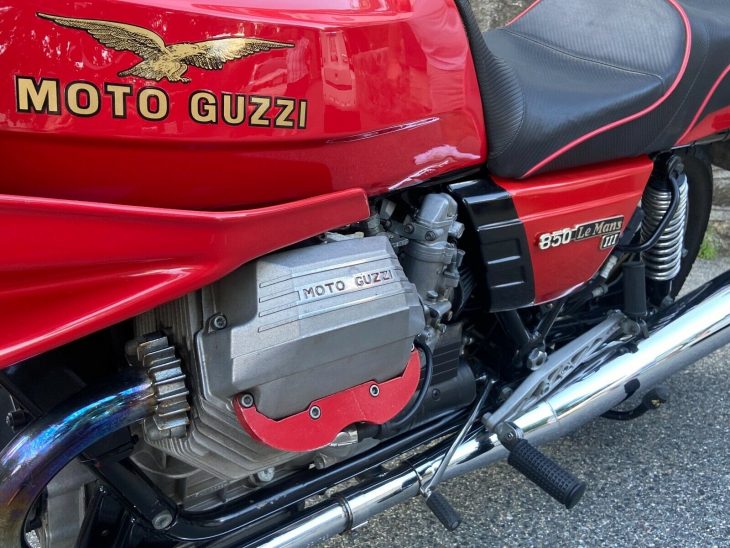 Though del Lario was never tempted by mere technology, the EPA cajoled Guzzi into a thorough re-design of the longitudinal V-twin, with an eye toward limiting intake noise as much as tailpipe emissions.  There was a lot new aboard the Le Mans III, right down to the Nikasil lining and outer shape of the cylinder heads, though the shaft drive and linked braking system kept it recognizable.  The fairing did a better job protecting the rider, having grown into almost a supersport affair.  Dry weight was in the mid-400's but the big twin's torque kept reviews positive.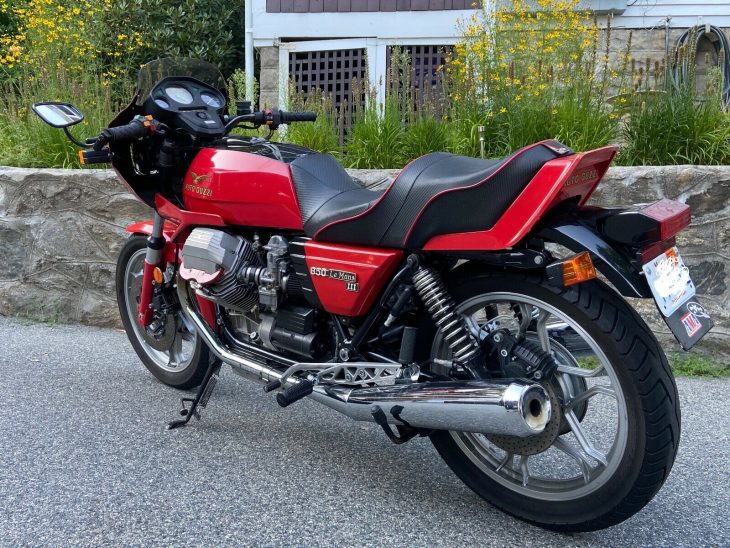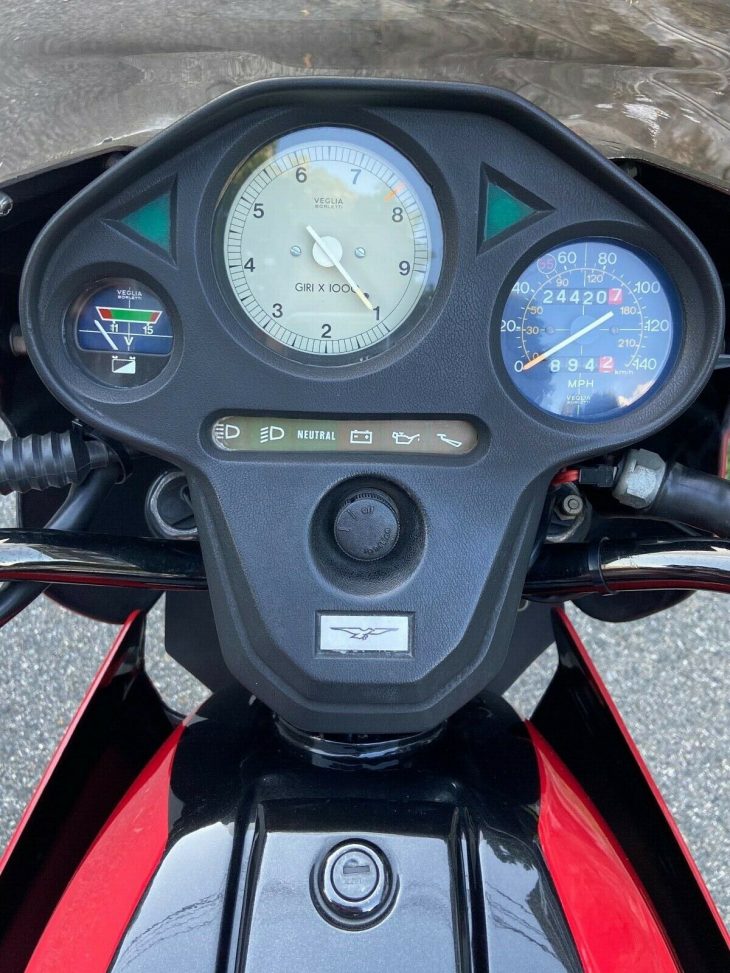 Showing over 24,000 miles but looking much better, this Le Mans III has been lucky to have a fanatical owner.  Red fork legs are factory, though red head protectors are a little glitzy.  The handlebars look more relaxed than most Le Mans, but expert readers will have to weigh in.  Even the stock seat has an elevation change for the pillion, but the Corbin seems little too sculptural for the trim Guzzi lines.  Can't argue with the spares or maintenance, however.  Comments from the eBay auction:
Always stored inside. Never seen rain. NO RUST. The bike is insanely clean. YOU WILL NOT FIND ANOTHER LIKE THIS.  All original (included oem seat). Runs and rides great!  Bought from an exotic motorcycle collector many years ago. This bike is beautiful and needs nothing! It is part of our family!  Always babied! Many parts included!!  This is the one! If you know what this bike is and what it represents, this is the ONE!  A beautiful, rare gem. Be part of the MOTO GUZZI LEGACY!! 

RECENT SERVICE/ PARTS INCLUDED-

Regularly serviced, Bridgestone Battlax tires, clean pipes, rebuilt carbs
Carb rebuild kits
Brembo rebuild kits
Battery straps
Many rubber parts – O Rings, clips, etc 
OEM hand grips
Original seat and Corbin seat 
Coils
Gaskets 
Badges
Brake lines
Switches
Piston rings and valves
OEM seat 
And many more parts included ! 

MAINTENANCE OVER PAST 2 Seasons-

Meticulous oil changes
Cleaned carbs
New tires
New battery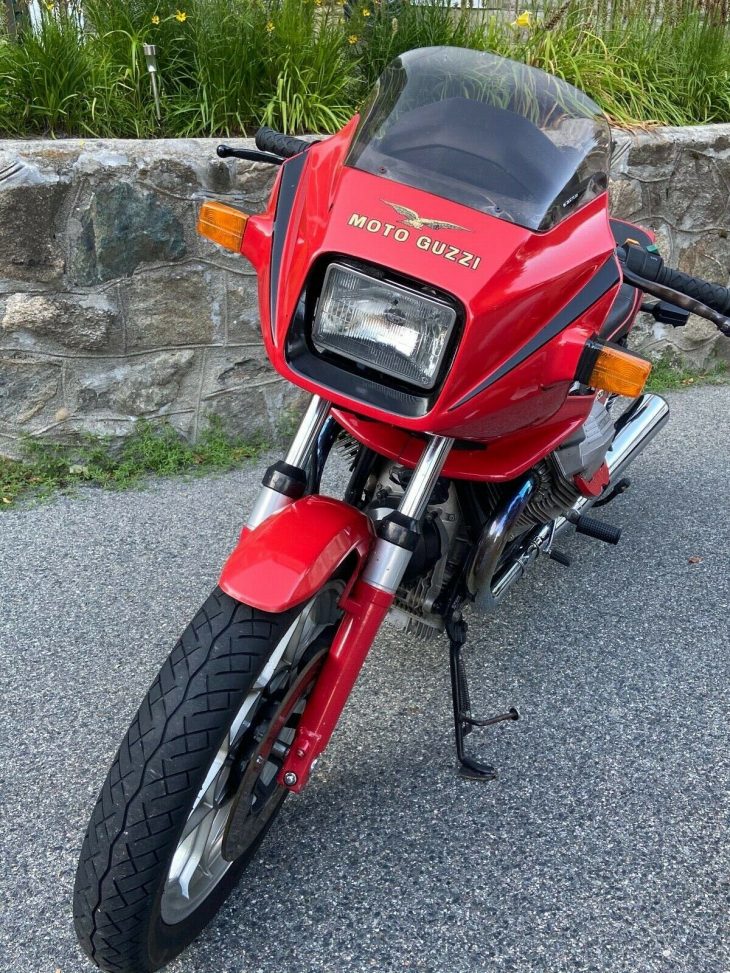 No fault of its own, the 850 Le Mans was shortly superseded by the 1000cc variant in 1984.  For every grinning twist of the wrist, there might be a wish that the bigger bike was just a little more nimble.  The Mk. III was a more modern ( in Guzzi's way ) Le Mans, and helped keep the model in production until 1993.  Looking great in crimson, this 850 Le Mans is just in the middle of a long run.
-donn