Though the Super Sports were to be lusted after, the 900 GTS had their own part in Ducati's history and on the Sport Classic's family tree.  Here's a Canadian example which is said to be unrestored and shows beautifully.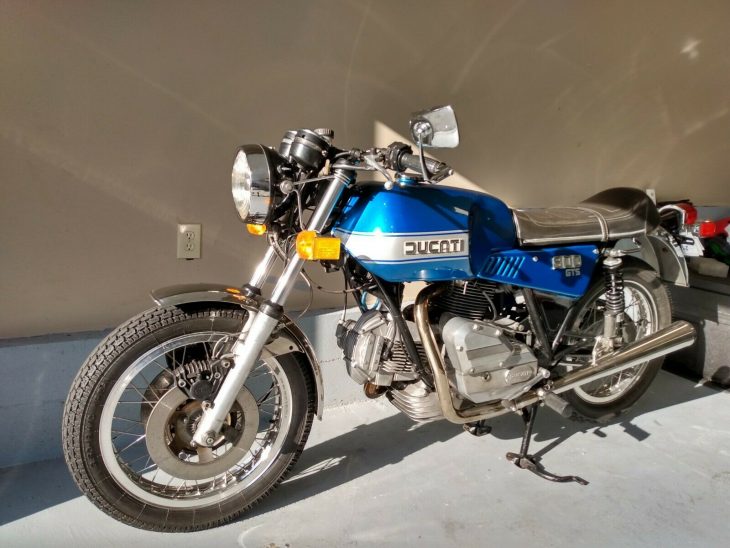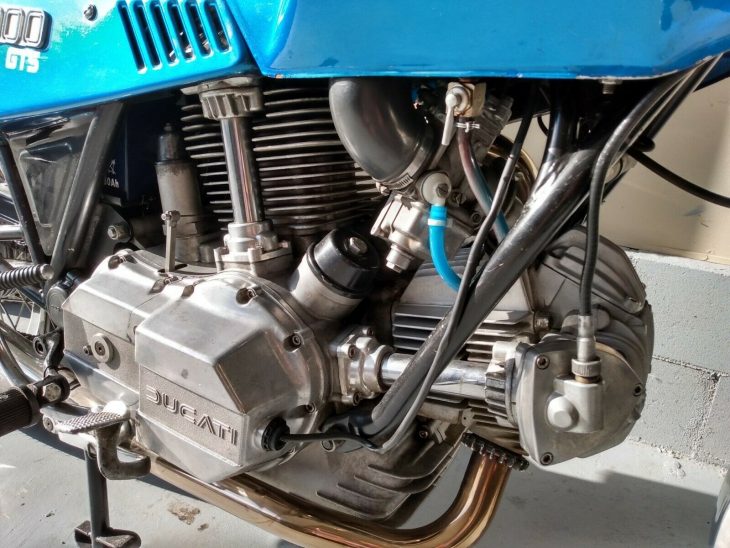 If there had been a momentary Universal European Motorcycle, the 900 GTS has a lot of its qualities.  Downtube frame, metal fenders, kick and electric start, long seat, and each manufacturer had their own favored engine design.  Taglioni's signature bevel-drive desmodue is in the cradle, with Guigiaro's stylized case design, and 65 hp on the dyno.  Typical for the decade are the 5-speed, three-way adjustable forks and shocks, and drum rear brake – with better twin disks up front.  Rubber is 18-inch, with wider availability these days than there was back then.  The long skinny seat isn't seen much anymore, but the knee indentations in the tank are now classic.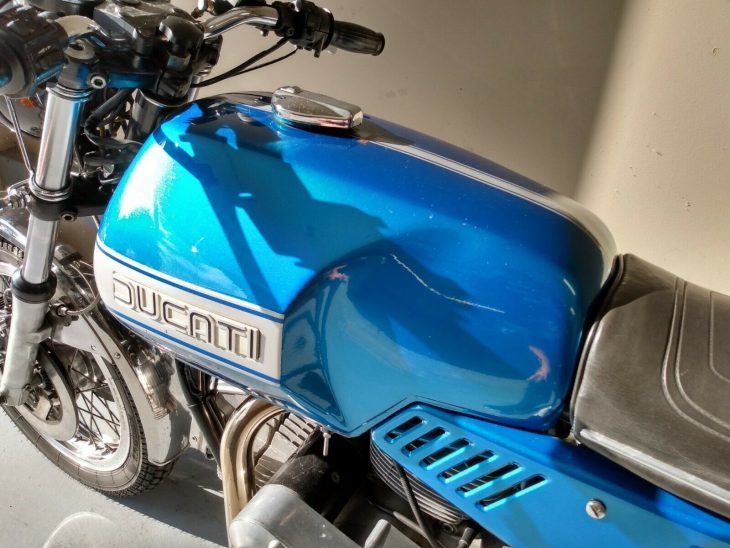 No belts on these bevel heads so if the oil is fresh and battery charged it should be able to give those Heidenau's a workout.  Paint work is said to be original but looks better.  The chrome is getting thin on the fenders but the engine cases look great.  Standard key ring damage on the warning light panel but maybe that could be refreshed.  Comments from the eBay auction:
This is an ALL ORIGINAL unmolested classic Ducati GTS 900 with original paint. It just came out of a private collection. No accidents, clean title, survivor. The bike is in overall good condition and has been tuned up with a new battery installed. Starts up every time and sounds absolutely ballsy, I get looks, questions, thumbs up every time I take it out for a ride. So be prepared to get approached A LOT at gas stations (I only use Chevron 94 octane fuel, nothing less, EVER).

I've ridden it a few times this summer to keep the wheels round and the oil circulating but that's it. I am it's second custodian. If you know these bikes then you know how rare and appreciated they are, and how they are climbing in value.
Thirty years later, Ducati "invented" the – GT1000 –, a retro classic owing a lot to the 900 GTS.  Modern fuel injection and brake are a bit of a difference, but the similarities are undeniable.  The comfortable riding position made the GT the most popular among riders if not investors.  It would be a neat garage with a 900 GTS next to a similarly painted GT1000 – different generations of a great ride.
-donn