Lean And Mean 50cc Fighting Machine:   1981 Factory  Van Veen Kreidler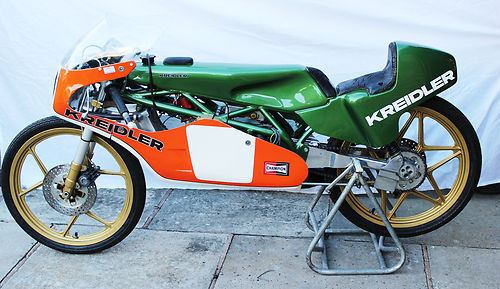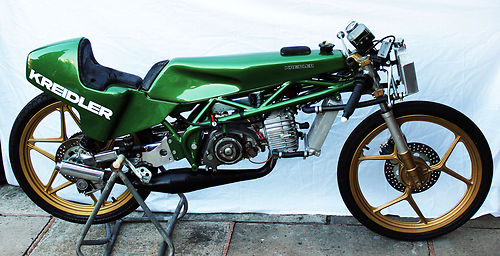 These dastardly little creations are fast becoming my favorite GP relics.  Bikes nowadays are very sanitized and there is nothing sanitized about this little thing.  We have had a couple of Kreidlers here on RSBFS and it looks like this bike has been for sale since 2009.  The listing of the bike since 09 is probably the sign of overpricing but why deprive ourselves of some 50cc eye candy?
Oh my, is that tiny bolt the swing arm pivot?   I'll let you visit the auction for the history on the bike but here are some interesting technical tidbits:
The bike shares very few parts with the production racer.  The frame was made by Nico Bakker, as was the alloy swingarm.  The short stroke engine holds many secrets as to how Herbert Rittberger managed to obtain almost 22bhp from such a small engine.
It would be fun to pop the engine open with a knowledgeable two stroke tuner and see what surprises, if any, are in there.  22 ponies from that that little sucker is mighty impressive.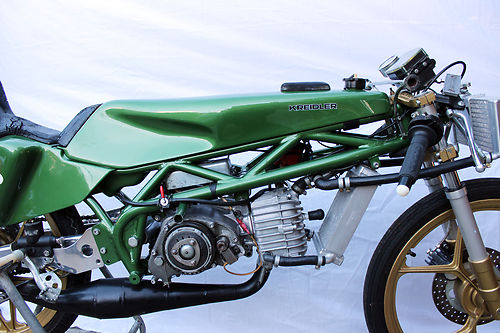 It has an interesting radiator set up.  Seems like a lot of radiator for 50cc's.  The head even has cooling fins.
The asking price?  18,000 GBP,   approximately $29,000.  I understand it is a factory bike and quite rare but I would imagine the buyers willing to lay down close to $30,000 for 50cc's are few and far between.
Ian
7 Responses.