Warning!
This post is in our archives. Links in this post have been updated to point to similar bikes available to bid on eBay.

For Sale: 1980 Ducati 900 SuperSport Bevel Drive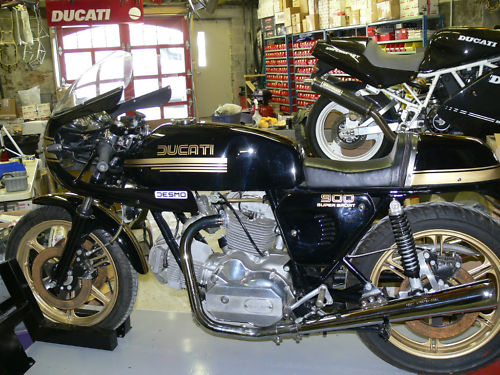 This is a classic motorcycle in a very classic color scheme. Evolving from the 750SS bevel drive racers of the early 1970's, this 900cc beauty was the last of its kind before the entire Ducati line-up moved over to belt-driven camshafts.
A clear cover shows the inner workings of the bevel drive, as motion is turned 90 degrees to drive the camshaft in the head.
From the seller:
1980 900SS Bevel Drive. This bike has 5653 original miles and is in perfect cosmetic and mechanical condition. I purchased this bike from a collector who had 180 motorcycles ( this is important related to keys ), in 2005. He lived in Norther NJ and had owned the bike since 1990 or approx 15 years. In that 15 years he had never run it but it sat in his home as one of his favorite bikes ( he had 12 bikes in his house ). He had purchased the bike in its current condition and was told by the collector he purchased it from that the bike had never been restored and that he was the original owner of the bike. So coming from two extremely wealthy individual collectors (who have 300+ bikes between them) I have no reason to doubt any of the information given to me. There are a few little scratches and a few small spots of rust/corrosion that you would expect from a bike of this age the inside of the fuel tank is perfect and looks brand new. The motor is almost completely dry and i have included a photo of my shop floor where this bike has sat for 4 months and as you can see there is not a drop of oil on the floor and no there was nothing under the bike catching oil, i have included photos of the engine. I only dusted off the bike for the photos, no cleaning at all.

I had sold the bike to a friend who owned a Ducati Dealership in CT where the bike sat for 2 years until he needed to sell it, so I purchased it back from him for more than I had sold it for. I never rode or started the bike prior to selling it, and he never rode it or started it either so basically it had been stored and not run since 1990.

Upon repurchasing the bike I put fuel in it, changed the oil, put new spark plug in it, checked the carbs and it started on the 4th kick. This bike starts easily on the 2nd or 3rd kick every time and idles like a purring kitten. Now to the keys.

When I bought the bike the owner had 2 drawers in his kitchen. One full of keys and one full of titles. After giving me the title to the bike ( the bike is still on his NJ title, I never had it titled ) he then went to the other drawer to get keys. He handed me a set, I loaded the bike into the truck and off I went. The keys are not the correct keys. They do fit the ignition but do not turn the tumbler. He owned 8 other Bevel drives and assured me he had given me the correct keys, well I really did not care too much so I never pushed the issue. Since the bike had a small crack in the dashboard ( which is still available for about $300) i figured i would just wire in a toggle switch for the ignition and if i ever wanted to fix the cracked dash I would then get a key cut for the tumbler.

This bike comes with 40MM Delorto Racing carbs, Gear Gazer Bevel Gear Cover ( I might still have the original), Conti pipes and believe it or not the ORIGINAL Ducati owners manual for the bike. The only stock parts missing from the bike that I know of are the blinkers. They were very large and stuck out far due to DOT regulations so most owners removed them for aesthetic reasons. They are still available and are not that expensive to replace.

The bike was imported by Berliner Motor Corp in 1980 and was manufactured 8/79 as a 1980 model. The Frame number is 089156 which you should be able to make out in the photo of the Headstock. Engine number is 08689 DM860.

These bikes are quickly gaining value among collectors and are just not around for sale very often. I have been watching the bikes on eBay and will price this bike fairly. The Auction start price will be the minimum I will accept for the bike, this is a no reserve auction so bid if you want to buy it and bid high if you don't want to lose it. This is a VERY clean bike.

This is the oldest Ducati I own ( I have 14 Ducati's ) and I am not going to ride it so it needs to move on to a new home where it will be ridden ( hopefully ) and appreciated, that is the only reason it is for sale.

Fork seals are not leaking and dust caps are not cracked, tires are not cracked and have good tread and hold air. Known Flaws are small crack on dash next to tach ( 1.5 inch ), some tiny "bubbles in the chrome at the horizontal head pipe, surface rust on cast iron brake rotors, small bits of rust corrosion on some fasteners and misc parts. This bike is a 9 out of 10 cosmetically. If you want any specific parts photographed and emailed please contact me with requests at lesliegr@comcast.net I have photographed the bike to the best of my ability showing as many different parts of the bike that I can so you can get a feel of the overall condition. This bike is 31 years old and has extremely minor flaws considering its age. I am not trying to hide anything and have disclosed everything I possibly know about the bike.
The real Ducati collectors seem to prefer the 70's bevel SS bikes over the later models, the 750cc over the 900cc, spoked wheels versus cast mags, and green instead of gold. Still, there is no doubt that this is a stunning motorcycle in terrific condition. Other 900SS bikes posted on RSBFS (like this one) have sold in the lower $20k range. This beauty is available now, with the open bid set at $20,500. If it sells for that, it would be a good deal – but it is likely to climb a little higher. The seller has set the BIN price at $24k, which may be a tad high, but right in line with the condition of the bike.
To see more pictures (and there are lots) or to bid on this beauty, click on the link and . Tell 'em RSBFS sent ya!
MI