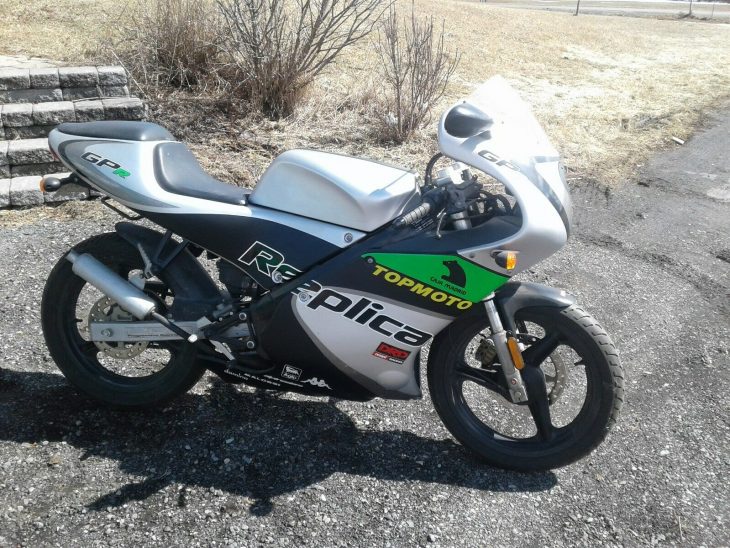 Looking for a cheap bit of two-wheeled fun? The asking price for this Derbi GPR50 is just $1,700 and, while performance won't blow your hair back, this little race replica looks the part, handling should be good. Ergonomics are shockingly reasonable, even for adults: I've sat on a Malossi replica version of this bike and it isn't really cramped at all, and the owner of that bike is well over six feet tall and built like a linebacker. It even has ample storage under the "gas tank" for a helmet, or a big bag of groceries, making this a practical hooligan tool for both shopping and terrorizing unsuspecting commuters. The fuel cell is located centrally, and the filler cap is under the locked passenger seat.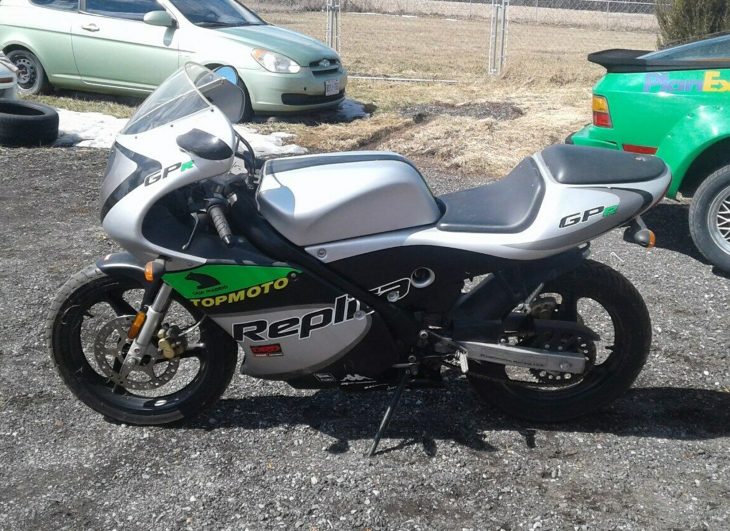 Aside from the lawnmower-sized engine, the specifications are pretty sportbike-y: the little two-stroke has an electric starter, oil-injection, and six-speed gearbox suspended in a twin spar steel frame with a Showa upside-down fork up front and a Showa shock out back, with hydraulic discs and steel braided lines at both ends. The package is good for around 65mph flat out with no tail wind, although big-bore kits are available that bump displacement to 75 or 80cc, with a subsequent boost in "power" from around 6hp at the wheel to closer to 10hp. That may sound underwhelming, but it represents a more than 50% improvement in power, and the stock bike is already capable of freeway-ish speeds.
The race-replica color scheme might seen cheeky, but Derbi has plenty of real racing credentials. The majority of American motorcyclists have probably never heard of them, but the Spanish company has been around since 1922 and was competitive in Grand Prix motorcycle racing for many years, winning a number of world championships in 50cc, 80cc, and 125cc classes. They're currently owned by the tentacled horror of the Piaggio group, and produce mopeds, scooters, and small-displacement road bikes, although they were racing in the 125cc Grand Prix class as late as 2010.
From the original eBay listing: 2003 Derbi GPR50 for Sale
2003 Derbi GPR 50 for sale.  This is a moto GP replica of their racing bike.  Excellent condition, with only 2972KM.  Stored in inside for last 9 years.  Still runs great and starts with no problems.  Would be a great first time motorcycle, and can reah 120km/h on 50 cc 2-stroke engine. Item is located Near Brockville Ontario, Canada.  If winning bid is from outside Canada, I will do my best to assist you in the exporting process. It is for sale locally so I reserve the right to end the auction early.
There aren't many detailed photos, but this Derbi does look very clean and has covered just 3,000 miles from new. It is located in Canada, which could complicate things for a US buyer, depending on your home state. Sure, it's not very fast, but even in stock form this might be a hoot on a kart track, and that $1,700 Buy It Now price would even make it a pretty hilarious pit bike. Move quickly though, because there are just a few hours left on the auction!
-tad