One of my first posts at RSBFS concerned one of these Buell beasties, and still pushes some buttons a few years down the road.  This example is even nicer, low miles, original finishes and just a few dealer-installed upgrades.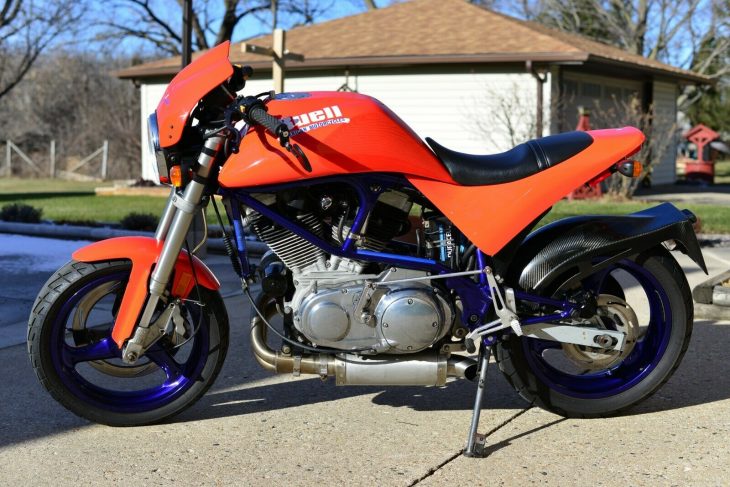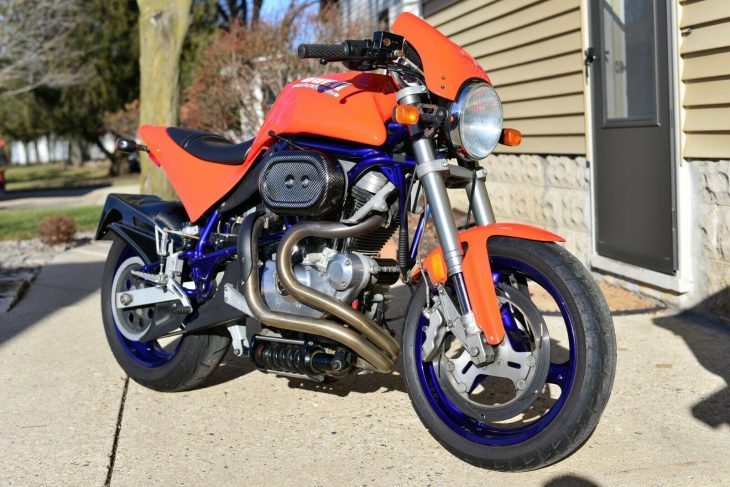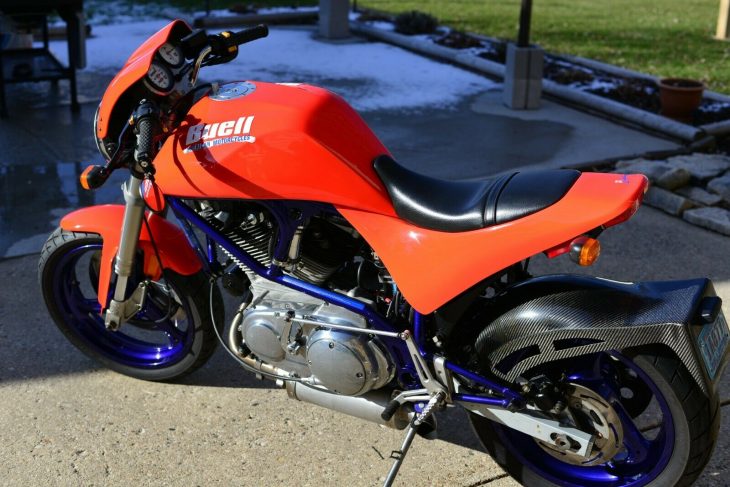 Launched a few years after the Ducati Monster, it was Buell's second road bike and their take on naked muscle.  Each valve on the Evolution V-twin has its own short camshaft, gear driven and accounting for some of the signature H-D sound.  101 hp isn't bad for an air-cooled 1200, and the great torque band made shifting gears an option.  The S1W had updated cylinder heads and oceans of character.  Sporty in a way the parent company never considered, the Lightning's oversized single front brake and W-P suspension stopped and turned as well as it accelerated.  Quirks abound, with the pull shock, underslung muffler and uni-planar engine mounts that really isolate the rattling engine in most of the powerband.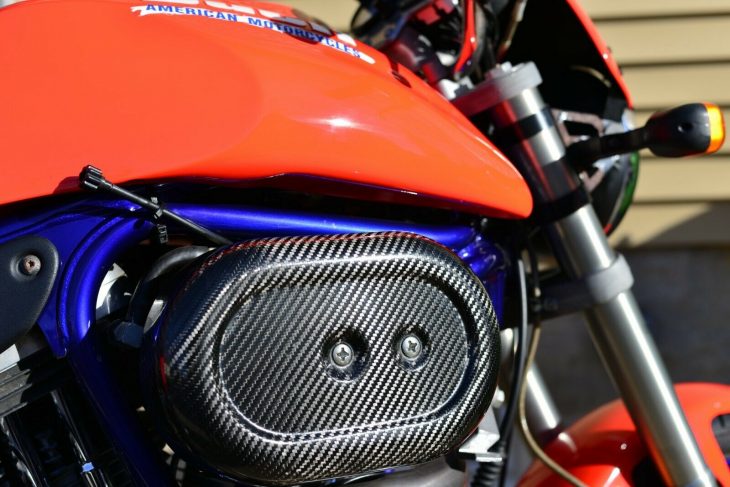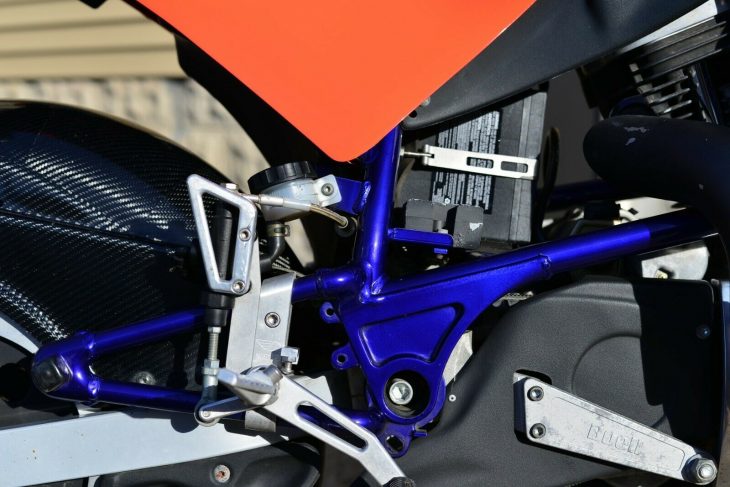 Showing just 5,537 miles, this S1W shows beautifully and is evidently on only its second collector.  The original owner had a few choice options installed and verified their performance with a dyno session.  Corrosion is isolated to a few fasteners and bare aluminum parts, but these would be almost a pleasure to correct.  Looks like a big "return to duty" service just a few years ago and annual maintenance appears up to date.  The seller has a very thorough walkaround – here – and details in the eBay auction: 
This is a very special motorcycle.  It is the holy grail for many Buell collectors, as it was for me.  This is the demanded, one year only, 1998 S1W "White" Lightning retaining its striking, original, and demanded, Molten Orange and Nuclear Blue finishes.  For those not familiar, the 1998 S1W Lightning from the factory has the better "Thunderstorm" heads (black) which increase the horsepower by about 10, and was a one year only model.  This S1W has traveled only 5,500 miles and is very well sorted having received a significant amount of recent maintenance.  It is ready for the road now and is a blast to ride.  Another aspect that makes this S1W very special is the addition of the Buell factory "race kit" and a couple other special Buell items, AND stock parts being included too.  The Buell Race Kit includes a better flowing air intake and filter, larger diameter header, and race muffler, a race "computer" is also present which raises the RPM range, and very hard to find Buell rear set foot pegs. 
The torque and midrange power make this bike quite fun on the street.  Dyno charts are included showing 90 hp and 80 ft lbs of torque to the rear wheel.  This S1W was originally purchased by a gentleman that worked for a magazine which they featured the motorcycle in the magazine.  A copy of the magazine, original Buell touch up paint, receipts, owner's manual, stock parts, and some other goodies are included.  This is a one year only special model motorcycle, in one of the most demanded and unique color combos, in great condition with low miles, featuring some factory Buell "race" goodies, with stock parts included, and some other goodies.  All of these factors are considered when attempting to determine the value.  This is a special collectible bike that can be ridden and enjoyed as is or be stored and continue to go up in value.
Most White Lightnings were predictably white, and molten orange scored only 295 builds.  Over just a few years, Buell production numbers varied to a surprising degree, along with quality control.  But rarity assured, maintenance isn't difficult, and almost any Harley dealer can help out.  This example won't need much assistance to be a show winner, and a blast on the way.
-donn