In the early 90s, Harley Davidson realized they needed to round out their cruiser/touring-focused lineup  with an offering that allowed the company to cut itself a slice of the rapidly growing sport bike market. By acquiring Buell, a company started by an ex-Harley engineer who was building race bikes on his own, HD wandered where they never had before. The X1 Lightning was one of their first attempts to play in the sport bike space before Erik Buell really went wild with his low center of gravity and multi-function parts designs. As intriguing as some of Buell's later designs are, the X1 capitalizes on what is great about the simple design of a naked motorcycle while also being totally unique.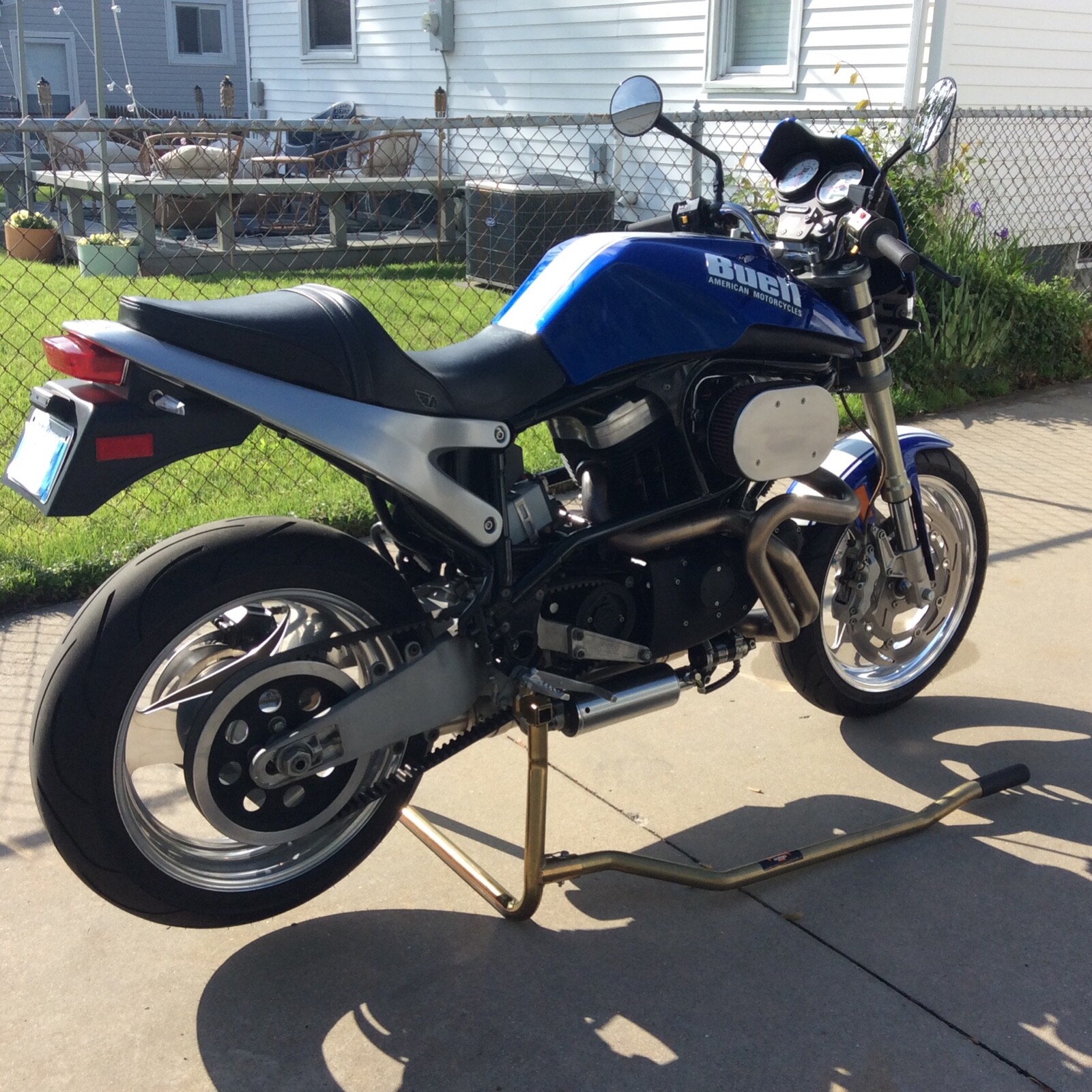 Overall condition seems really good for a 21 year old bike. Paint is fresh and the polished rims are still in great shape.

The flat white gauges accent the white racing stripe that goes up the windscreen and tank. Very retro look that has aged incredibly well.
9,776 miles is low low low for the engine. The Evolution motor which was the starting point for the X1's engine is one of the greatest powerplants ever made. Simple and dead reliable. Just keep you fluids fresh and you shouldn't have any issues as far as the motor goes.
Polish the subframe to match the wheels. Mirror finished X1 subframes are the way to go. The owner has installed the Buell accessories seat. Good seats are critical for comfort on any Harley-powered motorcycle so you won't be disappointed there. All the other mods are tasteful and can be undone with the factory parts that are included.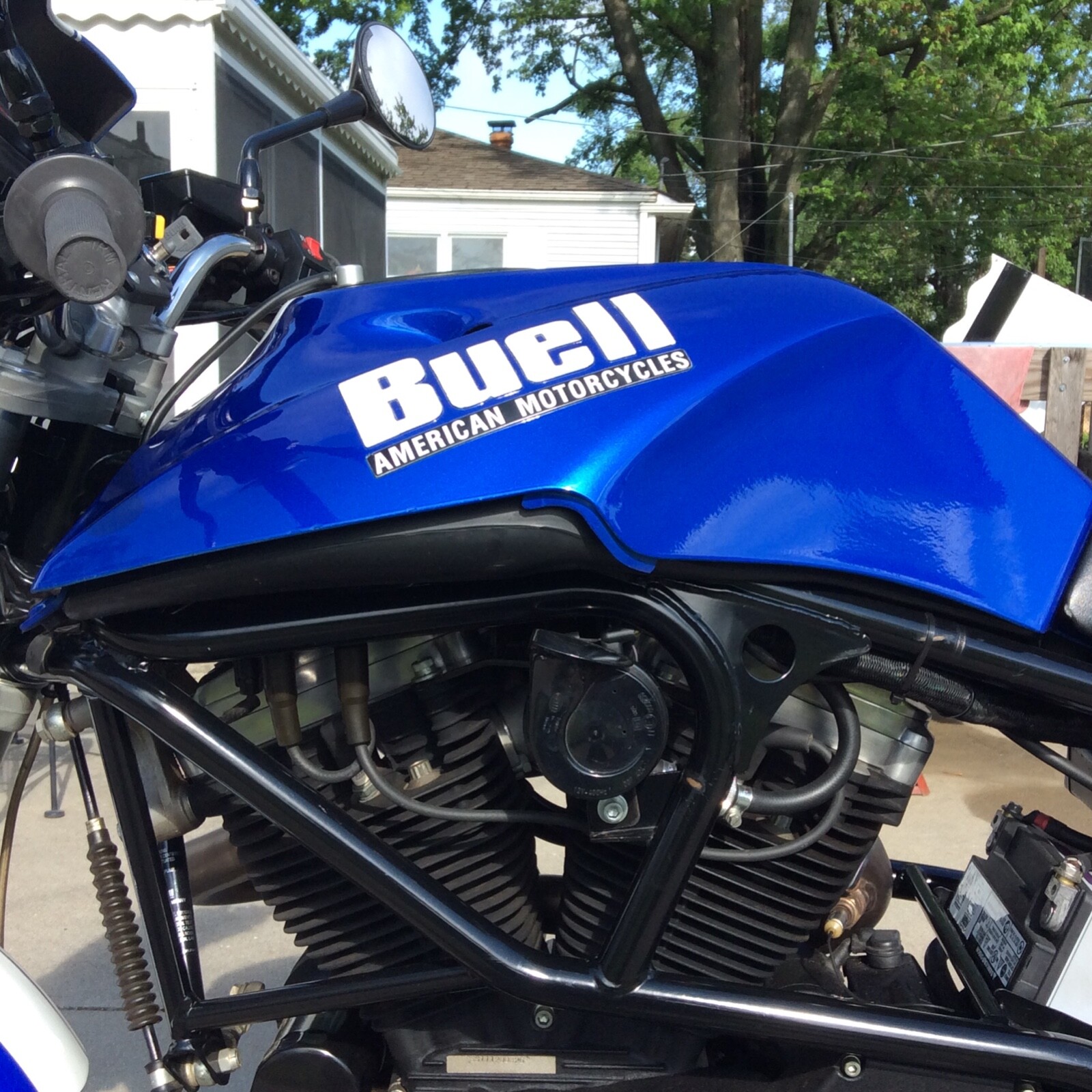 One of the most entertaining aspects of any Harley engine is the torque you can use to shoot yourself from one stoplight to the next. One of the most entertaining aspects of any Harley engine that Buell got his hands on is experiencing the stoplight to stoplight torque and then staying in it and feeling the extra hp that he squeezed out of it. Reworked heads and cams give the classic Evo motor 82 hp and 78 lb ft of torque compared to stock Evo's 61 hp and 65 lb ft of torque. It's weird to rev these motors out because you think they'll shake themselves apart but the power is up top and you need to force yourself to stay in it to get there. The rubber-mounted engine provides a much smoother ride than the Sportsters of the era but it can't change where it came from.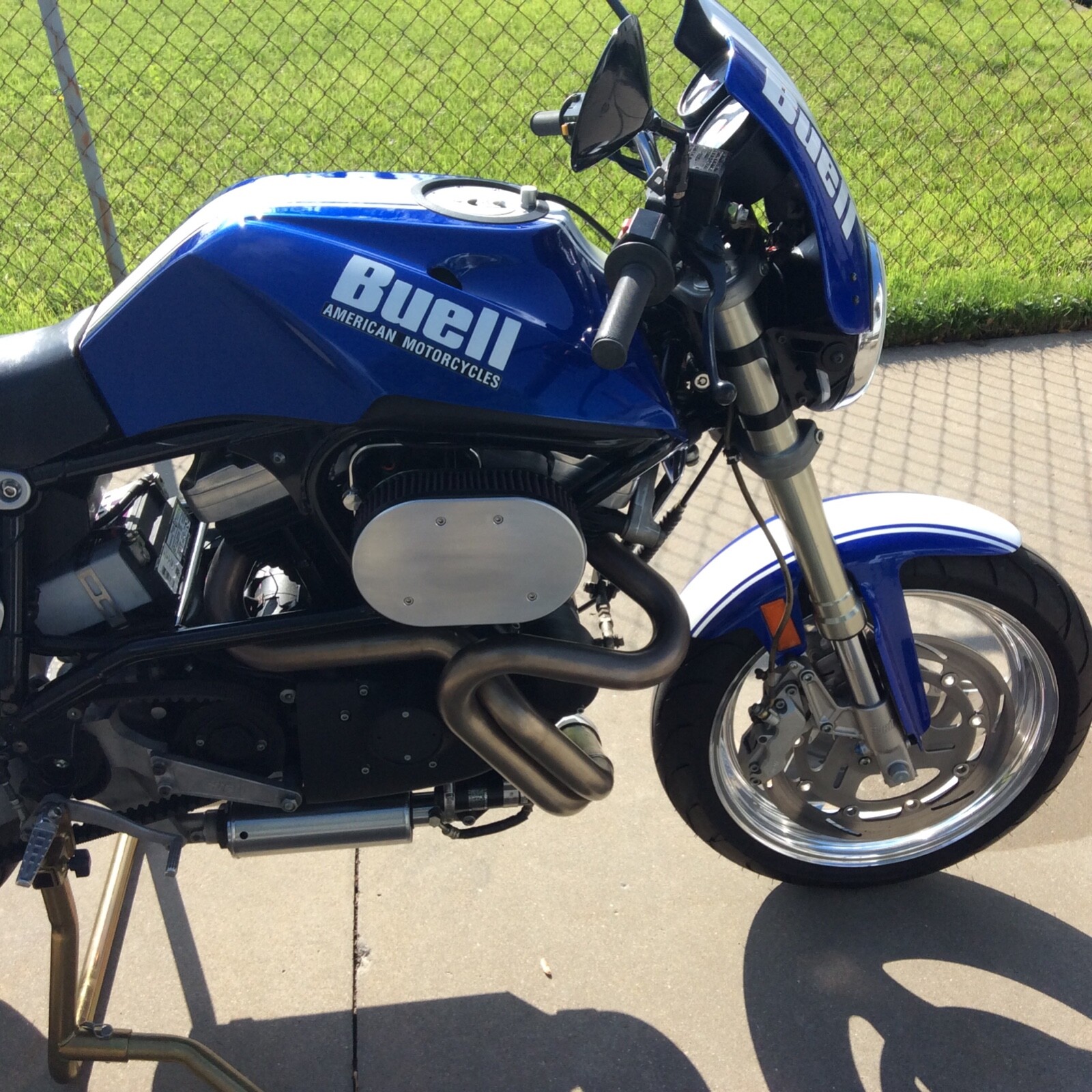 Buell just didn't make a trellis frame and slap a hotrod motor in it. He was bred on road courses where  handling is paramount. Fully adjustable Showa forks are used in the front and the Showa shock on the bottom actually gets pulled instead of compressed in response to a bump. The position of the rear shock is odd but it was done to keep the weight down low and also because there isn't much space to put it anywhere else. Buell did his best to keep the wheelbase short on his bikes so everything is packaged up tight. The singular 6 piston Nissin caliper will provide a surprising amount of stopping power up front as well.
From the seller:
"2001 Buell X1  Limited  Edition paint, New Michilen power pilot tires, Rizoma led turn signals, New Brake Pads, Bronze oil pump drive gear, SuperTrapp Exhaust, Power coated seat rail, accessory seat, Hammer Performance intake. Low miles in Excellent Condition. All Original parts included."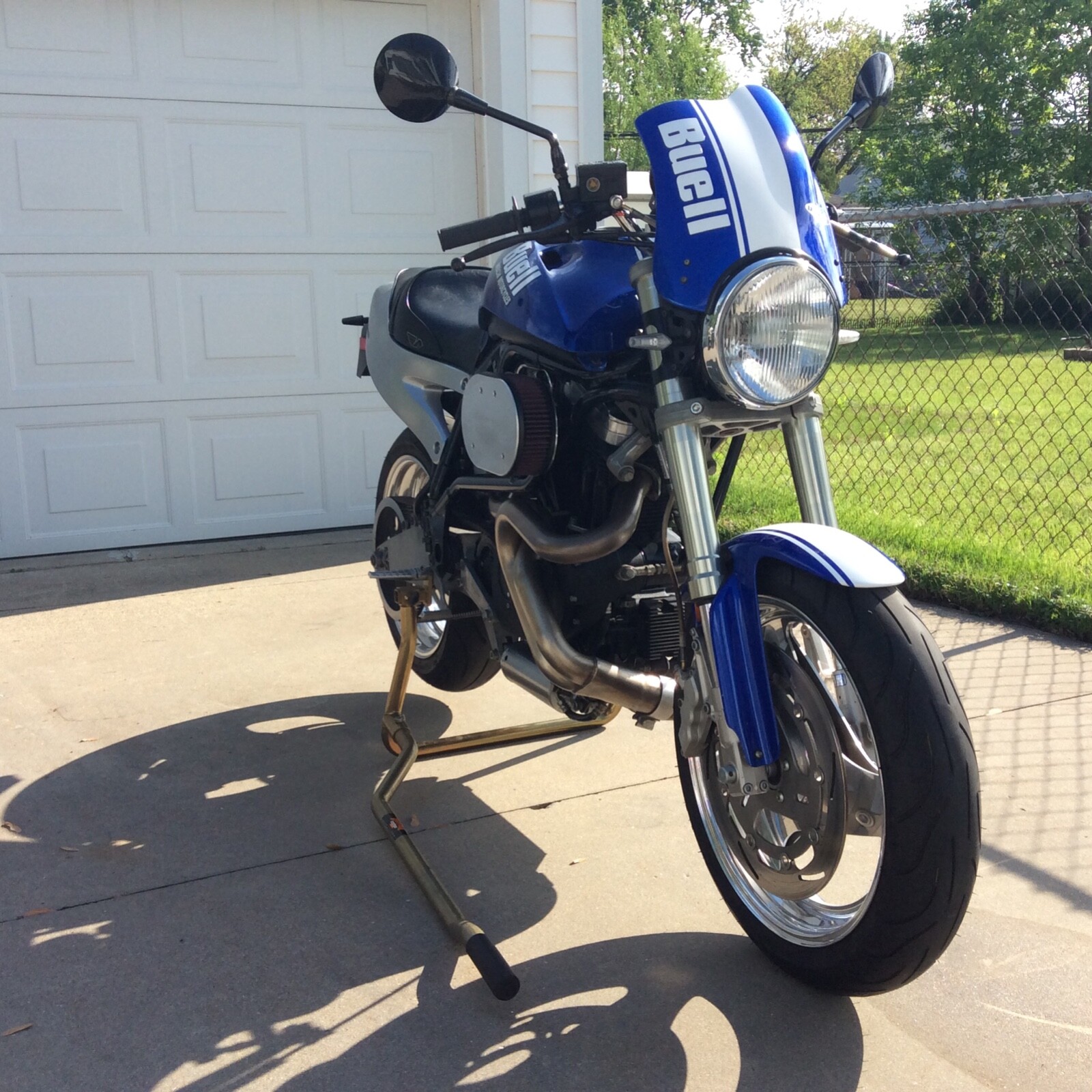 The X1 is a solid addition to any collection. The styling has aged nicely and the motor/chassis combo give you an experience that is totally unique to the Buell lineup. Parts are easy to come by and there is an active Buell community that can help you sort out any issues you might have. The seller has allowed people to make an offer but I don't think $5K is a crime for a such a clean example. As a Buell owner, I am biased but if you can get past the vibration and onto a twisty road you will undoubtedly leave with a smile on your face.
-Norm