Update 2.20.2022: We originally put this post together in Dec 2018 and it's back on eBay with the same $75k opening bid. Links updated. -dc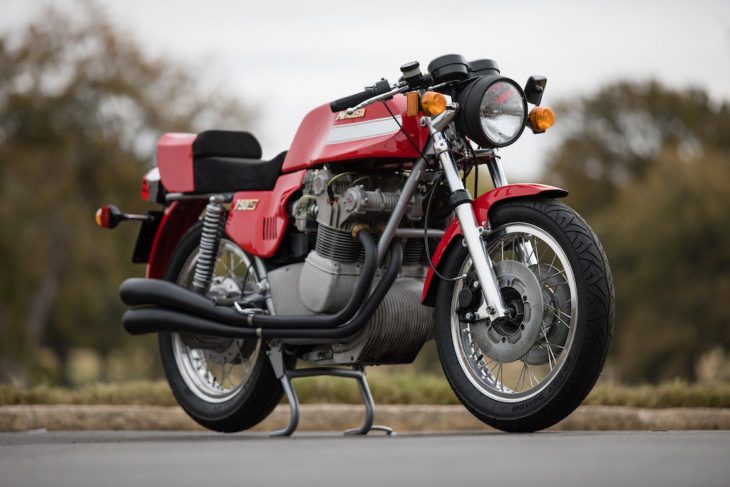 I'm sure everyone who bought F4s, back when seemingly every version of that bike was a limited edition of one kind or another, was hoping to capture a bit of what  the MV Agusta 750S America offered: exclusivity, collectiblity, and ever-increasing values. It didn't necessarily offer class leading performance because, while MV was famous for its racetrack successes, their roadbike was relatively tame: power was average and the bike was fairly heavy, with performance-sapping shaft-drive.
Shaft-drive was a viable, and far more reliable alternative to chain-and-sprocket setups back in the 1970s, and both the Moto Guzzi LeMans and BMW R90S managed to be competitive machines in spite of the performance handicap of shaft drive. But MV supposedly included shaft-drive on their roadbike specifically to limit performance, so privateers couldn't simply buy a 750S and compete against MV's factory efforts. The new bike really embodied a shift in the motorcycle market, away from the practical, small-displacement machines MV was producing for road use in the 1950s and towards more powerful, expensive four-cylinder machines exemplified by the Honda CB750 and Kawasaki Z1.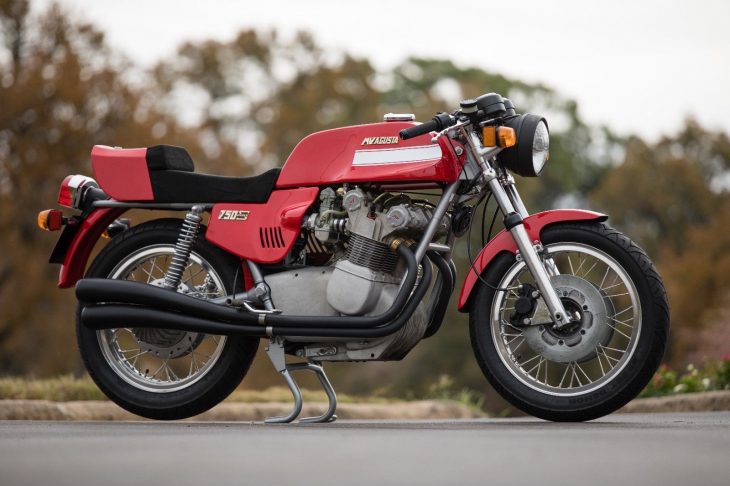 The complete 750S was relatively heavy and engine was designed to be durable, to suit the bike's more grand touring mission statement. But its racing heritage shone through and the powerplant was pretty narrow, with gear-driven cams, exotic-looking sand-cast engine cases, and a complete lack of any filtration for the quartet of Dellorto carburetors. The original version displaced 742cc, made 69hp, and had drum brakes to haul the 560lbs wet machine down from the 130mph top speed. That sounds pretty unimpressive now, but was par for the course at the time among four-cylinder superbikes.
The 750S America that followed, known as the 800 Super America in parts of Europe, increased displacement to 787cc for a bump in horsepower and torque. It also moved the gearshift to the left-hand side in an effort to appeal to the US buyers, which makes sense considering it was marketed as the "America." This later version was still burdened with that heavy driveshaft, but Arturo Magni, who worked with MV Agusta's racing team during their heyday, manufactured a chain-drive conversion for the 750S. Magni is still in business, and maybe they can be persuaded to whip up another one for you, if you're so inclined.
From the original eBay listing: 1975 MV Agusta 750S America
Most of you know the history of MV Agusta, with their 37 world championships with the likes of Read, Surtees and Agostini. The story of this bike is that it was conceived by the U.S. importer, Chris Garville, as a limited-edition (200 for the 1975 model year) sport bike for the American market based on the existing 750 Sport; that bike became known as the 750S America.

This 1975 750S America was one of the earliest models imported into the US, with engine number 221012 and frame number 221009.

First of only two owners was the importer, Garville Corporation, where it was used in displays, shows and magazine tests: as featured in Cycle, Big Bike and Motor Cycle World to name a few. Ownership was then transferred to Peter Garville (brother of importer Chris) in where it stayed in his possession until 1990.

Included with the motorcycle is a large collection of: Factory correspondence to support its provenance, magazine articles specific to this particular motorcycle, period brochures, and spare parts.

For further information please see the recently featured May/June 2018 edition of the American magazine Motorcycle Classics –

https://www.motorcycleclassics.com/classic-italian-motorcycles/classic-mv-agusta-motorcycles/1975-mv-agusta-750s-america-zmwz18mjzhur

As second owner, I acquired the bike from Garville in 1990 by way of famed restorer Perry Bushong (one of the first MV Agusta dealers in the US). Perry and I have had a life long friendship and working relationship. When he heard that this bike was coming up for sale he knew that this bike was for me. When I heard the sound of the 4 into 4 exhaust I was hooked and that is when it became mine. In 1994 I had the opportunity to meet John Surtees at Daytona and he was kind enough to autograph the fuel tank. After that the bike was ridden sporadically, mostly at bike events, rallys and shows until 2014 when I took it back to Perry to ask him to do the restoration, which was completed in the Fall of 2016. We added the curved racing exhaust built by Dave Kay in England, something I had always wanted to do as it looks fantastic and sounds like no other motorcycle on the road!

Sadly in 2017 both Perry and Mr. Surtees passed away within one week of each other.
The 750S was $6,500 when new, the equivalent of around $40,000 in today's dollars. The starting bid for this one is $75,000 with no bids as yet, but plenty of time left on the auction. Fortunately, this machine has gracefully curved four-into-four exhaust pipes instead of the straight megaphones seen on earlier bikes that look good and sound better. There's a reason Yamaha's cross-plane crank has made such a big splash in recent years: traditional flat-plane crank inline fours are powerful, but can be a bit bland. But if you're expecting the sanitary rustle of a modern four here, you'll be shocked by the 750S America's shrieking exhaust note and the bike has thoroughbred handling to match, in spite of the weight.
-tad