Location: Portland, Oregon
Mileage: 20,941
Price: Auction, $5,500 BIN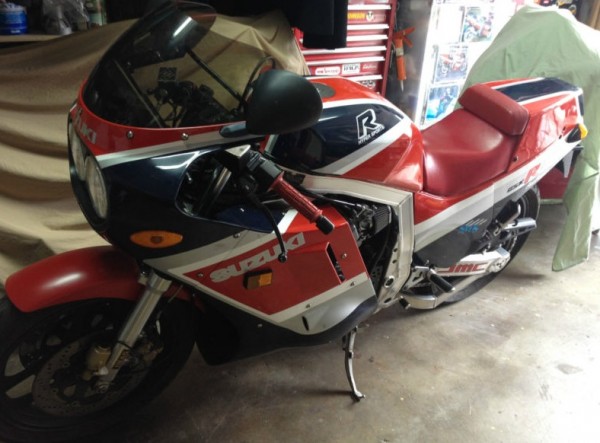 Okay, this bike has been modified but also maintained and upgraded. And sure, it's in Oregon, my home state. And I also love GSX-R's. So there was really no way I couldn't write this up. Generally, I like to find older GSX-R's that are completely stock, if possible. Because these bikes were an instant success and the bought, and then wrecked, not too many have survived. So these days even modified bikes deserve consideration. Like this one.
Here's what the seller has to say-
1986 Suzuki GSXR 1100 Survivor !! 20k original miles. 138 RWHP !! Tuning and Dyno Pulls done in April 2012 at Rons Performance Motorcycle. Local Racer.

Engine / Brand new head, Ported and polished, All new bearings,Timing chain, Rods and pistons, Gaskets, Valve springs, Stainless valves, Rings, Drag Cams, Mikuni carbs, K&N Pod Filters, Carbon M4 Exhaust.

Transmission / New bearings, New backset gears. JMC reinforced swingarm, Ohlins rear shock.

Runs great, looks great, sounds great. Very nice Old School Gixxer. The last of their kind. You don't see too many of these anymore, this one is first year GSXR 1100 in the states. Very collectable.

Thanks for looking
Scott 
The seller outlines a lot of work on the bike, including work on the engine, suspension, transmission and exhaust. So clearly the bike has been run but it sounds like extensive work has been done to bring her back to good health. Clearly, it's not all original, but it's still a first year 1100, which is cool, and it still looks good, at least from the photos. Mileage isn't too crazy high either.
You'll want to do your homework on this one to make sure you get the bike you want. But if it works out, it could be cool.
So I guess it's worth checking out, I mean, if you're into awesome things. If you are, go here.
-RN