Location: Grove, Oklahoma
Mileage: 9,754
Price: $5,000 BIN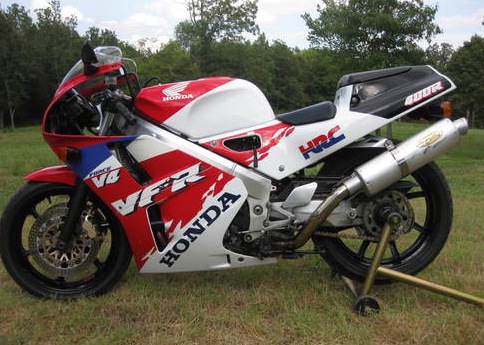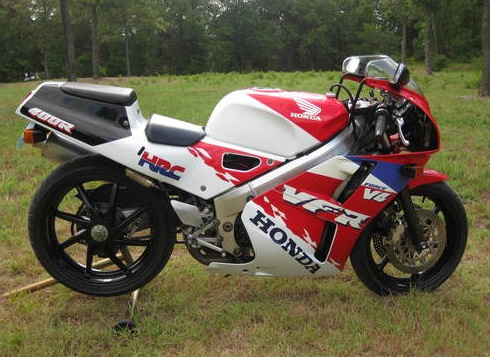 Anyone out there want a mini RC45? This isn't that iconic, uber rare, limited production superbike from Honda, but it is a killer bike regardless. The Honda VFR400 was never imported into the States, but is a staple in countries all around the world. You get a 400cc V-4 and a lightweight package to give you excellent handling. The 400cc machine has never been a big hit stateside, but I think it's a great motor that will provide a ton of fun.
Here's the seller's description-
1993 Honda NC30 VFR400.  15699km (9754 miles), street legal, "grey import".  Produced for domestic Japaness market.  This bike is in great condition.  I have put about 900 miles on it since purchased in 2008.  Tires, chain and sprockets all in good condition.  Two Brothers exhaust, otherwise stock.  Very fun to ride.  Sounds awesome!  Great collector/conversation piece.
And pics-
Looking over the photos, this bike is clearly no super mint machine. The seller highlights some of the cosmetic issues in the photos, so you will be getting a bike that has some issues. The mileage isn't too outrageous and hopefully the maintenance has been done so the bike runs well. The seller doesn't provide a lot of history in this area, so you'll want to find out as much as you can. Exhaust has been swapped, but that shouldn't be a major concern.
So here's an opportunity to own a killer ride that you just couldn't get here in the U.S. A great motor and chassis to have a good time on, and an opportunity to ride something you won't see on every corner. You can take it home for $5k, which is a good amount for this bike. But maybe you can get a deal. If you want to make a play, go get in on the action!
-RN