Location: Malibu, California
Mileage: 26,000
Price: Auction, $2,750 BIN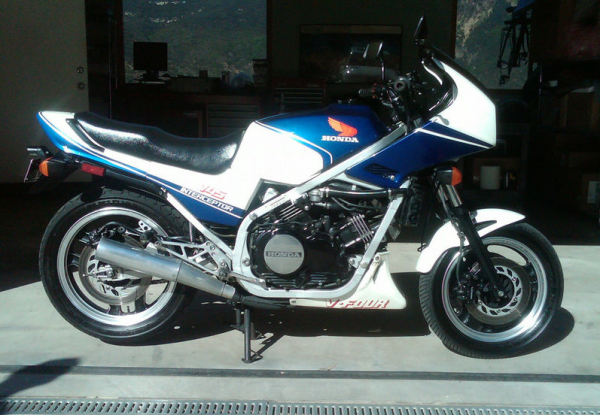 I know this bike is a little older that what we usually see on RSBFS, but I like it for two reasons. One, it's clean and original for an '83. Two, I think the Interceptor has an important history in the sportbike evolution that deserves recognition. Pre-Ninja and Hurricane days, the Interceptor was breaking ground in developing the sportbike in the US. It was also the precursor to the VF1000R ('85), the famed and heralded RC 30 ('90) and has clear lineage to the current VFR 800, a bike I own. I may be dating myself, and I am getting old, but the Interceptor was serious business back in the day and I still think an important bike in the history of the sportbike.
The seller gives some good detail about the bike-
I'm selling my adult owned, unmolested 1983 VF750 V45 Interceptor. Everything on the motorcycle is stock with the sole exception of the F1 slip on exhaust.

I am the second owner of this bike, the first was also an adult. I recently paid registration and I have clean CA title in my name. Everything works – no excuses.

Starts, runs, drives, shifts and stops as it should. The fork seals do NOT leak, the engine does NOT leak, there are no ticks or other odd sounds coming from the engine. I have a receipt for the most recent service done in August, 2011 – new battery, adjust and sync carbs, change engine oil and filter, flush/change brake/clutch fluid, new air filter, etc. There is not a single thing wrong with this motorcycle I am aware of, and I last rode it an hour ago before taking the photos. A full size, gray cover is included.

All original paint, and the only two small scuffs the bike has ever had (may or may not be visible in photos) on the upper fairing have been left alone. There are no dents on the tank, although there are three small paint chips that you may or may not notice. It's in really nice condition for it's age. I get compliments almost every time I go for a ride somewhere on it.

The tires are older, but have very good tread and are not dry rotted or cracked in any way. It has approximately 26,000 miles on it. I am a 41 year old adult, and I ride the bike to get breakfast or coffee once, sometimes twice a week in Malibu near my home. If you are looking for a nice, clean, vintage Honda Interceptor, this is a great opportunity. I want to see this bike go to a good home.

We're expecting a baby in early November, and my riding makes my financee nervous. So, I'm offering the bike for sale. I am going to offer it for sale locally as well, so I reserve the right to end this auction early. I doubt it will last too long, there are not many around that are in decent, original condition. So if you're interested, don't wait…

Questions? Please ask away. 
Here's some more pics-
The bike seems to be well cared for and the mileage isn't too bad for its age. If well maintained I would suspect that this machine could runs for many more miles. The bike is listed as original except for a slip-on exhaust and the tires are older, so that may be of some concern. The seller says there are no dents in the tank but it looks like there may be a small dent on one side if you look closely at the photos. You may want to clear that up with the seller. Otherwise this looks like a clean, original example of a first year Honda Interceptor VF 750F.
If you are collector, or have always loved the Interceptor and maybe remember it from back in the day, then you may want to take a look at this bike. At $2,750 you could have a shot at  clean early piece of Honda and motorcycle history. Interested? The make the jump!
-RN