Location: Spanish Fort, Alabama
Mileage: 3,967
Price: Auction, starting $17,000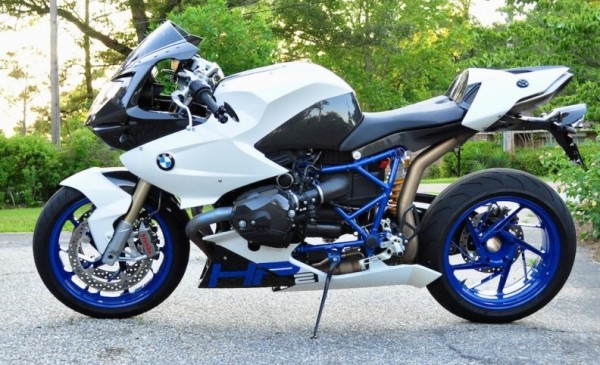 If you look through the photos of this bike, one thing becomes very apparent. The build quality of this bike is outstanding. It is probably no surprise for folks that are fans of BMW bikes to begin with, but the HP2 Sport is above and beyond even BMW's standards. Just look at the parts on this thing. Precision aluminum all over the place (the triple clamp is stunning, just to start) and carbon fiber bits to keep you light and strong. A really beautiful bike across the board.
Here's the photos-
And the seller's info-
The downward sloping machined upper fork support is indicative of the quality found throughout this motorcycle.  This bike is like new, never seen a track and has been treated like the collector's item it is.  As you will see from the price sheet, it does not have ABS.  It does include BMW's aftermarket LED turn indicators and the currently uninstalled BMW aftermarket GP pattern quick-shifter.  As you will see from the pictures, I have installed a standard shift connector rod as I found the transmission to be smoothest in this configuration.  Unfortunately, the standard quick-shifter was misplaced and is not included in this sale.  Also included is the complete original tool kit, the plastic duplicate key, the owner's manual, a BMW repair manual on DVD and a BMW aftermarket spark plug wire puller.  The ultra lightweight Shorai battery is brand new.  I mounted and balanced the Michelin Pilot Pures. The stock mirrors give a fine view of your arms, so I added the CRG bar end mirrors. The stock mirrors are available.  Just to be clear, the Pitbull stands in the pictures are not included. 

I am the second owner of this motorcycle.  I purchased it from Hebert Cycles, the original dealer, and met the first owner who put about 2,000 miles on it in about two years.  The original tires were still on the bike when I bought it, and were in remarkably good shape with plenty of tread and wide unused strips on both sides of the rear tire. 
The seller describes some of the changes on the bike, like the bar-end mirrors, but the originals are available. The bike does not have ABS and the quick shift has apparently been misplaced. The bike has low mileage and appears to be in excellent condition. The seller also includes a photo of the invoice and you can see the MSRP on one of these is not cheap. You get what you pay for, apparently.
So if you're looking for one, this may be your ticket. You could bring one home for significantly less than buying new. Or if you want something that's an amazing machine and a little different than other options, this may work too.
To take this beauty home, make the jump!
-RN