Location: San Francisco, California
Mileage: 14,600
Price: Auction with reserve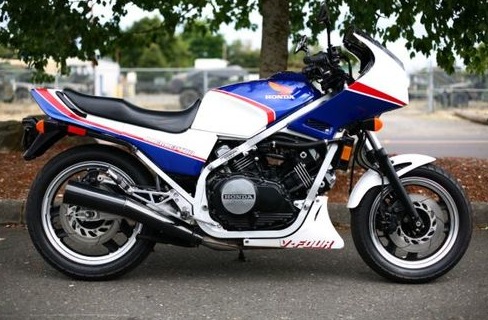 I'm sure most everyone here knows the VF/Interceptor line out of Honda from the 80's. These bikes were on the forefront of sportbikes for the U.S. and led the way to many good things, like the Honda RC30 and the VF1000R, and VFR800, my personal bike of choice. What's interesting about this bike is that it's a 700, not a 750. It's a tariff model, built back when the U.S. decided to put a tariff on bike over 700 cc's to presumably encourage the purchasing of a certain American motorcycle product. So what do you do at Honda? Build a 700 cc tariff beater.
Here's the seller's description-
Beautiful survivor VF700F2 (tariff model) all original. Excellent condition, I would give it somewhere between an 8.5 – 9 on a scale of 1-10 as far as cosmetic condition goes considering its age and I very picky when it comes to things like that. I have taken photos of any cosmetic blemishes I could find which are all very minor. Everything works perfectly on the bike with the exception of the horn. In addition, the right hand turn signal light does not come on the instrument panel when engaged but the turn signal itself comes on and blinks as it should. 14,600 original miles. Runs better than new. Current registration with clear title.
And the pics-
So, to continue the story, the U.S. wised up and pulled the tariff in 1988. So everyone went back to the more powerful 750, ensuring happiness in all the land. But for those folks who want something different, this is an option.
This bike looks original and very clean, with mileage that ain't bad for the Interceptor crowd. The seller highlights a couple of issues, like the horn and turn signal. But hopefully those could be settled pretty quick. Outside of those things, this is a good looking example of a rare bike in a rare engine configuration.
Like what you see and want to harken back to poor U.S. trade policy? Then make the jump!
-RN