Location: Waterloo, Iowa
Mileage: 5,220
Price: Auction, with a reserve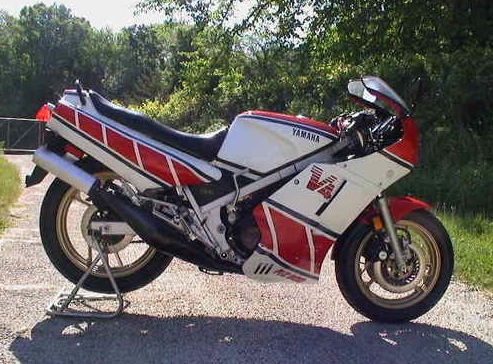 Saying that there have been a smattering of RZ500's on RSBFS lately would be an understatement. Scan the last couple weeks of postings on the site and you'll see plenty of these units. Crazy? Maybe. Awesome? For sure. The RZ500 is an old school Grand Prix bike for the street. Back when the 500cc two stroke ruled the earth. Not available in the U.S. ever, these bikes are truly rare and, you could argue, define sportbikes. Is it the refined machine of today? No. But there lies the magic.
Here's what the seller has to say-
The lowest of the low-miles RZ500s?  If anyone has one with fewer miles, probably we'd all like to see it!  For auction is a very late serial number 1985 Yamaha RZ500 with 8688 Kilometers  (5213 miles) and it is nearly 100% original, including the Yokohama tires.   It has a current title valid in the USA,  and a current legal up-to-date State registration for 2012.  It has been in storage since 1986, and was not re-registered until May, 2012.   It was ridden by the first owner for a few months, then sold to a second owner who rode it only a few times, then he stored it permanently.   I believe nearly all parts are original, including every nut, bolt and washer, rubber grips, peg covers, wind screen, electrical parts, etc. and it is in excellent condition throughout.   It idles, runs, and shifts perfectly.  It operates as good as it looks in the photographs.  This is a rare find in the USA, and I doubt there are many RZ500s as original as this,  or with fewer miles.   If you've been waiting for something very special, this is probably the one you've been waiting for.  Fuel and oil have been removed, so it will be necessary to start it on premix and bleed the oil feed line.  Basically, gas it and go.

There are no repairs / plastic welding / etc. which have been done to the fairing. It has not ever been crashed, rebuilt, repainted or restored. After installing a battery and fuel, it started immediately, and the engine needed nothing except cleaning the carburetor's pilot jets.   Brake fluid has been changed and the master cylinders and brakes work perfectly. The bike has now been  drained of gasoline and two-stroke oil. The original undamaged front turn signals are included with the bike, but are not mounted.    

There is a  very small paint chip in the tank's side (no dent) and small ding in the end of a silencer can. (see photos).   A corner of the plastic rear grille near the upper silencer  has been repaired, but could be sanded & touched up for better appearance.  One of the middle fairing's mounting tabs (which is beneath the lower fairing section's outer edge) has tiny cracks which cannot be seen from the exterior.  There is one extremely small dent in the gas tank near the rider's crotch, which is so small I cannot get it to display in a camera shot; it is very, very shallow, and difficult to see.  I do not have the tool kit or the owner's manual .  There was one wire added, apparently for a radar detector.  It can be removed with no damage or cuts to any existing wire.   

There is a reserve price on this sale, and if you would like to see recent listings of RZ500s, I suggest you enter  eBay's "Completed Listings" and take a look.  You can compare mileage, and come to your own conclusions.  This bike is not going to need an engine rebuild! 

Shipping:  The buyer is responsible for pickup or shipping.   

Payment:  I will accept cash in US currency examined at a nearby local bank (two minutes away),  or a certified cashier's check or a personal check, however, all check-payments must have collected funds before the bike will be released. Upon completion of the sale, $1,500 deposit must be received using Paypal within three days (72 hours).  Balance  must be received within 10 days of the completed auction, or the sale is invalid and the deposit is considered forfeited in total.    All funds must be received in United States dollars,  and checks must be drawn on Canadian or USA banks..  The motorcycle will not be released to a third party without prior notification of intended release,  and proper identification of the buyer's representative.   Thanks for taking the time to view this auction.  Feel free to contact with questions. 
And more photos-
So if you read the seller's description, and you should, you'll see that this would qualify as one low mileage bike. And pretty solid in the originality department. Overall condition looks great. Apparently this thing has been stored quite a while and clearly not ridden much. That in itself could be of some concern but the seller describes the bike as ready to run. The seller also describes some minor cosmetic damage (think Lindsey Lohan, not Tara Reid), so it really shouldn't be a concern.
All in all this is a clean bike, and certainly qualifies as a collector bike. Who knows where the reserve is but I'm guessing it will be at the high end of the scale. Probably $10k plus.
These bikes are killer. Invest in something more interesting that Facebook and make the jump!
-RN