Location: Newport Beach, California
Mileage: 1,025
Price: Auction, starting at $25,000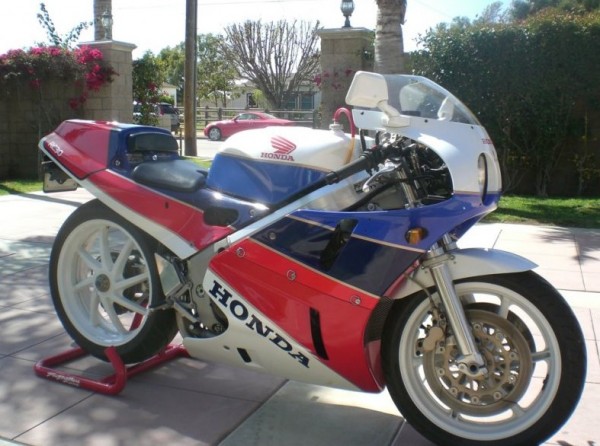 So the RC30 is one of the most desirable sportbikes there is. They are always featured here on RSBFS when they show themselves. And that seems to be a lot lately. These bikes only came to the States in 1990 and they are rare here (around 300 imported), but worldwide production was greater than say the Yamaha R7 OW02.  Who knows what is driving these out of hiding, but I suspect the (rapidly) rising values has something to do with it.
Here's some more pics to drool over-
Seller's information is brief-
Up for sale is a 1990 Honda RC30 this bike has 1,025 miles on it and is in great shape. You will notice on some of the pictures there is a small crack on each side of the upper farlings. Runs great been garaged since owning the bike.
The bike looks clean except for the cracked fairing. The mileage is low, which is not uncommon. These were expensive ($15k) when they were released and I think people saw the potential for increasing in value then. The RC30 is the top of the pyramid when it comes to being collectible so originality and condition are crucial. The seller is starting at $25,000 which is right in there with super pristine examples going for $30k and beyond.
The RC30 is a one killer bike by any estimation. If you want to make a play, then go place a bid!
-RN