Previously posted last spring, this Urban Tiger is back on eBay with a very reasonable buy-it-now of $4800. Links updated. -dc
Many a CBR900RR has appeared on RSBFS because it is truly one of the greatest game changing bikes in all of sportbike history. Much has been written about the bike as Honda set the world on fire with a 900cc bike that was the same size and weight as their current 600. Unbelievable.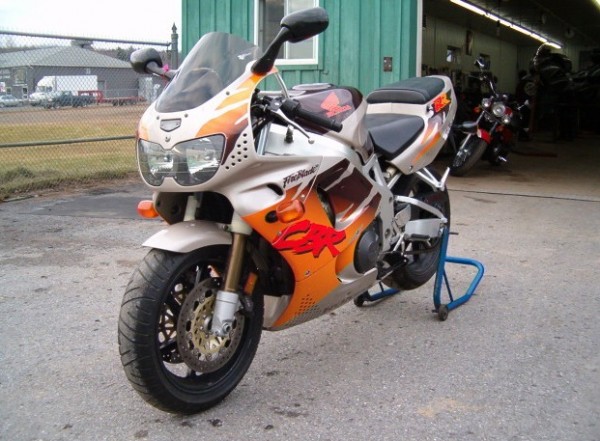 As for rarity, the CBR900RR was brought to the U.S. and wasn't rare back in the day. But now it's all about what has survived intact and original after 18 years. Lots were wrecked and lots were modded, probably by you guys who look at this site now. You know who you are.
Here's the seller's info-
This is a rare find for sure, I understand that the color scheme (urban tiger) was never to come to America. 200 units were shipped to Quebec Canada by mistake and riders drove from the US to purchase the body parts and gas tank to convert their own FireBlade's to the unique color scheme. The bike is crazy fast, great looking and in incredible shape. I have owned a number of CBR's and fell in love with the look and stance of this bike. The bikes capabilities is beyond my riding comfort level. In its day this bike ruled the track and the road, 124 HP @10k and only 403 lbs.

I really do not want to sell this bike but I can't afford a 2nd additional bike that I can ride with my girlfriend.
Lastly, you may have seen CBR900RR's in the U.S. but probably not like this one. The particular paint (urban tiger? hilarious!) on this bike didn't make it to the U.S. You might think that's a good thing. I don't. I think this bike looks awesome. It's pure 90's.
So, the seller is asking $7,500. That's a lot of cheese for this bike. But it is super cool. So it's up to you. To make your call in the affirmative, check out the auction!
-RN