Location: Wilmington, North Carolina
Mileage: 11,922
Price: Auction with a reserve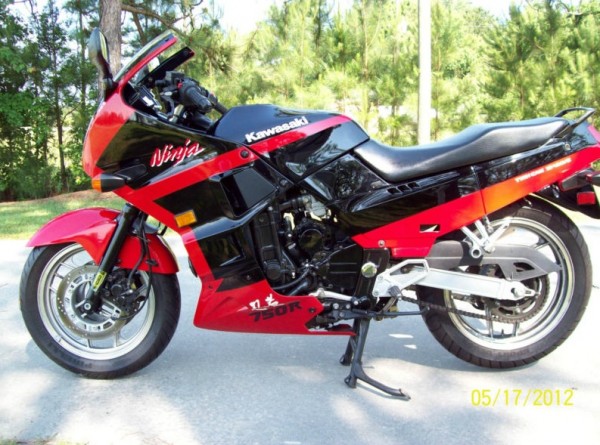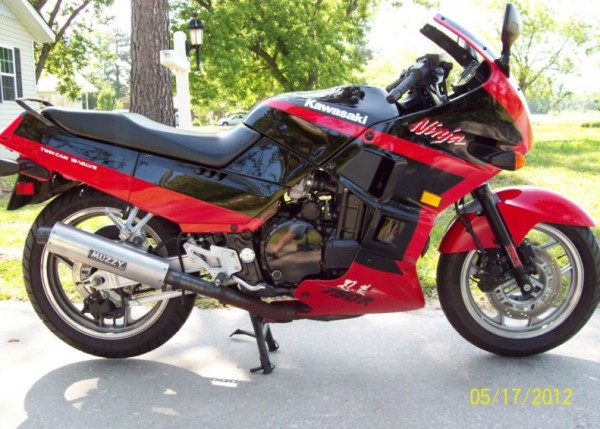 The 750 isn't a common displacement for the sportbike anymore. You can get a Suzuki GSX-R 750, and well, that's about it. But that wasn't always the case. Used to be that all the major manufacturers offered a 750. I liked those days. They offer what the GSX-R 750 offers now: Big power and a small chassis. Now, you could argue that the 1000's are really approaching the same standard, but I still wish the 750's were offered. Since they're not, here's a chance for one.
From the seller-
Beautiful Kawasaki Ninja 750, Red and Black paint, very rare, Good all around bike, light and quick with out the torture rack of modern sport bikes. The bike would be perfect for a new rider or an older one who can't take the rack anymore.

The miles are low, under 12,000

The tires are near new

Muzzy full pipe, I do not have the stock pipes.

Sprockets are in great shape

The bike is basically stock except the pipe. There is normal wear from the miles the bike has, nothing really jumps out, there is a tiny crack in the brake light (see pic)

It is a solid rare ride that are hard to find, sure to be collectible, or it can just be every day ride.

Any questions just ask, but!!!!

If you have less than a 5 feedback score, due to so many winners not completing the deal…… message me before bidding, it does cost money to list on here and games just cost money..

One reason I don't list buy it now, people hit, then nothing, but eBay sends the bill no matter,,,,

The bike is for sale on the C-list,,, but I really need the room at the moment..

so it she sells locally, I will end early..

thank you  
And plenty of pics-
The seller says the bike is basically stock except for the Muzzy exhaust, not exactly uncommon for a Kawasaki back in the day. The mileage is still low for the bike's age. The paint looks good and no other significant issue appear to exist, except for the crack in the break light the seller highlights.
Bikes this old and this clean are becoming harder and harder to find. It may not be the performance demon that you get in today's bikes, but it was certainly a cool ride back then and I think still looks great today. As the rarer bikes continue to get more expensive, like the ZX-7R, this may be an option that won't break the bank.
If you like these bikes too, get in on the action and go place your bid!
-RN