Location: Reno-Sparks, Nevada
Mileage: 7,461
Price: Auction, no reserve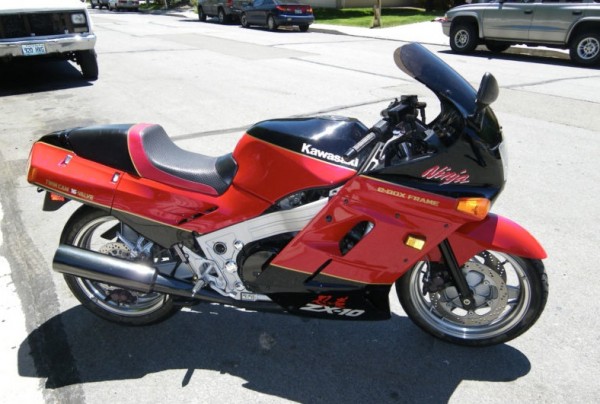 Back in the 80's the Ninja was a groundbreaking machine for the sportbike world. The GPz900 of Top Gun fame lead to the Ninja 600 that was a first for the inline four, water cooled 600cc sportbike. People may not think much of them now, but the Ninja brought the Hurricane and eventually, late to the party, the GSX-R 600. All that is to say that in '88, the Ninja ZX-10 (formerly the ZX1000R) was one seriously bad ass bike. It ran with the GSX-R1100, FZR1000, and Hurricane 1000. The biggest and fastest back then.
Here's what the seller has to say about this bike-
Yes, this is the one you have been looking for. Garage kept, low miles, great paint. The pictures are worth a thousand words. Meticulously maintained. You will not find a better example of this model. One tiny scratch on the front fender. Local pickup is available in the Reno Nevada area. All question will be answered promptly.

Novice riders beware, this is a serious bike. This is one of the first bikes to crack 160mph. 0 to 60 in 3.7. Quarter mile in the high 10's.

Will there be another one like this sitting in someones garage? Maybe maybe not. So quit drooling and bid already!
And more pics-
This bike looks very stock outside of the Corbin seat, which most would consider an upgrade, and the smoked windscreen. With 7,461 miles, the bike really hasn't seen that much riding in its 24 years. Geez, is it really 24 years? I graduated in '88. Getting so old. The paint looks pretty good and the seller only mentions a minor scratch, which you may want a close-up picture of.
There's no reserve on this auction, so we'll get a good test of the market on this one. If you've been looking, you may want to follow the seller's advice and quit drooling (something you should really consider stopping anyway) and place your bid!
-RN