Location: Brazil, Indiana
Mileage: 4,597
Price: Auction, $2,550 No Reserve!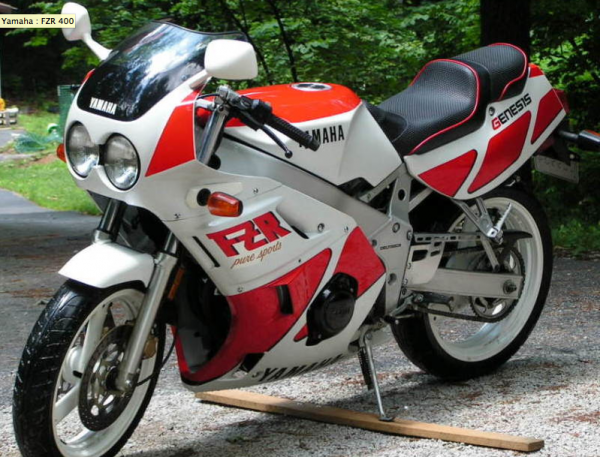 I can only imagine that about everything that can be written about the FZR400 has been written here at RSBFS. The limited time in the US market, the weight, handling, and power for a 400cc machine. Thing is, regardless of when they were written, all of those factors will always remain the same. So its a good bike, a great bike actually. Well worth the many words that have come before on RSBFS and will undoubtedly come after.
Here's a fairly detailed description from the seller-
Well, this is it. Selling my last motorcycle. I'll turn 67 this year and it's time for someone else to have this little jewel of a bike. I bought this from the original owner back in 1994. It had 3,350 miles on it then. So, I've put roughly 1,650 miles on it in the nearly 17 years I've owned it. But, I had lots of bikes to ride – Honda ST1100, CBR 1,000, CB 1, CB 1100F, Kawasaki ZX-11, Yamaha RD400 Daytona Special and TZ 250, along with a couple others. But, this one was always special. It feels light as a feather and has an engine that will put you down the road in a hurry once you pass about 10,000 RPM. It redlines at 14,000 RPM. The bike has never been down and has never seen a track day. The original owner was in his thirties so it's not been flogged by anyone. Engine runs strong and smooth. I checked the license plate and the bike has not been on the road in ten years. It's never spent a night outside. It still has the original Bridgestone tires which you should replace if you are going to ride it. Lots of tread left, but give them their due, they need replaced. When I put it away the gas tank was drained and oiled and the carbs were also drained. When I washed out the old oil and put new gas in this weekend she fired right up with a jump start. Fresh oil and filter too. Battery shot and discarded. I may get around to replacing it this week. She always shifted smoothly and the clutch was in excellent condition when it was last on the road. There are a couple of screw fasteners missing and one ear on the tank cover is broken off. I have it if a person wants to work on a repair. It was that way when I bought it and it's never been a problem. I think there is a crack on one of the fairing ears fasteners in front. But, again, it's never been a problem. As you can see, it has a Corbin seat on it. It was there when I bought it. I think I do have the two piece factory seat but there had to be a modification made to fit the Corbin seat and the factory two piece can't be used. I'm going to quote some specs from the Cycle Guide magazine you see pictured. The bike weighs 385 pounds. The engine is an inline four with a bore of 56mm x 40.5mm stroke. The compression ratio is 11.5:1. I've never had a problem with it pinging if you use good gas. It has a 6 speed transmission. The gas tank holds 4.6 gallons, including a 0.9 gal. reserve. Top speed is 133 miles per hour. Quarter mile time is 12.82 seconds at 102.5 MPH. Average fuel consumption is 41 MPG. Twin disk brakes up front and a single in back. For pure pucker factor the ZX-11 could not be beaten. But, this little sweetheart would bring a smile to your face when you pushed the RPMs up as you leaned it over in the curves. It is so light you know you are in control. It was given a quick wash today before pictures were taken. It should have a good detail cleaning as it's been sitting for quite a while. It's not perfect. There are some places in the metal finish that could stand attention. But, for a 23 year old bike, it looks mighty fine.

I live between Terre Haute and Indianapolis, just a few miles north of I-70, in case anyone would like to come and take a look. Over the last eight years I've sold all of the other bikes on ebay and all buyers were happy. This is a nice one you will have to look a long while to top. It's a real auction. Starts at a penny and no reserve and no Buy It Now price. If you live a long distance away I'd be willing to drive up to 200 miles to meet you somewhere. The charge would only be $0.30 per mile, round trip. Feel free to ask questions or for more pictures.
Here's some more pics-
The only major modification I see on this bike is the Corbin seat, which I'm guessing is actually way more comfortable than the stock seat. The seller also mentions some missing fasteners and and a broken tank cover tab. And the battery needs to be replaced, which it sounds like the seller is taking care of.
So while there may be some issues with the bike the miles aren't high and if it runs strong, it could be a great riding bike. These bikes may not have caught on in the states, but like I said above, they are well regarded for a reason. For a shot at this one, check the auction out! Oh, did I mention there's no reserve?
-RN