Location: Marina del Ray, CA    Mileage: 22,500    Price: $9,200 BIN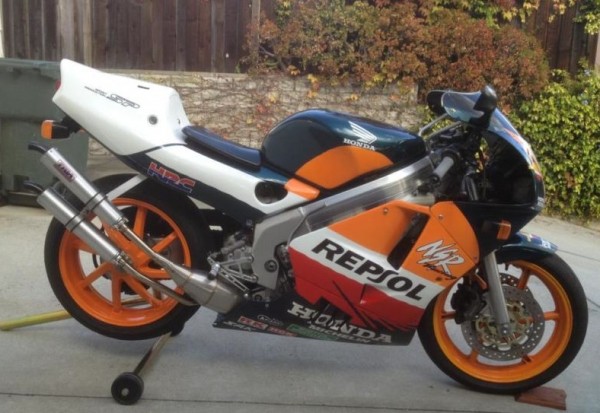 The holidays are a time for giving and for those of you out there who want to make this RSBFS staffer happy, here's your shot. We have up for consideration a Honda NSR250 SE in Repsol livery. While not the SP edition, it's one very good looking and super cool bike that would look outstanding under my tree. For all of you out there familiar with these machines, you know what a special ride the two stroke 250 is. This is the last generation of the NSR250, a legendary line of 250 two strokes.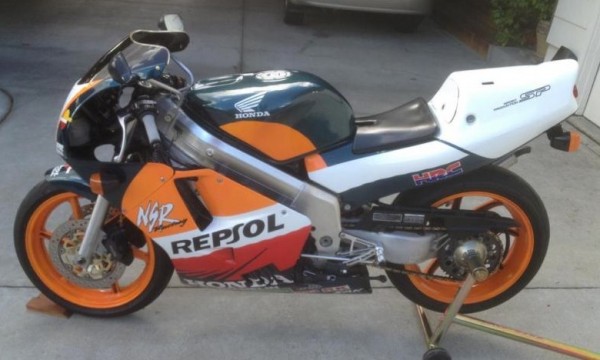 Here's the seller's description-
1996 Honda NSR250 MC28 SE Repsol This is a very rare 2 Stoke 250CC imported from Japan. Even rarer is that this bike is CA registered and the tags are good through March 2013. 

Performance: I recently had the bike dyno'd and it put down a healthy 54hp to the wheels. I just had the carbs completely cleaned. The bike currently runs Tyga billet aluminum rear sets, Tyga High Flow Reeds, Tyga GP exhaust, Tyga Race Airbox, #155 main jets, and 2 degree Woodruff keys. I have the stock exhaust, reeds, airbox, jets and woodruff keys. This SE Model features a fully adjustable front and rear suspension as well as a dry clutch. The bike still utilizes the factory oil pump and is not a pre-mix bike. 

Mileage: approx 22,500 

Disclosures: There is a dent in the upper right portion of the tank which was there when I bought the bike. The lower fairings have some scratches on them but are not visible unless you look under the bike. 

This is a nice example of an MC28 and runs really well. 

Serious buyers only please. 
This bike looks like a good condition with modifications outlined by the seller, including a variety of Tyga parts along with the original pieces. The seller has had the bike dyno'd and the carbs cleaned. All in all it sounds like it's in good running order.
The seller is asking $9,200 BIN. So if you feel so inclined, please pick this beauty up for me. It will be the best Christmas ever! Or if you actually want it for under your tree, I will be very disappointed, but understand.
Either way, to make your or my Christmas dreams come true, place your bid!
-RN
One Response.