Warning!
This post is in our archives. Links in this post have been updated to point to similar bikes available to bid on eBay.

Location: Sutton, West Virginia   Mileage: 12,794   Price: Auction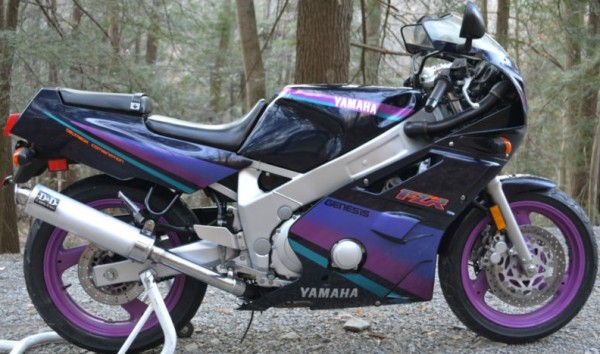 A buddy of mine had a 1990 FZR600 when we were in college at mighty Oregon State University (#15 in the BCS currently!) and it was about the coolest bike in the world. He let me ride it. Once. My bike at the time was a CBR600 and the FZR was seen as a more track ready race replica ride. I loved it and to this day remember that one day on the back roads. So I have a soft spot for the FZR, even with the awesome 90's graphics like this one.
Here's the seller's description:
I have for sale, a 1993 Yamaha FZR 600 in excellent original condition. It is completely stock except for a D&D slip-on exhaust, which is also in very nice condition and sounds great. The mileage is low and original and the bike has never been raced, crashed or abused in any way. All of the bodywork is in excellent condition with original paint and all original decals, and no cracks or damage, which is very rare for these bikes. The original tool kit is still under the passenger seat. The tires have a fair amount of tread, but have cracks from dry rot because the bike was in storeage for several years. The glass in the right side mirror appears a little hazy from age, but is otherwise fine. Both seats are in very nice condition with no damage. The engine sounds great and runs very strong, and this bike would make a great classic sport bike for a collector or a very nice, economical bike to ride. These bikes are getting harder to find in such nice original condition.  I have a clear title in hand, and my reserve is very reasonable. I also have this bike listed for sale locally, and reserve the right to end this auction early in the event of a sale. Shipping is the responsibility of the buyer, but I will be happy to assist in any way that I can. Please feel free to contact me with any questions you may have.
And photos-
The seller describes the bike as all original save the D&D exhaust. It certainly looks that way. It doesn't appear to have any damage of any significance and besides probably needing new tires, looks to be all there. The seller says it sat in storage for a long time so hopefully proper maintenance has been done to get it back to strong running order. It is rare to see these on the road at all, much less in this kind of original condition.
So if you are a big Yamaha fan, or had one of these in your younger years and want to relive the glory, or just dig old, clean sportbikes – whatever the reason – this is worth checking out. Seller says the reserve is very reasonable, but who knows what that really means. If you can pick this bike up for around $3k, I think it would be a good buy.
If this fits under your tree, make your move and make the jump!
-RN