Warning!
This post is in our archives. Links in this post have been updated to point to similar bikes available to bid on eBay.

Location: Haddonfield, New Jersey

Mileage: 11,092

Price: Auction, $2,500 Reserve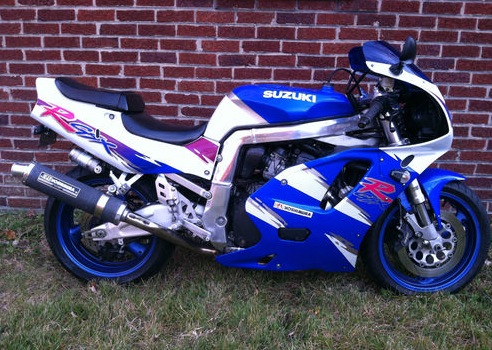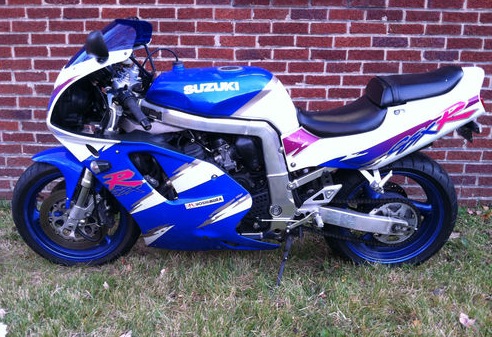 It would be hard to debate the importance of the GSX-R 750. It may be, more than any other bike, the most responsible for the sportbikes we see today. As heavy metal owes everything to Black Sabbath, so does the modern sportbike to the GSX-R 750. What can be debated, and I'm sure is all the time, is the aesthetics of various models over the years. This one is probably one of those debated bikes. For the record, I love all GSX-R's. I think this bike is sick. I suspect many of you may not agree. But it is a product of its times. A reflection of history. And it's super purply.
From the seller-
This auction is for a 1993 Suzuki GSX-R 750 (California model).

The bike looks and runs great and has been well taken care of.

If you're looking for this specific bike, you will have a hard time finding one in better shape than this.

Lockhart Phillips blue windscreen.

Bodywork is all original and is in great shape.

The bike is kept covered in the garage on a battery tender when not in use.

The fuel is mixed with Sta-Bil when the bike is in storage for the winter, and mixed with Sea-Foam during riding season. 

I have the original key and a few copies that come with the bike. 

Polished frame (done by previous owner).

The previous owner also put an aftermarket exhaust on the bike, including headers and a Yoshimura muffler.

Here is a list of recent work done to the bike by me in the last few months:

Carbs removed, disassembled, and cleaned

Fuel tank filter cleaned

Oil and filter change

Coolant flush and refill using 50/50 antifreeze and distilled water mix

New thermostat

New fork seals

New front and back brake pads and brake fluid

New spark plugs

New K&N air filter

New headlight bulbs

New front and back turn signals

Reserve is set at $2,500. I will not ship the bike. Payment is cash only at time of pickup. Sorry, I will not end the auction early. No test rides without cash in hand.
And the pics-
Outside of the windscreen, exhaust and polished frame, this bike looks amazingly stock for a 19 year old bike. Especially since these bikes were modded to the hilt and then usually wrecked. Well, this one is still clean and the mileage isn't even that bad. The current owner has put quite a bit of maintenance into the bike, so it should be ready to go.
And here's the kicker. Reserve on the bike is $2,500. You got some extra cash and you can get a cool bike from the 90's that will definitely turn heads with the bike crowd. It will also be fun to ride and look good in any bike collection. Graphics aside, this is what was built in the 90's and people loved it. I know, I was there.
So if this bike speaks to you, go make your play!
-RN