Warning!
This post is in our archives. Links in this post have been updated to point to similar bikes available to bid on eBay.

Location: Clinton, South Carolina

Mileage: 20,477

Price: Auction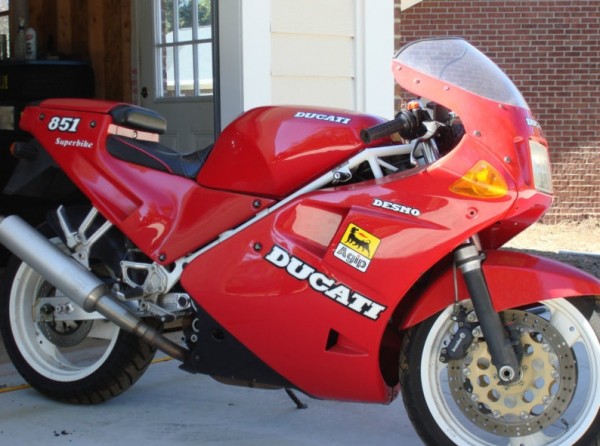 The Ducati 851 may be the best looking Ducati those style savvy Italians have ever built. But it's also a very important bike in Duc history as it was their game changing four valve, water cooled machine that allowed them to go on and win some races in World Superbike. The bike took on many other forms, including super cool SP designations and is truly an icon in the Ducati world.
Here's the seller's story-
I am selling my Ducati 851 that I have owned since the mid 90's. The bike has been in storage for a couple years as I have not had time to ride. It was running perfectly when parked and has new Michelin radials on it. I charged the battery this past Spring, fuel pump ran bike turned over but would not start. I sprayed some starting fluid in intake and motor would run. I was told by my mechanic that the injectors are stuck from sitting and need to be replaced, cleaned or rebuilt. I have not taken any further action. 

Bike has Euro spec chip in it, US chip comes with it, braided brake lines, Corbin seat and stock seat included, always have used high quality synthetic fluids, timing belts were replaced once at Cycle Specialties Ducati in Athens GA which is also where bike was bought new, has new Michelin Tires front and rear. Chain and sprockets are in good shape.   

You will notice the scrape on the side which is cosmetic only. All lights and turn signals function correctly and I have both original mirrors, original rear turn signal extenders, etc. Bike is complete with all original parts from factory. I just need the space in my garage now and bike has to go.
And more pics-
According to the seller, this bike has been sitting for a while and probably needs some maintenance to get it back to strong running condition. And then there's the cosmetic issues on the fairing. Seller doesn't go into detail on how they got there, but has original parts so hopefully you could get it back to original condition, although the Corbin is probably a nice upgrade. It's gonna take some work, but it may be a less expensive way to get your hands on an 851.
This bike isn't perfect, which means you may be able to get it at a good price and finally have your dream bike. And there's nothing wrong with an 851 as your dream bike. If you wanna make that dream come true, go get in on the action!
-RN