Warning!
This post is in our archives. Links in this post have been updated to point to similar bikes available to bid on eBay.

Location: San Francisco, CA

Mileage: 15,700

Price: Auction, with reserve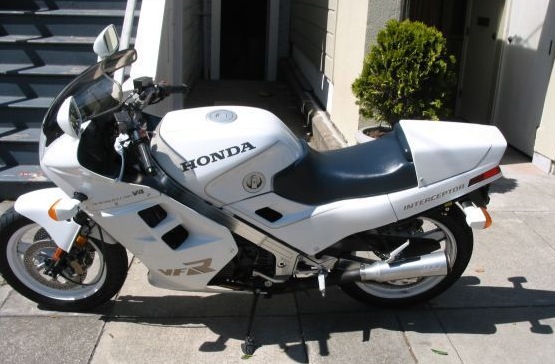 The V-4 is a stellar motor. There are many options out there for your motor. In-line 4, in-line 3, V-Twin, etc. You got options. But the V-4 is a great configuration. Don't believe it? Well, check out the MotoGP bikes. Honda, Suzuki (when they ran in MotoGP, and hopefully back in 2014), Ducati, all run the V-4. The Aprilia in WSB too. Torque and high end in one package. Awesome.
Here we have one of the original V-4 bikes that is now legendary. The VFR is one of Honda's most successful and acclaimed bikes. A close relative of the outstanding RC30, the VFR gives you performance and refinement. A true performance classic. This particular bike is the tariff model 700cc, part of a short-lived effort to combat import of Japanese bikes.
Here's the seller's info-
 Let's start of by saying this is probably one of the nicest VFR's of this generation in the country. It is in mint, near flawless condition. On a scale of 1-10, this bike is a 9+ cosmetically and a perfect 10 mechanically. You will absolutely not believe this bike is 25 years old if you were to see it in person. Please look at the photos carefully. The bike has approximately 15,700 original miles and I acquired it this year from the original owner who bought it new in Pennsylvania in 1987. It is somewhat rare because of the factory pearl white paint and the fact that it is a 700cc (as opposed to 750cc) tariff bike. Evidently dealers were only alloted one bike in this color at that time. Please read the excerpt below.

In the USA, the picture is more complicated.  There

were three models, and they lasted for two years.  First,

there was a 750cc model essentially the same in appearance

and specification (except for the usual Canada vs USA differences)

to the Canadian model.  Next, there was also a destroked 700cc 

tariff-beater, called the VFR700 Interceptor.

Both these models were white with red and blue trim, and round gauges.

Thirdly, and most interestingly, was the VFR700F2.  This bike

was all white, with understated gold pinstriping, and an automotive-style

instrument panel which was essentially what you see now on the

90-93 VFR.  In fact, this model bears many visual similarities 

to the 90-93 models.  This F2 model was also available in

dark blue and silver metallic, with silver wheels.

This bike needs absolutely nothing but a new owner. It has brand new tires, steel braided brake lines, full Supertrapp exhaust (I have the original pipes which will go with the bike) which are jetted perfectly, race tech front fork springs, brand new sprockets (rear sprocket is a 47 tooth as opposed to stock 45 tooth) and chain. In addition, the bike just had all fluids (brake, coolant, engine) just changed as well as a complete tune up. The 1986 – 1989 VFR's (second generation) are the lightest, fastest, and most sport orientated of this incredible model line and many consider it to be the best bike ever built. Here is the opportunity to own one of the finest examples in the country of this iconic marque. Please click on the link below for more detailed information. I will be posting additional pictures in the next couple of days.

Thanks

I wanted to add that this bike is all original; the paint, plastic, body panels, turn signals, etc. It has not been restored in any way because it is in near perfect original condition. This bike has never been down, dropped, or ridden in the rain. The modifications I mentioned above are to address the weak areas (front fork springs, exhaust, brakes, etc.) that the bike came with from the factory. These modifications only enhance the performance of the bike and make riding it all that more enjoyable.
And pics-
Not much to say about this bike. It's had some minor modifications that will hopefully improve performance, and otherwise than the exhaust (original pipes included) is pretty much a clean stocker. Pretty amazing shape for a bike that's 25 years old. And given its excellent heritage in the Honda line, will always be desirable.
So there it is. If you've always wanted an original VFR, this looks like a great opportunity. Don't know where the reserve is, but I think this could pull around the $4k to $5k mark. We'll see. If you feel the need, go place your bid!
-RN