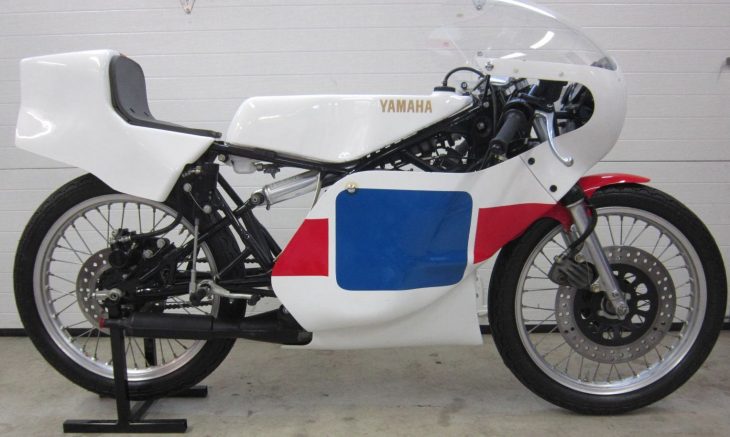 The Yamaha TZ125 was an evolution of the company's TA125, a privateer GP machine in miniature. It might look like a glorified scooter but, although the TZ's displacement was small, it came with sophisticated specification to match much bigger machines: liquid cooling, dry clutch, disc brakes, and a six-speed gearbox.
The highly-strung engine made a claimed 30bhp at a screaming 12,000rpm and the entire package weighed in at a featherweight 159 lbs meaning that, if I bought one, I'd weigh more than the bike. With a power-to-weight ratio of something like a modern, air-cooled Ducati, the TZ125 could reach almost 130mph, no joke considering that some lawn mowers pack more displacement…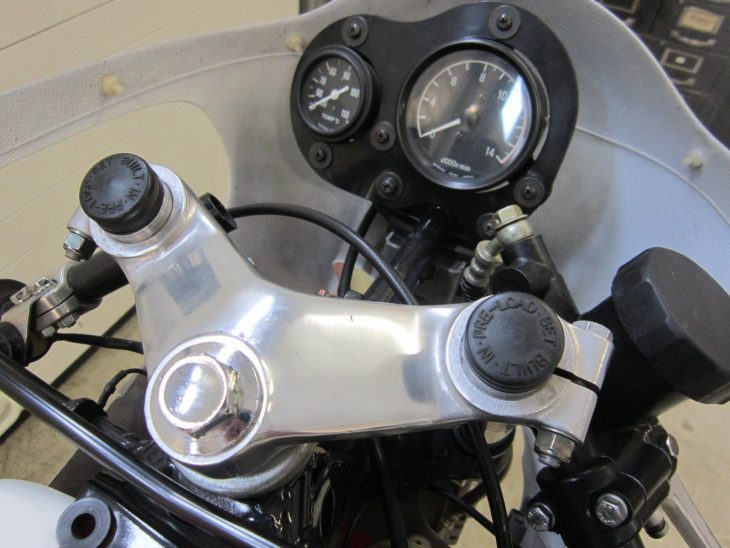 Today's example might present a bit of a dilemma to potential buyers: although it has been built to run, it's almost too perfect to beat up in wheel-to-wheel competition.
From the original eBay listing: 1980 Yamaha TZ125G for Sale
I obtained this 125cc Yamaha production race bike about 12 years ago from a Suzuki factory team race mechanic who used it for track days. According to him, it had never been raced and by all appearances this was true. There was no evidence that it had ever been crashed, abused, or even tipped over. The brake rotors showed minimal wear. Much of the original factory spares kit was included.

Nevertheless, I did an extensive restoration to bring it up to like-new standards. I disassembled everything but the wheels and the engine/trans bottom end.  The frame, swing arm, triple clamp, and fairing mounts were powder coated. The fairing, seat, and tank were professionally painted to original, and a new Gustafson windscreen was installed. All of the polished aluminum parts were repolished. New Avon vintage-style racing tires were mounted (not yet balanced). The top end of the engine was rebuilt with new parts and the cooling system re-done. New clutch plates were installed. The brakes and master cylinders were rebuilt and now use silicone fluid. Most of the external rubber parts were replaced, as were the fork seals and fluid.

I started the bike and ran it briefly to make sure that it ran strongly and shifted properly. Everything was as it should be. I shut it off, drained its fuel and coolant, and have used it only for shows and display in my collection since then. Now it's ready for its next owner, whether you want to race it in AHRMA vintage events, use it for track days, or display it proudly. It has won a number of show trophies.

Included are much of the NOS parts from the original factory spares kit (Yamaha packing list included) and many used parts in excellent condition. This comprises about 90 part numbers. I would guess that there is about $3,000 worth of these parts. Additional items include a custom-made rear axle stand, the original owners manual (sadly, missing its cover), the parts microfiche and a hard-copy printout of the parts list.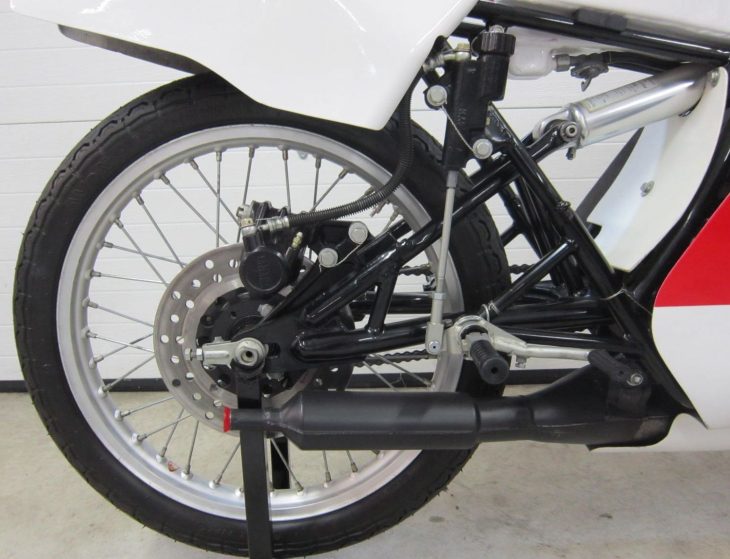 Those spindly, bicycle-looking tires give the TZ125 a look that's more "vintage" than the actual age would suggest. These are very rare bikes, but interestingly Airtech does produce replacement fairings if you happen to want to actually race it as God and Yamaha intended. 
Bidding is up north of $4,400 with the Reserve Not Met and just a couple days left on the auction, so fans of skinny little racebikes should move quickly if you want to add this to your garage!
-tad