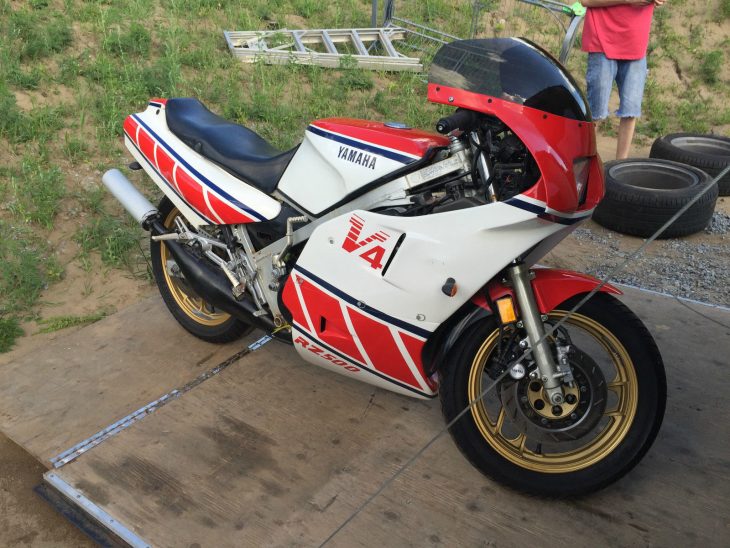 Many of the weird and wonderful bikes we like to feature on this site appear in time-capsule condition, as if Doc Brown put them in a trailer behind his time-traveling DeLorean and towed them from the distant year 1985 into… The future! Others are patched-up wrecks described as having "patina" with "90% tread left on tires." This particular RZ500 falls somewhere in the middle, and looks like a nice, clean, bike with a reasonable asking price.
Crazy, right?
Yamaha's RZ500, also known as the RD500LC in some markets, was one of two 500cc race-replicas designed to ape the overall specification and style of the top-level two-stroke racebikes of the era. But unlike the Suzuki RG500 "Gamma," the Yamaha pulled a bit of a Honda with their roadgoing exotic, taking a brilliant idea and then engineering the hell out of it, ending up with a bit of a muddle. The powerplant was a liquid-cooled 50° two-stroke V4 with twin cranks. So far, so good. A pair of YPVS power valves and oil-injection helped boost performance and make the bike a bit more practical. Seems like a smart choice. Sophisticated anti-dive forks and an unusually-mounted rear shock allowed for serious handling and tight packaging, respectively. Then a balance shaft was included to handle unwanted vibrations… In theory, this should have helped make the bike run smoother and make it more civilized while simultaneously allowing a lighter frame for improved performance, but it didn't really work out that way. The resulting bike was both heavier and less powerful than the Gamma and although the RZ has its fans, reviewers and prices reflect the Gamma's superior performance versus the RZ500's more practical street bias. The upside is reasonable prices compared to the Suzuki, and that singular two-stroke sound and feel.
So what's the big deal with the rising popularity of these two-stroke sportbikes? A bit of nostalgia and a bit of performance. These tinny-sounding streetbikes began to disappear after the mid-1980s here in the USA where ever-tightening emissions laws strangled the smoky little beasts into an early grave. Top-level racing of the era saw two-stroke machines competing exclusively and that link to race-bred machinery is a powerful thing in the minds of motorcycle enthusiasts. There's also the axiom made popular by Colin Chapman, founder of Lotus: "Simplify, then add lightness." And two strokes are both of those things: with fewer moving parts, they're simpler and lighter, while theoretically making twice as much power as a four-stroke of equivalent displacement. So while a 500cc two-stroke might make similar power compared to a 1000cc four-stroke, the resulting package is much lighter, meaning the bike will turn quicker, brake better, and generally offer more feedback to the rider. Two-strokes require more maintenance, which isn't a problem for race bikes or committed enthusiasts, and they also produce more pollution, which is something many motorcycle fans are happy to… Ahem. Overlook.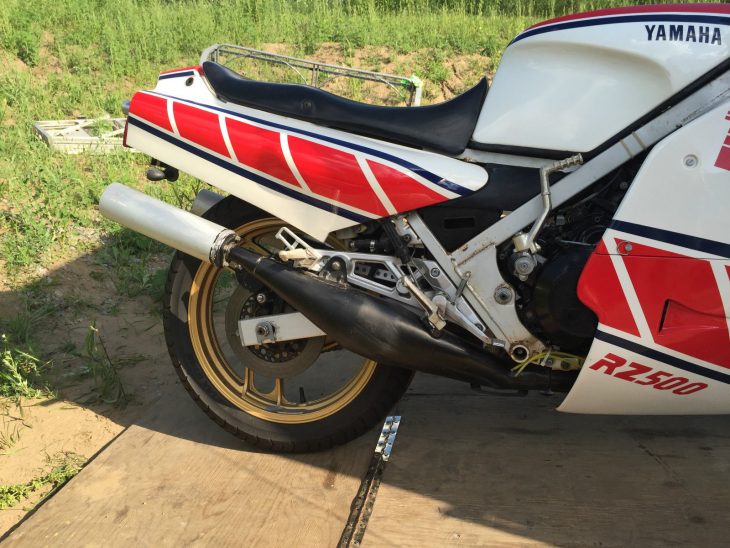 From the original eBay listing: 1984 Yamaha RZ500 for Sale
In great condition. Runs after one kick. Never downed. Never raced, 8700 Miles. Tuned by Lance Gamma

Engine: 499 cc liquid-cooled V4 two stroke Power: 64.2 kW (88 PS) @9,500 rpm Torque: 65.4 N·m @8,500 rpm Transmission 6 speed Weight 205 kg/452 lb (dry)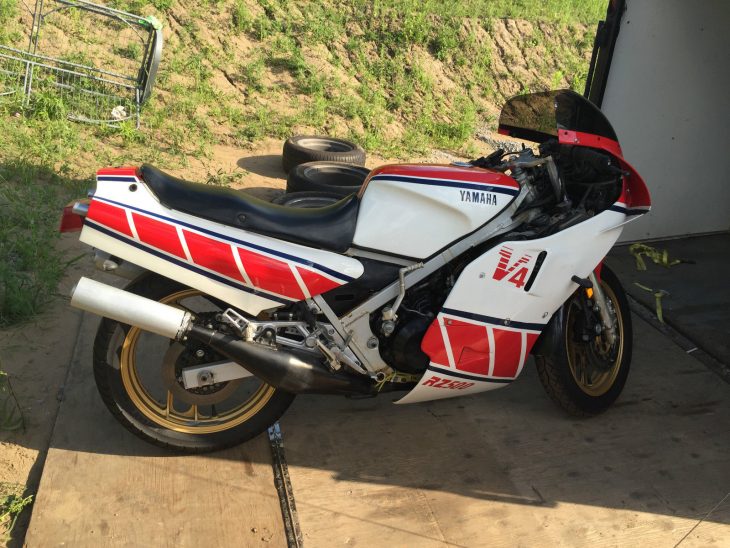 There's a $9,000 opening bid with no takers as yet and a $10,000 Buy It Now price for this bit of two-stroke history. This example isn't cosmetically perfect, with a little bit of surface rust here and there on the steel frame, but appears complete and mechanically well cared-for: "tuned by Lance Gamma" certainly adds some value. Although as always, I wish these sellers would include more details about the bike's history and exactly what "tuned" means: did he adjust the carburetors, or do a performance rebuild of the motor and set up the suspension? Having been under the care of a well-known and regarded tuner is great, but a bit more detail might help the bike sell…
-tad