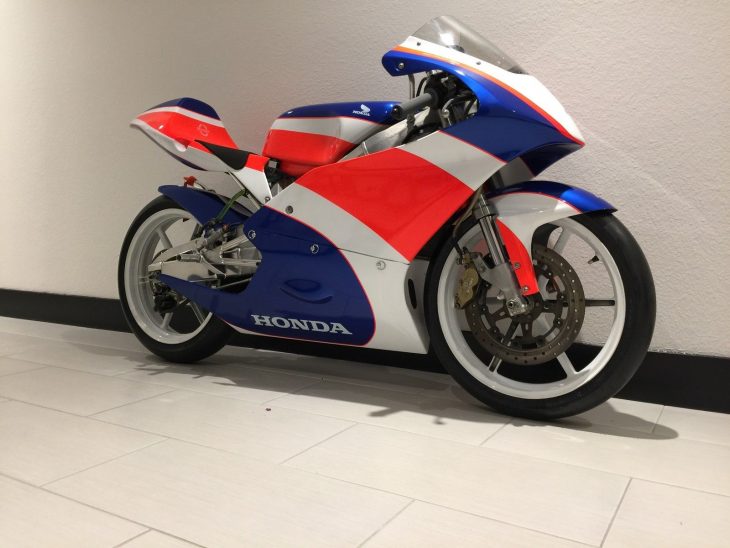 As I've mentioned before, it's weird how some bikes seem to show up in waves, and this is the third Honda RS125R I've seen this week. The previous example I posted was in very good condition and came with a nice stash of spares, but was more functional than this particular bike, which also has "TONS" of spare parts along with a very slick paint job.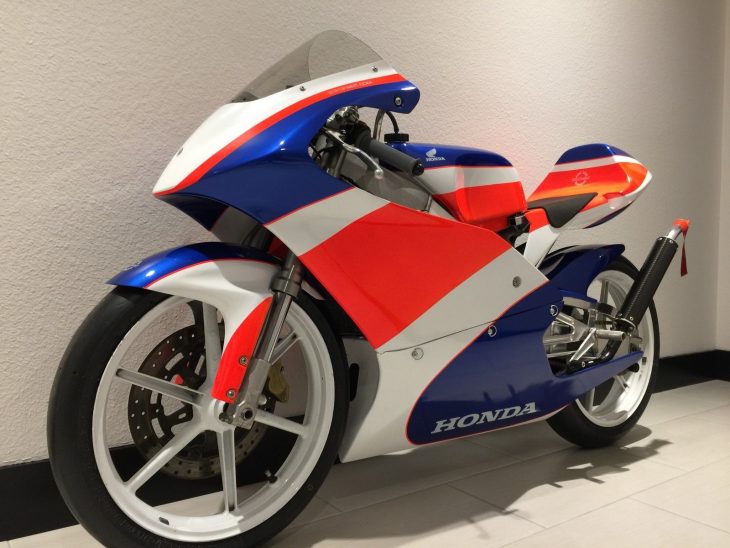 Hiding behind those red, white, and blue fairings and nestled in between those beautiful aluminum frame rails is the compact, slightly undersquare 54mm x 54.5mm two-stroke single and a six-speed gearbox. It can be tuned to produce over 40hp and, with a dry weight of under 160 pounds, it's very possible that the new owner will weigh more than the bike itself. The single Brembo caliper and disc up front should be plenty to haul the bike down from speed, given the bike's incredibly low weight.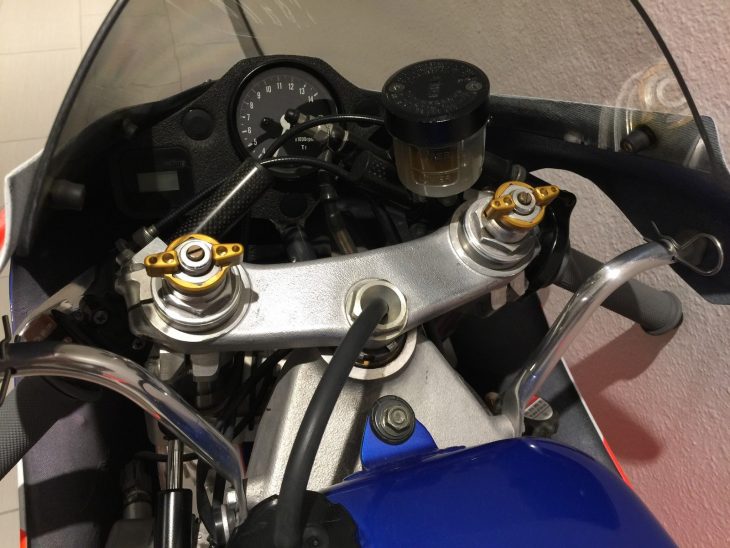 The only downside to this bike? It'd be a shame to abuse that nice paint rubbing fenders with other racebikes on tracks, but it'd be a shame to let a machine this focused sit as a static display piece…
From the original eBay listing: 1996 Honda RS125R for Sale
Super rare and unique. I restored this bike from the ground up 6 years ago when I purchased it in 2010. Custom designed paint and graphics, it looks insane. Pearlescent clear coat over the paint – spent way too much money and many many hours to create. It is a piece of art. Riders like Loris Capirossi, Dani Pedrosa and Nicky Hayden got their starts racing RS125Rs… here's your chance to own one. 

Carbon fiber pipe and paint matched carbon fiber rear tire hugger, color matched rear stand. It has rare Hjelm Motorsports rear sets, carbon fiber handlebars, working tach and temp gauge. New slicks (from 2010). Price includes TONS of spare parts, extra cylinder head, rebuild kit parts, carb jets for altitude adjustment, many sprockets… way too much to list.

Bike has been on display in my foyer and detailed with plexus monthly. Tank is dry (no corrosion) Everything on the bike has been restored, rebuilt or replaced. Should start right up with some fresh premix. Will need a brake fluid flush from sitting as well.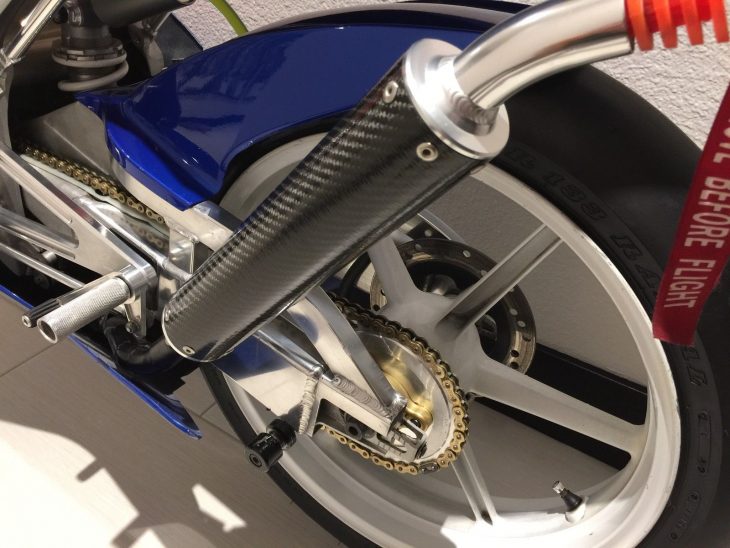 With the seller asking $5,700 this RS125R seems to far more reasonably priced than last week's example, and also includes a wide range of spare parts to keep it running. I'm not sure if the graphics correspond with any race team's colors, but I'm pretty sure these all came with bare white fairings originally anyway, ready for sponsor decals and whatever wild look your up-and-coming racer wanted.
-tad