For Sale: 1989 Honda VTR250 Interceptor
What we found for you today is not one, but two rare Honda VTR250s. These were sold in the US between 1988 and 1990, and were intended to provide competition to Kawasaki's Ninja 250. While sporty in nature, the styling of the VTR250 also intended to make the bike more approachable to newer riders. The inboard front brake (looks like a drum, but it's actually a centrally mounted disc) lasted through the 1988 and 1989 model years before becoming a convential disc in the final year available. Power is a 250cc 90 degree vee twin coupled to a 6-speed transmission. It's a shame that Honda did not continue taking the mini-ceptor fight to Kawasaki through the 1990s – imagine what this bike could have become with another decade of improvements!
Honda VTR250 #1 available on eBay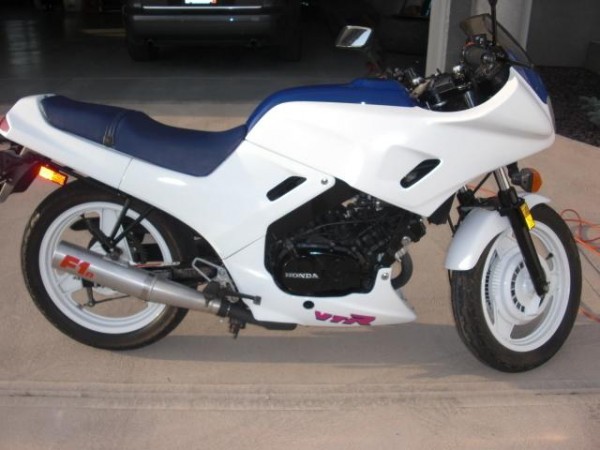 From the seller:
This 1989 Honda Interceptor 250 VTR is proof that Kawasaki was not the only manufacturer to sell a 250cc 4-stroke sportbike in the US – albeit, only for three years. I consider this to be basically a "scooter" on steroids – It revs effortlessy to 13,500 RPM and the transmission shifts like butter. It is really sweet. I bought it for my collection because it is so light and fun to ride. I am selling it to make room for some others. This particular example only has 6,195 miles. It is in excellent original condition except the graphics have been removed and an F1 muffler was added (it is not loud). It will come with two new sticker tires (not mounted yet). Everything works and it comes with the original owner's manual. The Honda Interceptor VTR 250 was sold only in the United States from 1988 to 1990, with moderate changes occurring over the three model years. With a 249cc 4-stroke liquid-cooled DOHC V-twin engine and a 6-speed transmission, VTR 250 was the smallest of Honda's Interceptor line of motorcycles. It was originally available in two color schemes, black with blue and white, and white with blue.
Honda VTR250 #2 available on eBay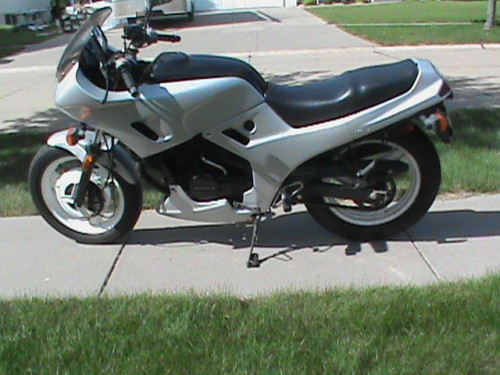 From the seller:
Up for auction is a nice Honda VTR 250 also referred to as the 250 Interceptor. The bike features a liquid cooled 90 degree V-Twin engine, 6 speed transmission, and unique inboard front disc brake. The bike runs perfect, all lights, gauges, etc. work and function as they should. tires are almost new. Serviced this spring the bike is ready to ride and needs no repairs. Bike gets around 60 MPG. There is no body damage, only a few small scratches in the rear from bungy cords. The previous owner did repaint the body work apparently because he did not like the white and pastel original paint scheme. The paint was professionally done and is not a "rattle can" job. Overall this bike is in very good condition and would make a great 1st time bike or is a blast for experienced riders too.
The entry price for either of these bikes is very low. For not much scratch you get a pretty rare motorcycle that can be licensed in any state in the Union. The small size and light weight make them a blast on tight roads, and those commuters out there will enjoy some great MPG – what a deal!
Given, neither of these bikes are concours in appearance – but that just lowers the barrier to entry that much more. Check them out for some low dollar fun!
Honda VTR250 #1 available on eBay
Honda VTR250 #2 available on eBay
MI