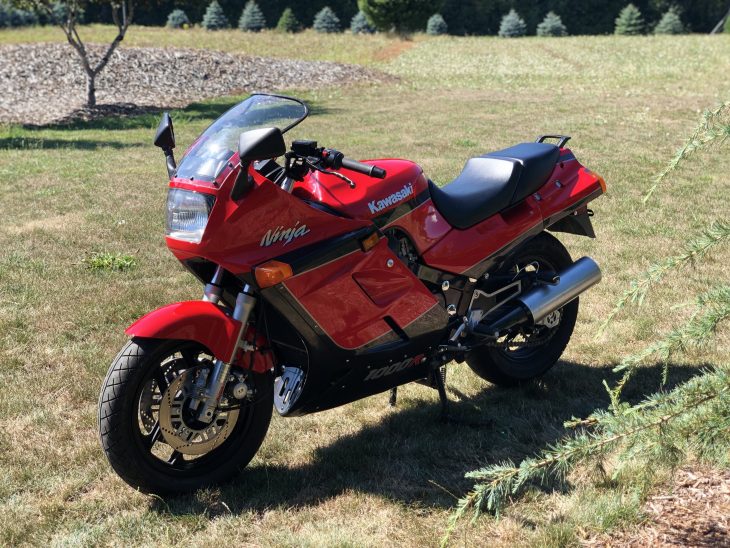 Born to succeed the venerable Kawasaki GPz900R, the 1986 Kawasaki Ninja 1000R spent two glorious years at the top of the list of world's fastest production bikes before giving way to the ZX-10R, whose longevity has yet to meet its bounds. But for its fleeting moment in the sun, the 1986 Kawasaki Ninja 1000R was very close to all things to all people. With anti-dive forks, a single-shock swingarm and the best part of 125 horsepower, they were truly astonishing sportbikes.
But those were the days before race replicas became everything, before comfort was seen as a detraction more than a benefit, and the bikes had plush seats, reasonable pillion perches, reasonable riding positions and stopped the wind effectively. They were just as happy to cruise the slab as they were to scare the burritos out of you on a track.
This example is as close as you'll come to winding the clock back to 1987 or so, when lightly used Ninja 1000Rs still patrolled dealership floors. It has some light crazing on one side from being leaned against a wall, but apart from that, it's a stellar, low-mile example of the name. The seller says the only things that have been changed from factory spec are the tires and grips. It has been ridden sparingly and stored in a heated garage since the seller bought it in 2001. The treatment has paid off, too, as every original rubber piece looks almost as good as new.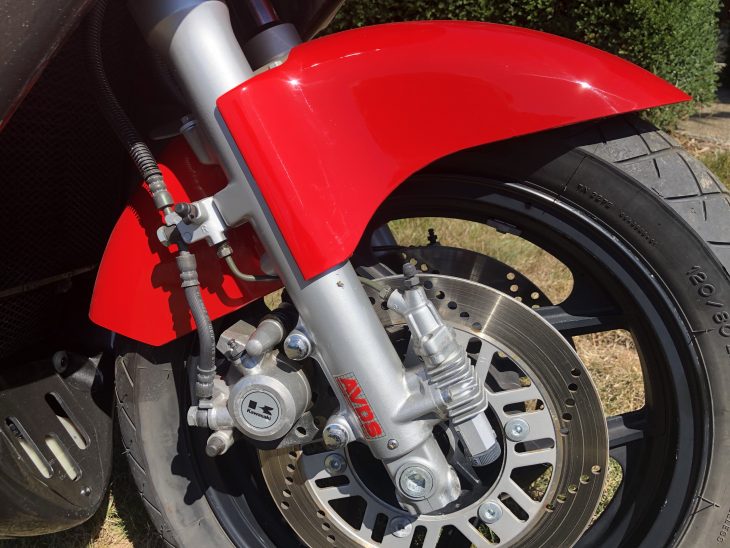 From the seller:
Up for sale is my original unmodified 1986 Kawasaki Ninja 1000r.
This bike has all original paint and mechanicals, the only items that have been changed are the tires and grips.
The 6898.4 miles are all original and the bike has never seen rain with me or the previous owner.
I've owned this bike since 2001 and haven't ridden it much in those years but have kept it inside a heated garage the whole time.
This bike starts right up every summer when I take it out for a short ride and it sounds great, I've only used non ethanol fuel in this the entire time so there is no damage to the fuel system or carbs.
All the plastic and rubber parts are still soft and pliable as they have had no exposure to sunlight or rain, the seat is still as soft and flexible as when new.
The windshield is also original but the black accent paint on the inside edge pretty much all flaked off so it's clear now all the way through, as you can see from the pictures there is some cracking at the screw holes but the windshield is still very clear.
The tank has a small paint chip on the left side and some paint damage on the left fairing where it appears a prior owner parked to close to a wall which you can see in the pictures, I choose to not touch up these areas as I wanted this bike to stay all original.
This would be a great addition to any motorcycle collection as it looks as good today as it did 33 years ago.

$5900.00
apache1479@hotmail.com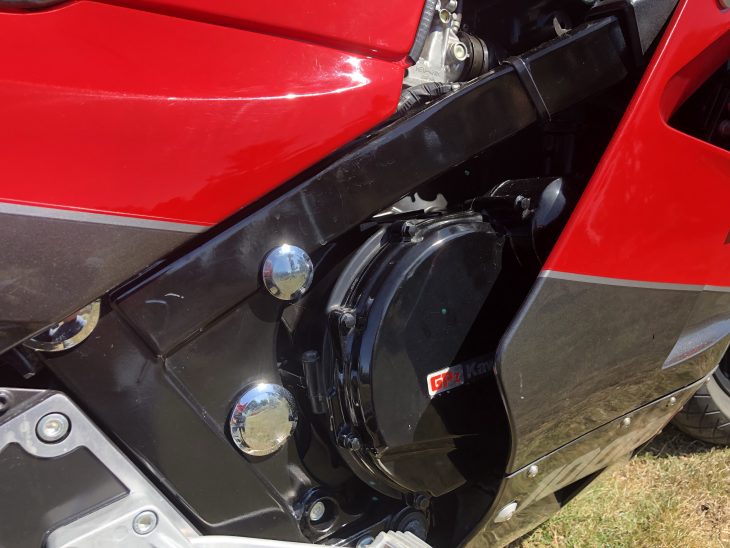 These truly original and truly market-changing bikes are becoming rarer and rarer, especially the beautifully kept non-restored examples. At $5,900, this bike is an easy way in to an incredible late-80s street machine.