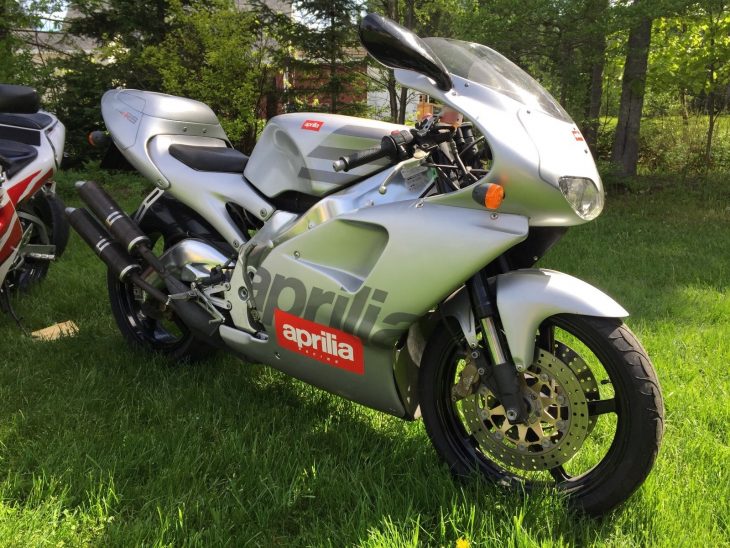 Aprilia was late to the quarter-liter two-stroke party when they introduced their RS250 in 1995, but the bike stayed in production long after the NSR, TZR, and the RGV that donated its powerplant had gone the way of the dodo, with road bikes available until 2002 and "for off road use only examples" several years after that. There were two generations of the bike, with a restyle partway through the bike's production run in 1998. This particular example features the earlier bodywork and dash, which I personally very much prefer to the later, more "modern" style.
The bike used a very lightly modified version of Suzuki's RGV250 engine, so specifications are basically identical, although buyers don't have to worry about Japanese market horsepower restrictions, and should have somewhere in the neighborhood of 55hp, although more is possible at the cost of longevity… The bike also used Suzuki's six-speed transmission, although Aprilia used their own aluminum beam frame and banana swingarm that are much more sculptural than Suzuki's more industrial-looking components. Triple Brembo discs are almost overkill: they're the same kit found on bikes like Ducati's 916 and Moto Guzzi Sport 1100 that weighed significantly more than the little Aprilia's 300lbs…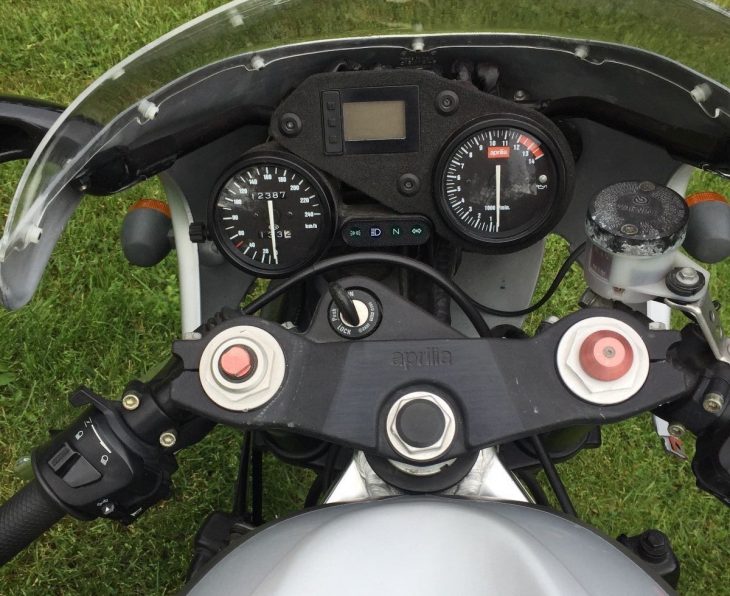 Period reviews praise the bike's light weight and handling, although it was, like all the other 250s, pretty bare-bones and high-strung. Later bikes had a very trick-looking dash, but these earlier machines have the gauges clearly divided into the required tachometer and a speedo/idiot light cluster that could easily be removed when prepping the bike for race duty…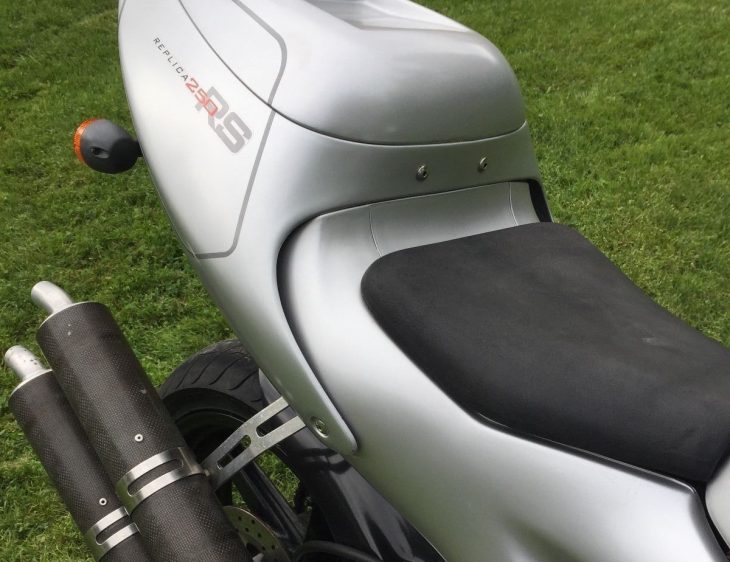 From the original eBay listing: 1997 Aprilia RS250 for Sale
Absolutely stunning RS250 in superb condition.  Frame is immaculate, bodywork in excellent condition with minor scratches and scuff marks.  Comes with two un-installed Michelin pilot tires. All consumables in super good condition (brakes, chain, sprockets).  12400 original kms, starts on the first kick hot or cold.  New plugs, clean air filter, oil changed, power valves degreased.  Ready to go!  For this week and this week ONLY, free crating, free shipping to continental North America, no paypal fees, export fees on me!  Serious inquiries only please, no low balls, no time wasters.
The Buy It Now price for this very nice RS250 is listed as $8,300 although I'm not sure if that's US or Canadian dollars, making this either a good deal or a great deal, considering the apparent condition. Obviously you'll have to handle importation issues, and registration could be tricky depending on where you live. Maybe just park it in your living room until it's 25 years old?
-tad