For Sale: 1988 Suzuki GSX-R 250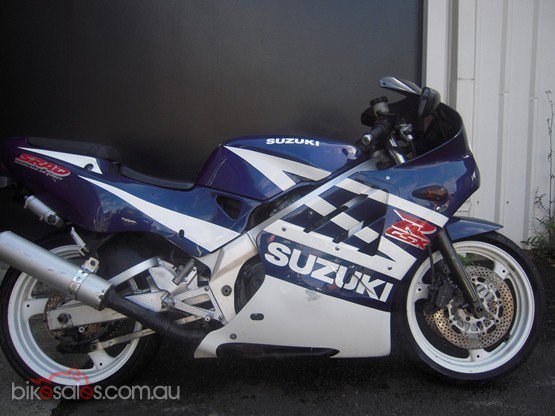 Here in the RSBFS corporate office, Christmas shenanigans are in full swing. Hey look Rem – I wrote up a gixxer! Sure, I had to go to the Land Down Under to find one, and it is "only" a 250 at that – but I finally beat Rem to the GSX-R punch!
From the seller:
RARE GSXR 250 REGO TILL 12TH SEP 2012
EXTREMELY COLLECTABLE MODEL IN ABOVE AVERAGE CONDITION FOR ITS AGE (88 MODEL) WITH ONLY 20,000KM (12500 MILES)
That was the Good now the bad
Has been dropped at some stage but only very light damage to original exhaust and barely noticeable minor scratches to fairing, carbies need a tune as bike was sitting for over 10 years in shed, recently registered and now for sale ,This bike is registered as a race bike in NSW PJB96,

NOW FOR BUYERS INTERESTED IN THE US: As this model was never released in the United States and only limited numbers were made im listing this on EBAY US so all you collectors out there have a chance to own a piece of gsxr history, If purchased at the buy it now price bike can be delivered to either SYDNEY OR MELBOURNE TO AN INTERNATIONAL SHIPPING COMPANY THAT YOU MUST ORGANIZE AND PAY FOR YOURSELF, Delivery is only to these 2 cities at the buy it now price!
There are not a lot of pictures of this bike in the ad, but the seller does quote a decent amount of specs for the model:
From the seller:
The Suzuki GSX-R250 is a motorcycle that was manufactured from 1987 to 1990 by suzuki A couple of years after the presentation of the GSXR750 the 250 cc GSX-R250 was released. Like the larger bike, the GSX-R250 had a box-frame (steel, not aluminum), full fairing, Full-floater rear swing and a four-cylinder four-stroke engine. But while the GSX-R750 engine was air and oil-cooled, the baby brother had a liquid-cooled engine. Not many examples are seen outside Japan. 17-inch cast wheels and 300 mm twin disc brake at the front. The GSX-R250 had impressive power and was made primarily as a road legal 250 cc racing bike reaching speeds of 200+km/h (124 mph). Imported specimens may be seen in Australia and New Zealand . Also, around 350 units were imported to Denmark around 1989 to 1992.

Model
Engine type: Water-cooled inline-4 DOHC 4-stroke, 16-valve
Cylinder volume: 248 cc
Bore and stroke: 49,0 x 33,0 mm (1.929 x 1.299 in)
Power output: 45 PS (32.6 kW) at 15,000 RPM
Torque: 24 N·m (18 ft·lbf) at 15,000 RPM
Fuel capacity: 16.0 litres (2.0 litres reserve)
Starting system: Electric start
Ignition type: Full transistor
Transmission type: 6-speed constant mesh
Gearshift pattern: 1-down, 5-up
Secondary drive type: Chain
Clutch type: Wet multi-plate
Frame type: Steel box type
Front suspension: Telescopic
Rear suspension: Full-floater
Overall length: 2000 mm (78.7 in)
Overall width: 700 mm (27.6 in)
Overall height: 1105 mm (43.5 in)
Wheelbase: 1370 mm (53.9 in)
Seat height: 770 mm (30.3 in)
Dry weight: 138 kg (304 lb)
Front tyre size: 100/80-17
Rear tyre size: 130/70-17
Front wheel size: 2.50 x 17 in
Rear wheel size: 3.50 x 17 in
Front brake: Dual-piston twin disc, diameter 300 mm (11.81 in)
Rear brake: Single disc, diameter 250 mm (9.84 in)
Here is a cool video from a Japanese rider on a track day at the Fuji Speedway short course. These little 250s can really zing up the RPMs! If your local roadcourse is short and twisty, this could be your weapon. Sure looks fun to me.
This auction is on right now, and your chance to own a pretty rare machine is here. Perfect for Christmas, this gem is apparently ready for shipping. There is a $2k opening ask, and the BIN for this bike is set at $4,000 (plus shipping). All in all, that is not bad money for a quarter liter rocket that never made it far beyond the borders of Japan! For all the details and to check in on the action, click the link and jump over to the auction. Good luck, and hopefully I don't end up with a lump of coal in my stocking for stealing this Suzuki off of Rem's plate!
MI