Update 1.22.2019: This bike has SOLD! Congratulations to buyer and seller! -dc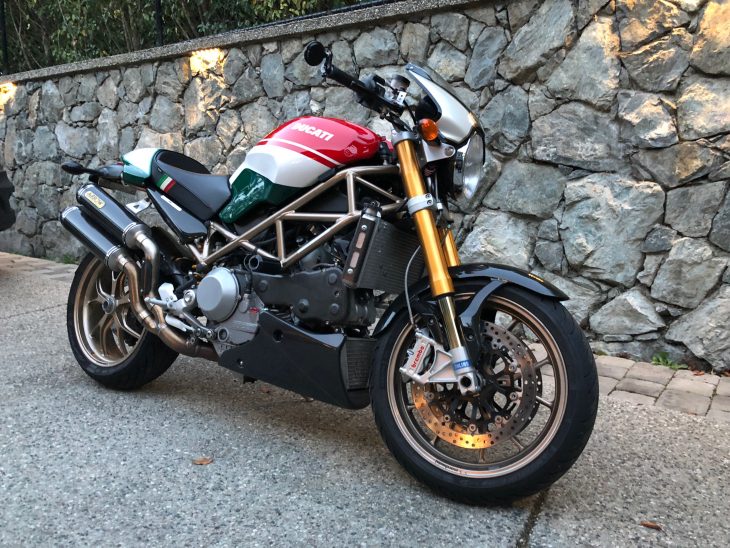 The Ducati Monster was aptly named: it was the ultimate parts-bin special, with a frame from the 888, and the air and oil-cooled two-valve engine from the 900SS, along with some non-adjustable suspension and other bits Ducati had lying around: aside from the dash, tank, and seat, just about every part of the Monster was already sitting on a shelf. In fact, Ducati's intent was to use their liquid-cooled four-valve engine, but a warehouse full of unused 900SS engines and additional profit they promised sealed the deal. Which means that, when they finally slotted their superbike engine into the frame, everything had come full-circle for the Monster, and this Featured Listing S4RS can be seen as the ultimate incarnation of Galluzzi's original vision, which was sketched over a photo of an 888 sans bodywork.
The two-valve Monster worked great at a time when there really was nothing else on the road like it, other than the retro-styled Triumph Speed Triple. Sure, there had been sporty nakeds previously, but in the era of the sportbike, the Ducati was something fresh and new from the Italian company, a practical exotic.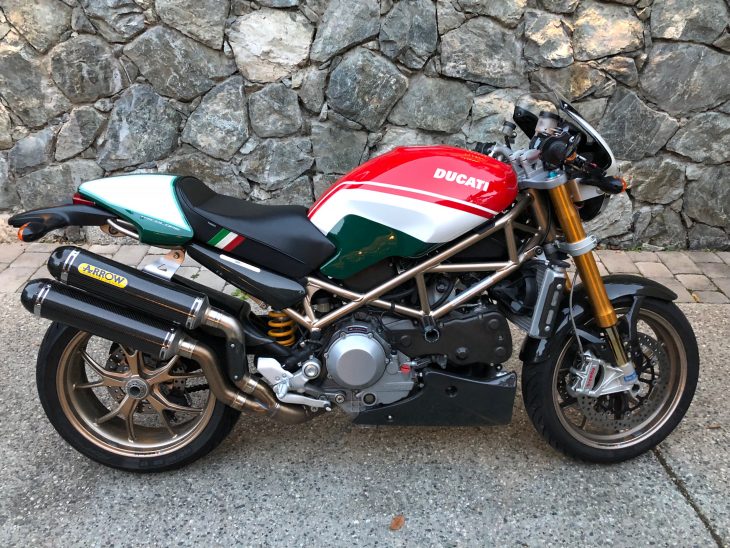 But by the 2000s, plenty of other manufacturers had jumped on the bandwagon and were making much faster, more modern bikes. So in went Ducati's liquid-cooled four-valve, in this case, the 998cc Testastretta version, distinguished at a glance by the triangular oil-cooler beneath the radiator that adds a bespoke touch to a bike that otherwise remained true to its parts-bin roots.
The result was a huge bump in power: the original two-valve engine is rich in torque, but you're really looking at 75hp at the wheel from a healthy example. In this application, the Testastretta made a honking 130 claimed horses, kept vaguely in check by the Öhlins suspension. Unfortunately, although the later Monsters actually used the frame from Ducati's ST bikes that offered more stability than the original 888 part, the power really overwhelmed the chassis, and the riding position was not ideal for controlling what really was a pretty wild ride. It ended up being a bit less refined than bikes from Aprilia and KTM, but it's really no contest in terms of curb appeal and, while the dynamics are ultimately limited, it's great fun to hoon around on!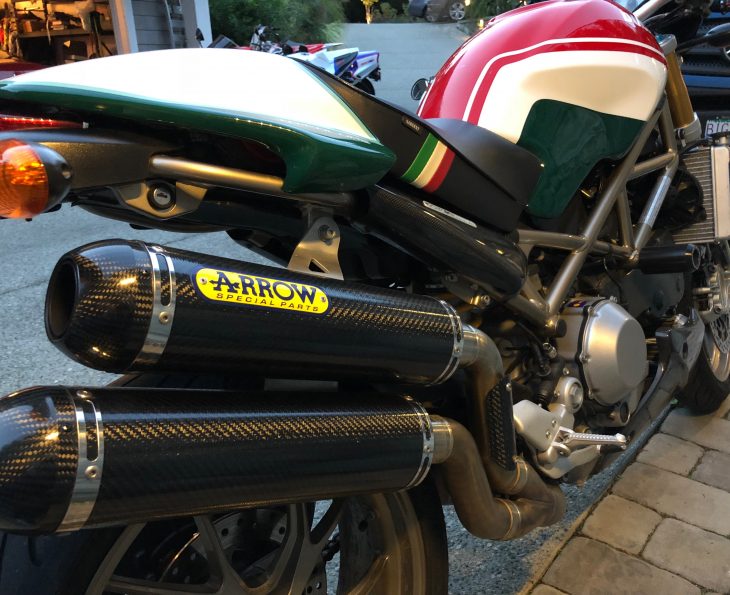 The bike is currently in Canada, and the listed 18,500 kilometers equates to 11,495 miles, so it's certainly no garage queen, but has obviously been well cared-for. And while it's not hard to find Ducatis with far fewer miles, the big question is, "would you want to?" If you plan to simply display your bike and wait for it to increase in value, sure, a 900 mile bike makes sense. But sitting or occasionally running doesn't really count as exercise, and a bike with a few more miles under its belt might be better for those looking to ride as well as collect.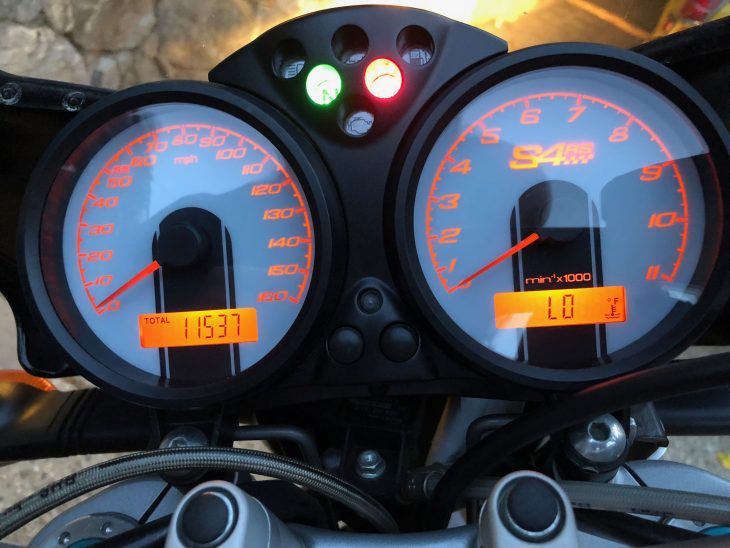 From the Seller: 2008 Ducati Monster S4RS Tricolore for Sale
Showroom condition. Needs nothing. Collector owned. Runs perfectly. #130 of 400. Eligible for BC Collector Plates in about 4 years. Arrow Full Carbon Fiber Exhaust (personal opinion- it sounds a million times better than the Termi that is more common. A fairly representative video link is https://www.youtube.com/watch?v=md6dLOdTR0U ). Power Commander III Ohlins suspension Brembo brakes CRG levers tail tidy and bar end mirrors

OEM parts (exhaust, levers, etc) included in sale.

Originally a USA bike. I imported it 4 years ago. Currently plated in BC and bike is located in Victoria, BC.

No trades. If ad is up it's still available. Low balls will be ignored.

Thank you for looking.
The $15,500 CAD asking price equates to just a shade over $12,000 USD and occupies a bit of a middle-ground in terms of S4RS Tricolore pricing. Certainly you'd also have to consider shipping and all that if you plan to bring the bike back to the US, but I think it's a good bet that, down the road, this will be one of the most collectible Monsters.
-tad