Update 5.23.2022: Updated price is $6,750 CAD, which is $5,279 USD today. Good luck to buyers and seller! -dc
Long time RSBFS reader Mike has rolled out a very interesting bike for today's Featured Listing. Designed by Yamaha with considerable help from the Parker-RADD concept, the GTS was one of several attempts to improve upon motorcycle front suspension systems – a noble endeavor undertaken by the likes of Ner-A-Car (way back in 1918!), the aforementioned James Parker, multiple Bimota Tesi models throughout the 1980s and 1990s, Honda powered ELF racers, and even one-off builders such as Spanish legend Tony Foale and Dutch designer Nico Bakker. What they all hoped to achieve was to separate normal suspension movement from the forces of braking and weight transfer. The reality is that each of the innovative concepts had some downsides, and the telescopic fork remains the defacto front suspension design to this day.
Featured Listing: 1993 Yamaha GTS
The Yamaha GTS was a bit of an oddity; not only did it represent the only full-blown Big Four manufacturer departing from the telescopic fork, it wasn't really a focused sport bike. For starters, this is a big motorcycle – figure over 600 pounds when full of water, oil and fuel. The powerplant is the venerable FZR1000 unit, which makes for outstanding sport-touring potential along with legendary reliability. Under way, the rider cannot even tell this bike doesn't have forks, although braking stability is above par. Sadly, after only 2 short years Yamaha pulled the plug on the experiment. The GTS was just not what buyers wanted, regardless of how cool they were. What started as a deviation from the FJ1100 and FJ1200 turned into but a minor break; Yamaha reverted back to the established model with the introduction of the FJR1300. The RADD Parker dream in production was over. Today's seller has a LOT to say about this fantastic example, and we'll let him take it away from here: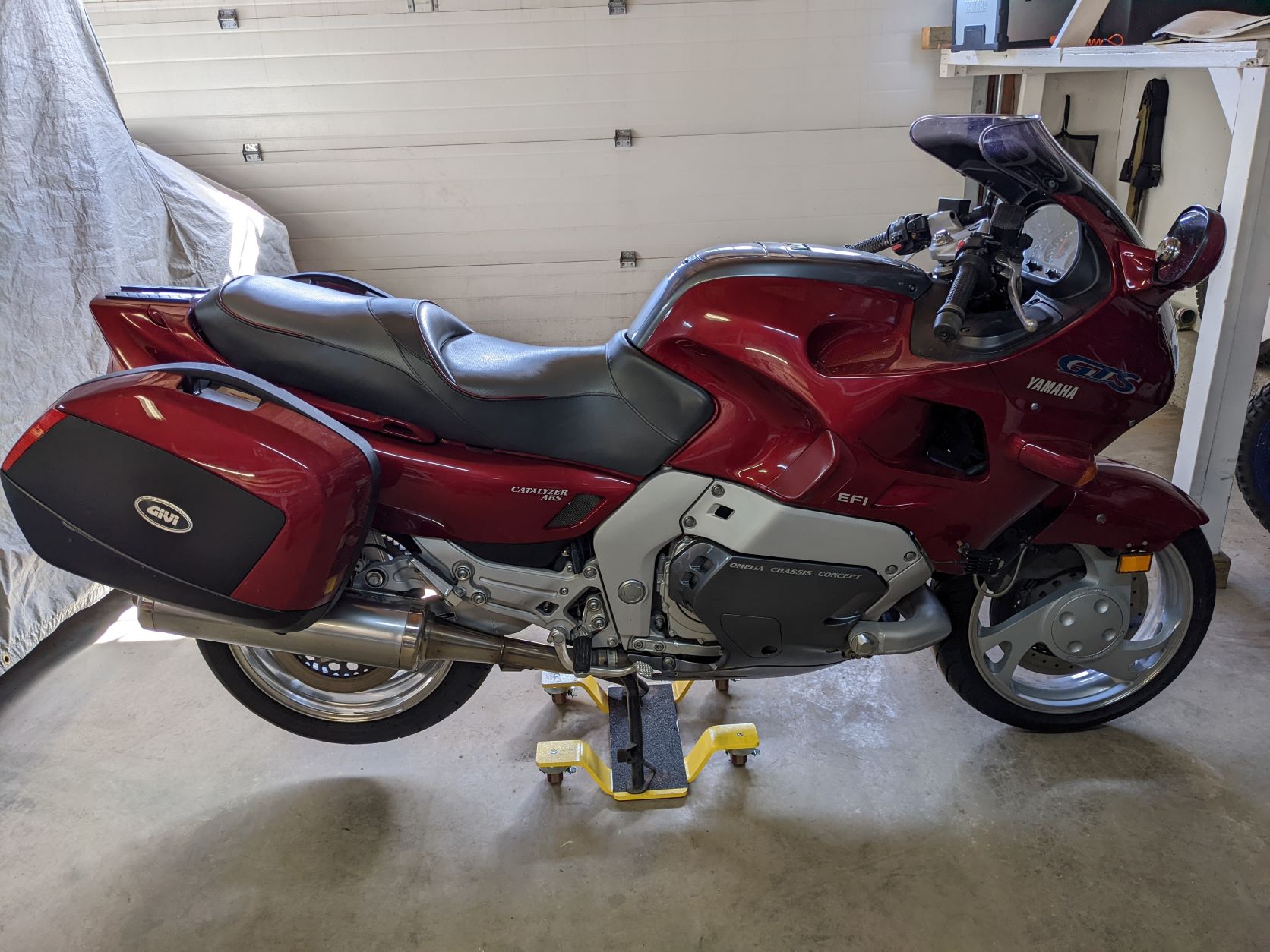 From the seller:
For Sale: 1993 Yamaha GTS 1000 AE
Second multi-bike enthusiast Owner.
Reducing the collection size.

Updated Price: $6,750 CAD, which is $5,279 USD on 5.23.2022
Contact information: claerhoutmike@gmail.com

Bike presents at about 8.5 out of 10. Ready to ride anywhere. Mostly original with tasteful modifications for ease of use, maintenance and or reliability. Stored in a heated garage under a dust cover on a battery tender.
Purchased from original owner in 2008 with ~13,000kms (~8060 miles) on the clock. Currently has 36,340kms (22531 miles).

Never been down while moving on the road. Fell over once in the garage when moving. Small mark on the left fairing.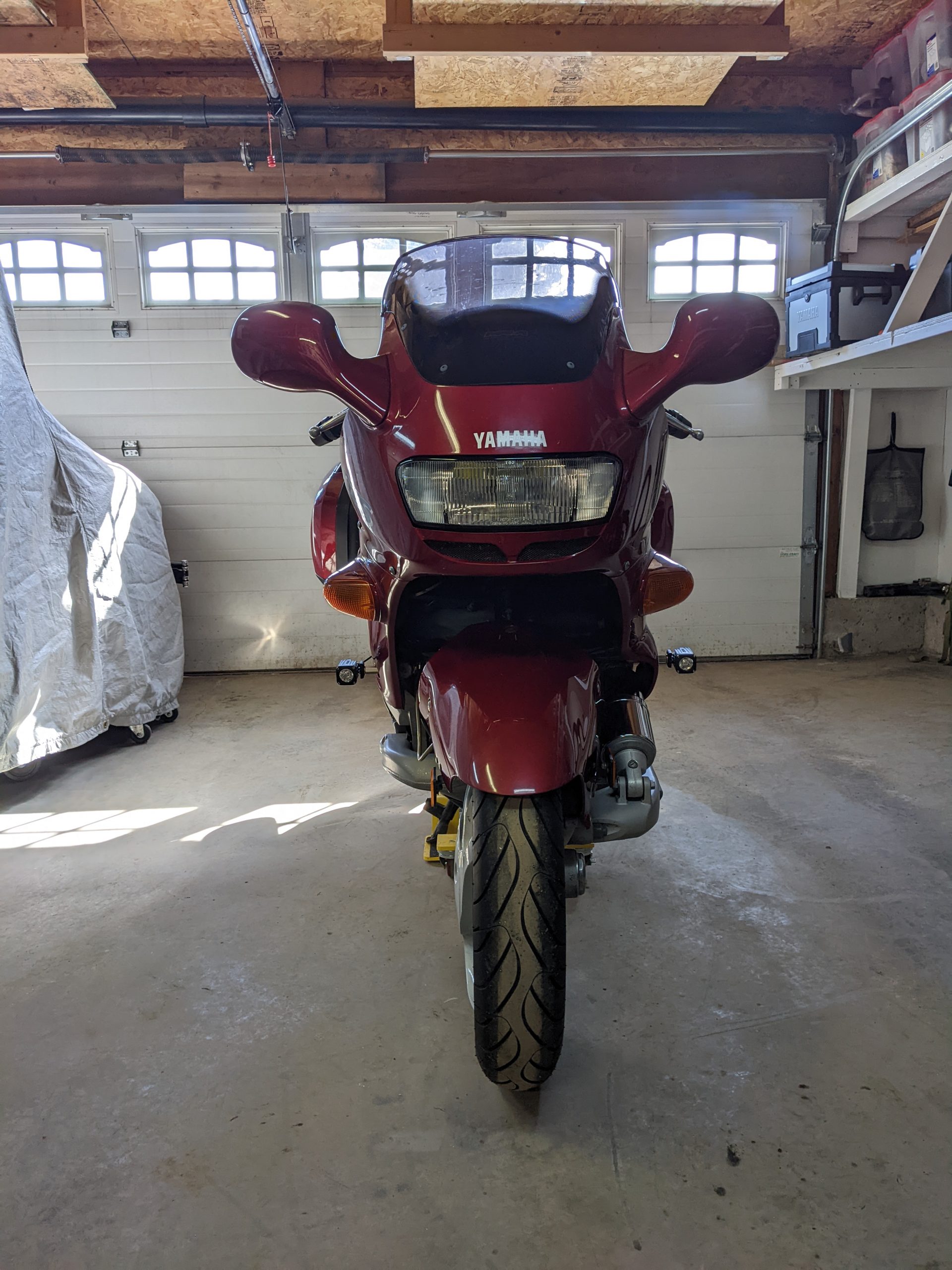 More from the seller:
Recent service including:

Fresh Oil and filter (changed every year or 4000kms)
Valve clearance check (all within spec)
Cleaned Air filters
Changed clutch and brake fluids (done every 2 years)
New spark plugs
New BattleAx BT023 sport touring tires (~500kms on them)

Extras/modifications since 2008 include
Stainless steel brake lines
Rebuilt ABS Pump
Brake bleeders on all caliper ports
Re-geared (smaller rear sprocket) to lower engine RPM at speed
Regina X-Ring Gold series chain
Polished rims with clear coating
New rear wheel bearings
Rebuilt and greased rear suspension linkage
Custom built seat fitted
Sport low windscreen
Rigid Ignite driving lights
LED headlight bulb
5 level heated grips
Givi V35 saddle bags with light kit fitted to a custom-made quick attach/detach rack
More from the seller:
Spare parts included in sale (Parts have been accumulated from spares inventories all over the world. They are NOT FROM THIS BIKE but will fit it if required. Most of these parts are ETREMELY rare:
Headlight assembly
Taillight assembly
Usable right side fairing
2 x damaged but repairable left side fairings
Damaged but repairable left and right belly fairings
Complete subframe and inner liner fender/battery box
2 top cowls with storage box – 1 damaged, 1 clean
Rear left and right-side panels in good condition. Some scratches.
Front wheel – not bent.
2 left and 1 right mirror – need minor repair and paint
Main dash cowl and inner upper mouldings
2 sets of upper fairing side access panels
Left and right passenger grab handles
Rear cowl top moulding
Front swingarm trim moulding
Various front signal light lenses, mounts, backing plates
2 ABS Pumps (need to be rebuilt)
Various mirror mount plates, spring clips, adjusters
1 new, never used stock seat, 1 used stock seat, and 1 Corbin saddle all in great condition.
Factory windshield
Factory service manual
Various media articles, publications from 1992-93 about the GTS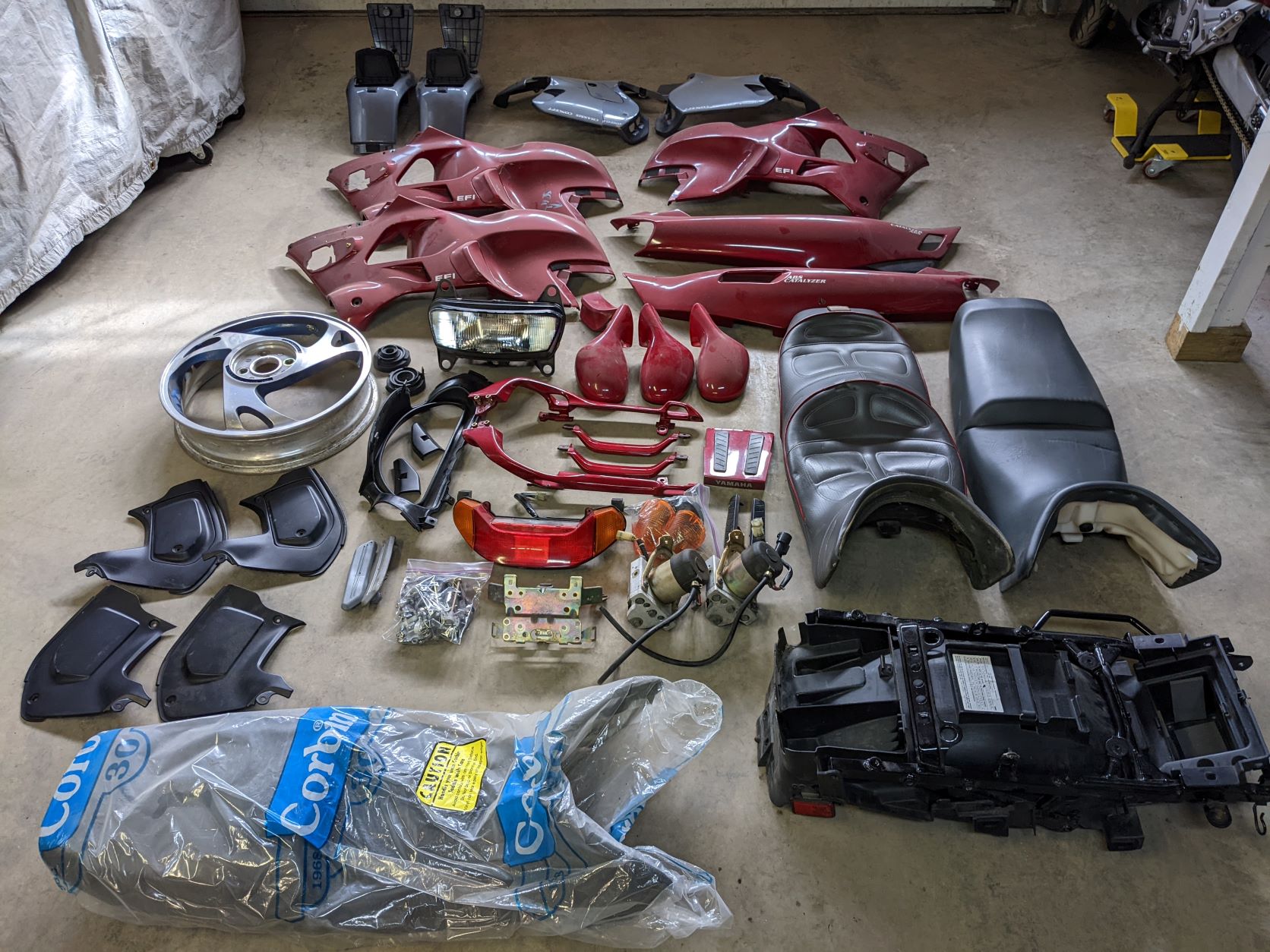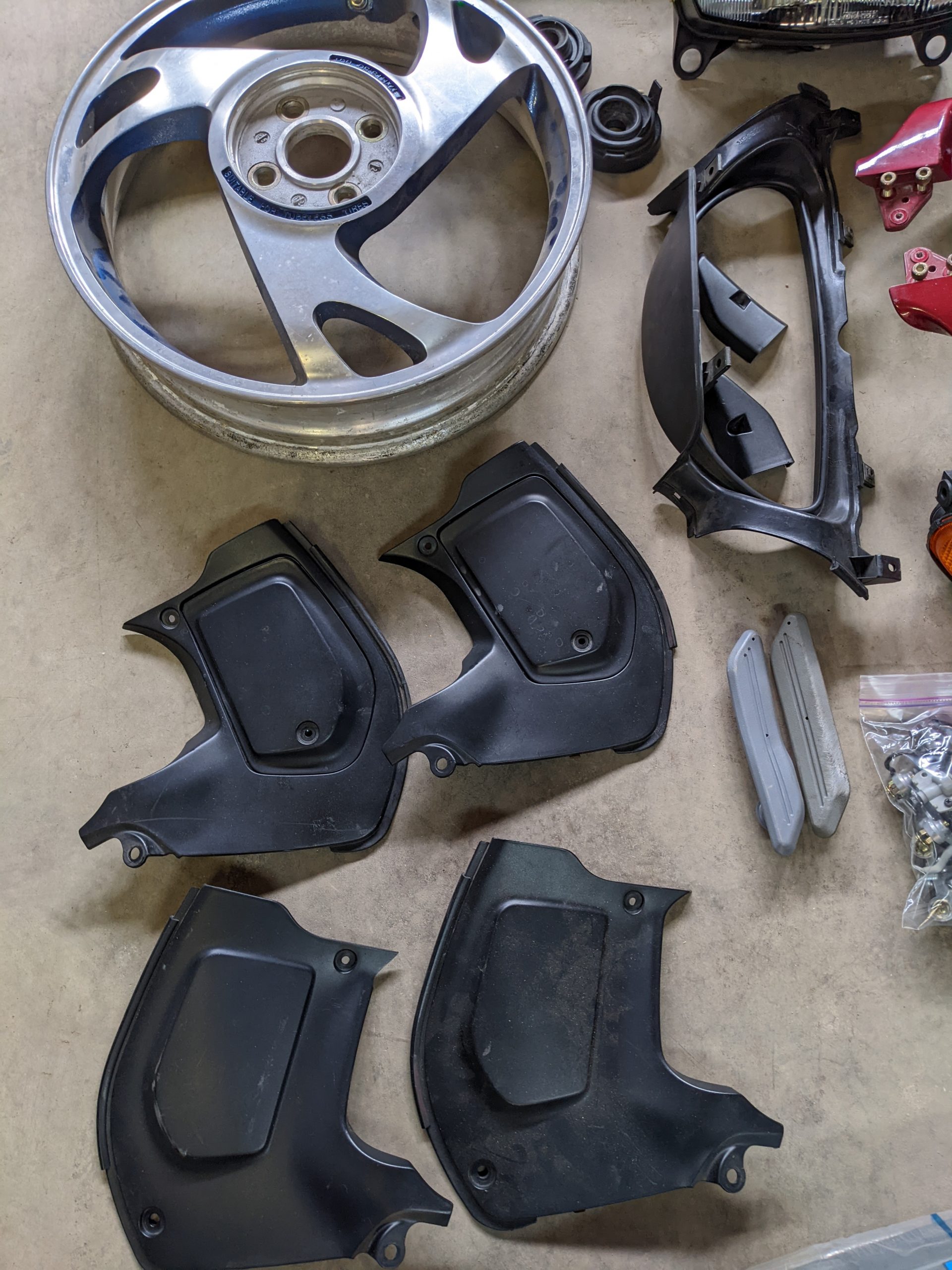 Today's Featured Listing represents a well loved and well sorted example of a very rare breed. It also represents a bit of a bargain in the current world of crazy collector bike pricing, and includes a ton of spares and rare items. The Yamaha GTS remains alone as the only mass-produced example of an alternative front suspension design marketed by a major manufacturer. This is undeniably rare, and a sort of unicorn in its own right, even in the public never really warmed to the idea. If you are like minded and in the market for something unique yet usable, give Mike a shout. The bike is located in the Province of Alberta in Canada, with an *updated asking price of just $6,750 CAD. Thanks for supporting the site, Mike!
MI