Still time to turn over a new old leaf before 2019, and get on that 250 two-stroke you've been thinking about.  This -SP is an MC21, built for the middle four years of the model's run.  It comes with factory and aftermarket bodywork and with nothing to hide, is shown in various states of undress.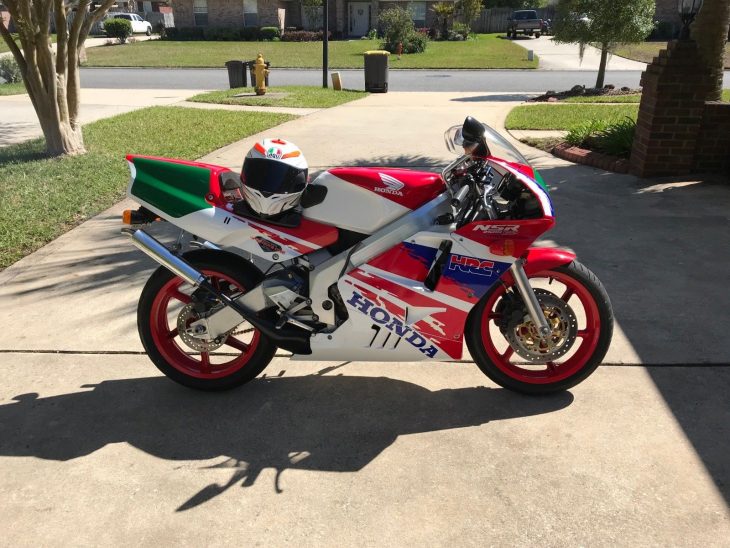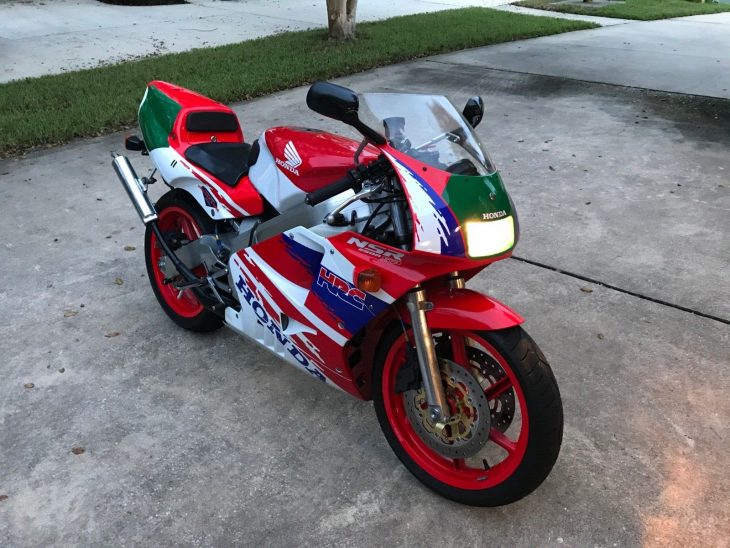 Honda developed the V-twin NSR-250R in the mid-eighties and some references say the "NS" in the model is derived from the NikaSil coating on the cylinder walls, helping keep the 45 hp engine alive under challenging conditions.  The MC21 used a PGM-III programmed ignition map and for 1992 had the "gull" swingarm, the right side being shaped over the expansion chamber making its way to the right rear.  Also, the MC21 reverted to same-size 17-inch tires, over lightweight Magtek wheels on the -SP.  The -SP also came with a dry clutch and cassette-type 6-speed gearbox, as well as special livery.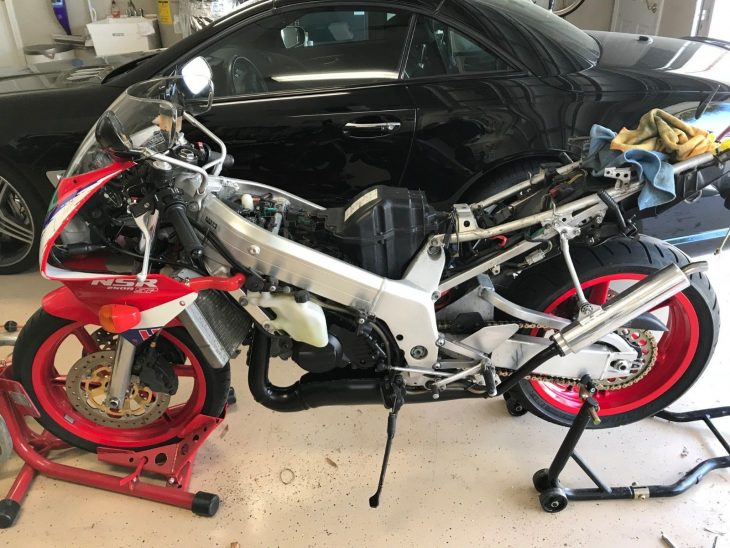 This NSR photographs beautifully from the right side, but the left fairing it shown off the bike with some road rash up high, and a cut-out for the exhaust system below.  It's shown mostly un-faired, and any other damage from that incident has apparently been repaired.  Not enough close-ups to see any corrosion which would be a concern coming from coastal Florida, but the owner says this in the eBay auction:
Unmodified PGM.  Bike has a dry clutch (brand new Tyga) fully adjustable suspension, newer chain and sprockets, Bridgestone Battlax tires, Magtek wheels.  The gas tank has a very small and hard to see flat dent in front of tank by fairing stay, otherwise tank is perfect.  Very clean, almost zero corrosion.  Original bodywork is on bike and is in good shape EXCEPT, prior owner cut lower fairing (included pictures) to clear exhaust at some point.  Also have passenger seat not on bike.  Have a complete set of aftermarket painted Chinese bodywork can include with sale.  Can take more photos or video of running and will answer any questions that I can.  Clean and clear Florida title currently registered.
Some owners would just as soon run the repro bodywork, and not worry over the factory originals.  An afternoon fitting them and getting to know your new ride, then start the search for a replacement left side.  Otherwise this example seems cared-for, with a new clutch, recent tires and water hoses.  Just one day in and bidding is active but hasn't found the reserve.  What a way to zing-ng-ng-ng in the New Year !
-donn