Showing just 3,784 miles, this CBX show bike's condition is hard to believe.  The third and present owner rode it once or twice but found being a museum docent on every ride was a reminder that this CBX is just too nice.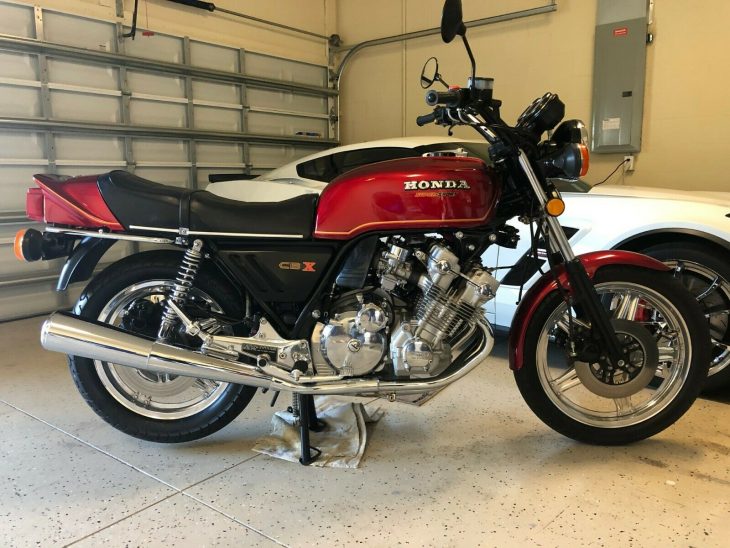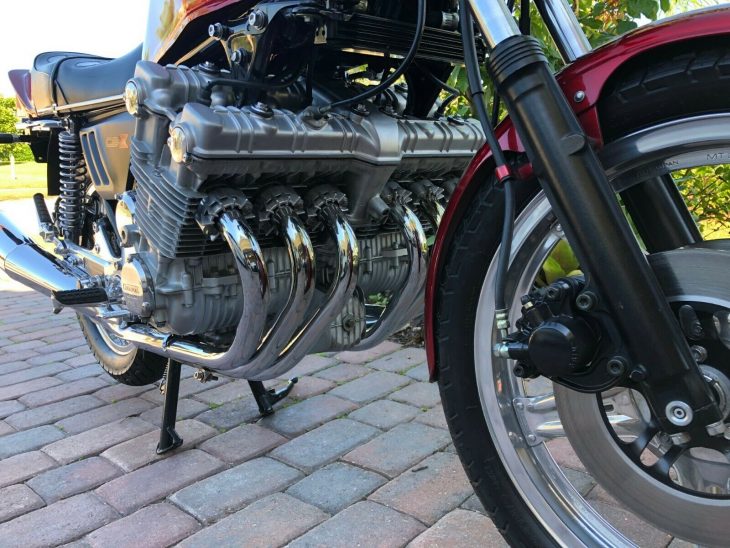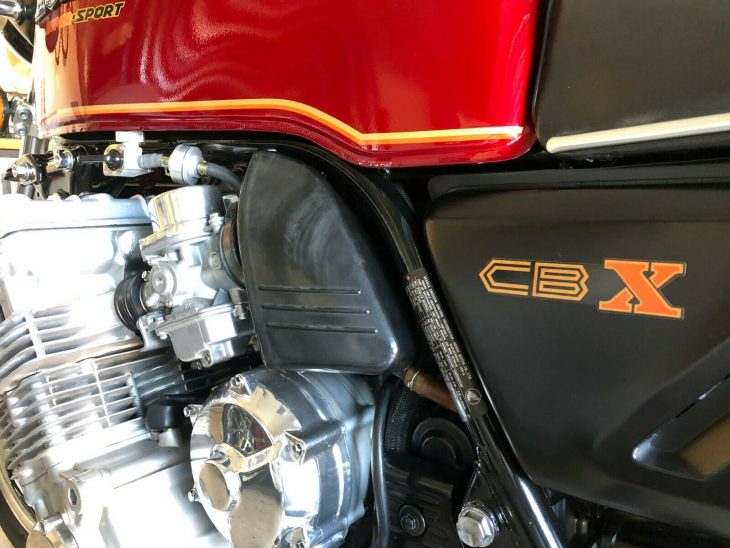 Already a world sales leader, Honda wanted to demonstrate their engineering chops, and found a venue in the double overhead-cam inline six.  Even the small 64.5 mm bores made for a wide package, and provided 105 hp at 9,000 rpm.  Honda kept the center of gravity low, disguising the mass of package.  Period UJM features like air-adjustable forks and the 19-inch front wheel are featured, and there's a nod to the 600 lbs. riding weight in the 296mm rear brake disk – larger than the 276mm fronts.  The six-into-two exhaust needed its own bottle of chrome polish.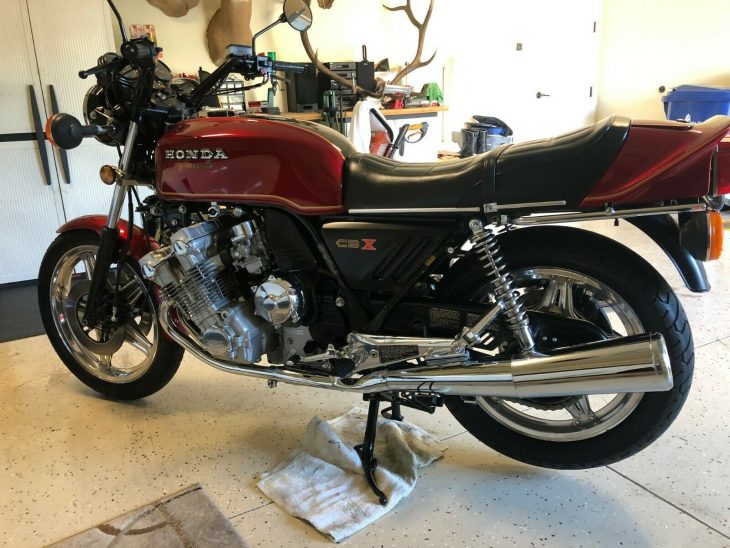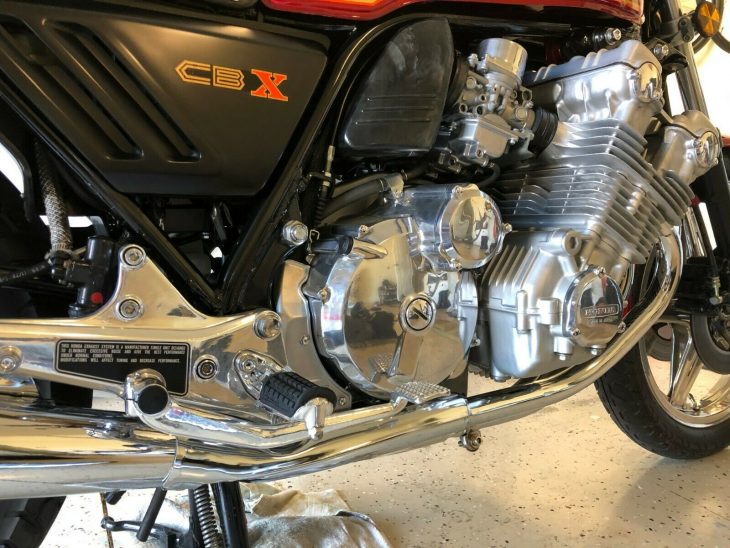 The Florida owner tells most of his CBX's history, which is surprisingly short.  The level of polish is way over the top, but very little about the CBX isn't.  For all the dirty flat black Comstar wheels out there, these laboratory examples are a beacon of hope.  From the looks of the tank, the fuel was drained for most of the display years.  The seat fairing looks original but the owner says no, and it's hard to argue with someone who puts a rag down under the centerstand in the eBay auction:
Three owner bike.  Brief history 1st owner, from Oklahoma, purchased new and  kept the bike in his house until 2002 and bike was sold to a collector in Ohio, 2nd owner never rode the bike and sold to me in 2020.  The CBX was refreshed by the 2nd owner and stored in a climate controlled building with his collection of vintage motorcycles.


Refresh of the CBX was done by a shop in Georgia that performed the following – new tires, chain and sprockets, fork oil and seals replaced, original exhaust chromed to show quality, complete tune up, coils, spark plug wires, carbs rebuilt, wheels and side cases polished and new paint job.  2nd owner likes his bikes "over restored".   $,$$$ were spent and the bike was placed back in the collection. I purchased last year and just recently decided to start and ride the CBX–after changing all fluids, adding a fuel filter, bike was started and taken to a local shop to check/synch the carbs.  Bike ran great with all 105 horses on tap it was a pure joy to ride – rode 65 miles.  It has been painstakingly taken care of for 41 years and should continue to be.  Not many in this condition left.  Living in Florida, I wanted a nice UJM bike to ride during the winter months – this bike is too rare and collectable.  Took 45 minutes just to get gas as many people wanted to see and talk about it – do not see these driving around in this condition.

All lights – head, tail, turn signals, dash lights, horn function as new.  Tach, speedo and volt gauges are original – not restored.  The tach started to have a whining noise so it was disconnected.   Inside of tank looks new and is not coated.  The bike appears to have all its original parts except for the tail section.  Original tool kit and owners manual are like new.  Original shop manual along with many magazine articles and Honda brochures included with the sale.
Honda's six was more successful than either the earlier Benelli or later Kawasaki, but still only survived four model years.  But during that time, it served as a dealer showpiece, occasional endurance racer, and collector's icon.  This one has less miles but might be less original than some.  The eye-watering starting bid might be offset by the show-ready appearance, at least for some buyers.
-donn