Honda studied the V-twin superbike rulebook carefully, and took the RC51 right to the podium.  Today's example has seen under 1,000 miles per year, and looks excellent.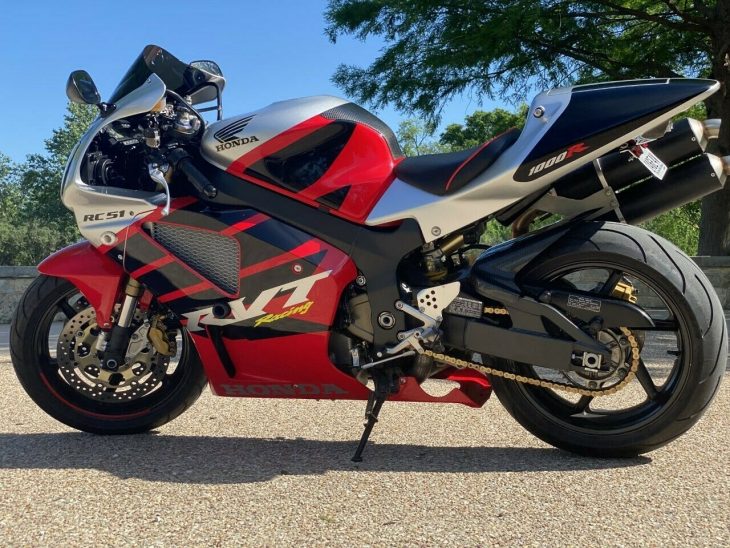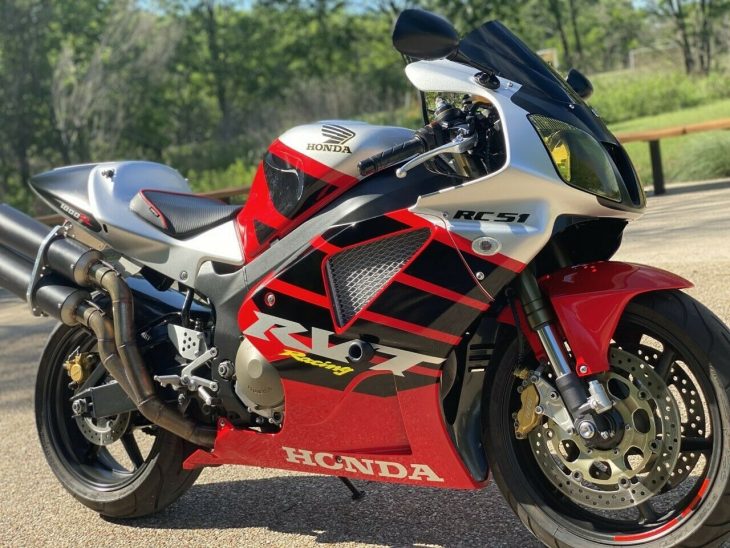 The chassis department took quite a bit of the workload on the RC51, creating a massive-looking twin spar alloy affair, which used the V-twin as a stiffener and worked ram-air ports around the steering head.  The engine designers penned a 90-degree vee slightly more oversquare than the competition, and claimed thirteen more hp at 136.  PGM_FI electronics controlled two injectors per cylinder, and cams were gear driven.  Showa brought their best adjustable suspension to the program, and a steering damper was not required.  With classic dual exhausts cruising by the heavily braced swingarm, running gear was rounded out by Nissin brakes and 17-inch wheels.  The full fairing had the latest cat's eye headlights and side radiators to reduce frontal area.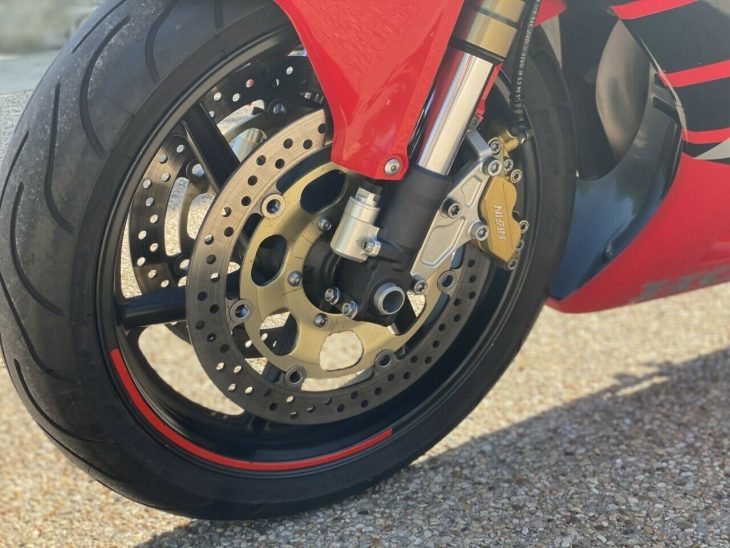 This Texan RC51 has some nice mods – conformal turn signals, well done frame sliders, Sargent seat, and an interesting 2-1-2 exhaust.  And the compulsory rear fender elimination.  Super clean with just short of 19,000 miles, decent tires and seemingly no paintwork.  Comments from the eBay auction:
A surviving example of the Honda's racing heritage in the Superbike World Championship. It's an absolute blast to ride with its V-Twin liquid cooled motor. While this bike has been enjoyed it is still in great shape and will remain a collectable item seen by many for years to come. This bike does have a few after market accessories. It has the under tail with led brake lights with integrated turn signals and a license plate light to pass your state's inspection. While maintaining the factory look, a set of frame sliders were installed. The factory exhaust was replaced with a set of high rise exhaust on one side that was developed by Honda's racing team. Bike has been recently detailed and is fully operational and ready to be enjoyed.
The red and even redder bikes traded championships until Honda, as they regularly do in competition situations, decided they'd proved their point and pooled their resources for the next conquest.  The RC51 stayed in production until 1996 and is quietly making its way toward legend.  Several bidders are interested in this one, though the reserve might be double the current bid.  Looking forward  to the last half hour !
-donn