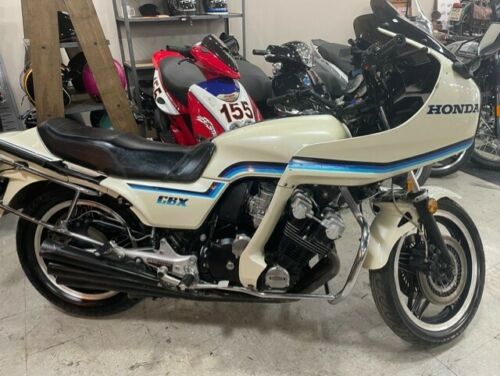 History will show that Benelli – not Honda – produced the first factory six-cylinder motorcycle, the 750cc Sei. However the riding public will likely not care who was first, and will always look at the Honda CBX as an engineering marvel, which it really is. And while the original 1978 CBX was a bare-knuckle brawler in its naked form, it is the post-1981 sport touring version we are highlighting here. This 1982 Honda CBX is the final model year of the breed, and represents an excellent example of the beauty and complexity of the model.
The heart of the CBX was – and will ever be – the giant 1,047cc transverse cylinder inline six. The 24 valves are operated by double overhead cams, fed upstream by a brace of six Keihin carbs. Although the engine looks impossibly wide, Honda invested considerable effort in consolidating typical end of crankshaft items such as ignition and alternator behind the bank of cylinders. This kept the overall width only slightly wider than conventional fours. The original naked CBX enjoyed a robust 105 HP or more when introduced, but the shift to sport touring in 1981 saw a modification to the power delivery, and ultimately a drop in top end output by 5-7 HP. This was balanced by an increase in weight due to the additional bodywork, frame modifications, and color keyed hard bags. On the plus side, Honda introduced their air-assisted Pro-Link rear suspension linkage in place of the original pair of rear shocks, as well as larger front fork tubes to aid in handling.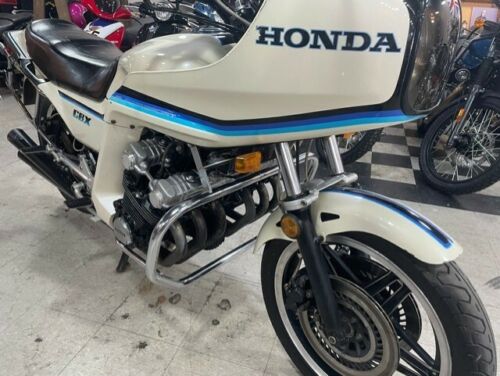 From the seller:
Honda's engineers and management liked the appeal and sound of the six-cylinder they produced. Some have compared it to old-school Formula 1 car exhaust. It also let the Honda CBX top out at 135 mph, Which made it the fastest production motorcycle in the world. 1981 saw the Honda CBX go from a standard into a sports tourer motorcycle. The resulting Honda CBX 1000 SuperSport came with extensive wind fairing, hard-sided saddlebags, and an adjustable rear mono-shock. It also had upgraded brakes, with new calipers and, in front, ventilated dual discs. The front fork was also adjustable, using a special air pump that came with the bike. In terms of straight-line speed and engineering complexity, the Honda CBX was a superbike. While the six-cylinder wasn't exactly fuel-efficient, it was extremely smooth and sounded great – Especially with the Denco 6 into 6 'Ferrari' sounding Exhaust. Jay Leno bought a 1981 example brand-new, and still owns and enjoys riding it, today. — DETAILS — This is my 6th CBX and I love them, I changed out the front turn signals, custom windscreen, custom turn signals and 6 into 6 Denco Exhaust. Carburettors were rejetted for the Denco Exhaust..
More from the seller:
""THE BAD"" I had surgery a few years ago and the hospital almost killed me, and I try as I might, I can't ride anymore, SO THE CBX HAS SET FOR TOO LONG AND NEEDS THE CARBURETTORS CLEANED, BRAKES FLUSHED OUT AND MAYBE SEALS OR EVEN A NEW MASTER CYLINDER, AND GAS TANK CLEANED. IT RAN PERFECTLY UNTIL MY SURGERY. IT'S ALWAYS BEEN INSIDE AND LOOKS ALMOST NEW ESPECIALLY FOR ITS AGE, HAS VERY LOW MILEAGE AND WITH THE DENCO 6 INTO 6 EXHAUST IT IS ALWAYS A HEAD-TURNER AT ANY MEET YOU GO TO.. I JUST TURNED 70 THIS MONTH AND IT BREAKS MY HEART NOT TO RIDE ANYMORE,, I BOUGHT MY 1ST MOTORCYCLE ON MY 14TH BIRTHDAY AND HAVE RODE EVER SINCE. I took it to a motorcycle shop down the road from me because my driveway is too steep for me to move it in and out, now. I bought my son's 1st motorcycle from him. He is trying to sell it as well, but since I've bought and sold a lot on eBay I decided to put it on here, also. The buyer is responsible for any freight and of course, the motorcycle needs to be paid for before it leaves the shop, personal checks must have time to clear my bank before shipping. So, it's a project bike of sorts, but being as clean and rare as it is, it is well worth the investment to put it right, and back on the street where it belongs…I have the owner's manual, shop manuals and more, that will go with the bike.. Thanks for looking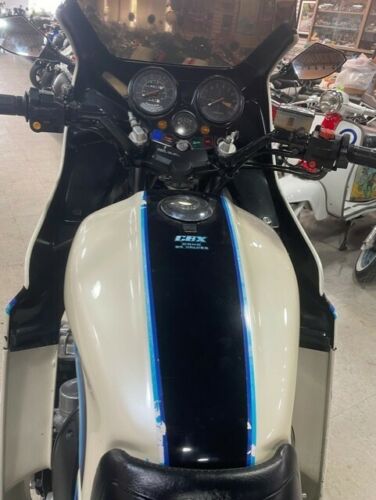 From a collector perspective the original naked model still holds a financial edge by the latest auction outcomes. However at some point the NOS bodywork will disappear, flipping the supply-vs-demand equation and elevating well-kept later models to a higher price point. We have not seen that yet, but if I had a dollar for every time I hear "I remember when you could buy a for next to nothing!" I could afford one of these mega-buck collector bikes. The market for the fully-faired CBX has not hit crazy heights as of yet, so if six is your lucky number now might be the time to act. This one looks to be complete, but the seller cautions that it has been sitting. There is only a single $5k bid at time of writing with reserve still in place. Check out all of the details here. Good Luck!!
MI