Collectors can be a competitive crowd.  They are constantly trying to find the best, rarest and most interesting items to add to their collections.  Often this manifests into the search for zero mile examples of machines.  These bikes are literally brand new and allow the owners to have something in perfect, and original condition.  But what is one step up from zero miles you ask, well that would be still inside the OEM shipping crate.  We have seen a few examples of this trend over the last year.  A couple of high profile auctions included motorcycles that have never been removed from the shipping crates or prepared for sale.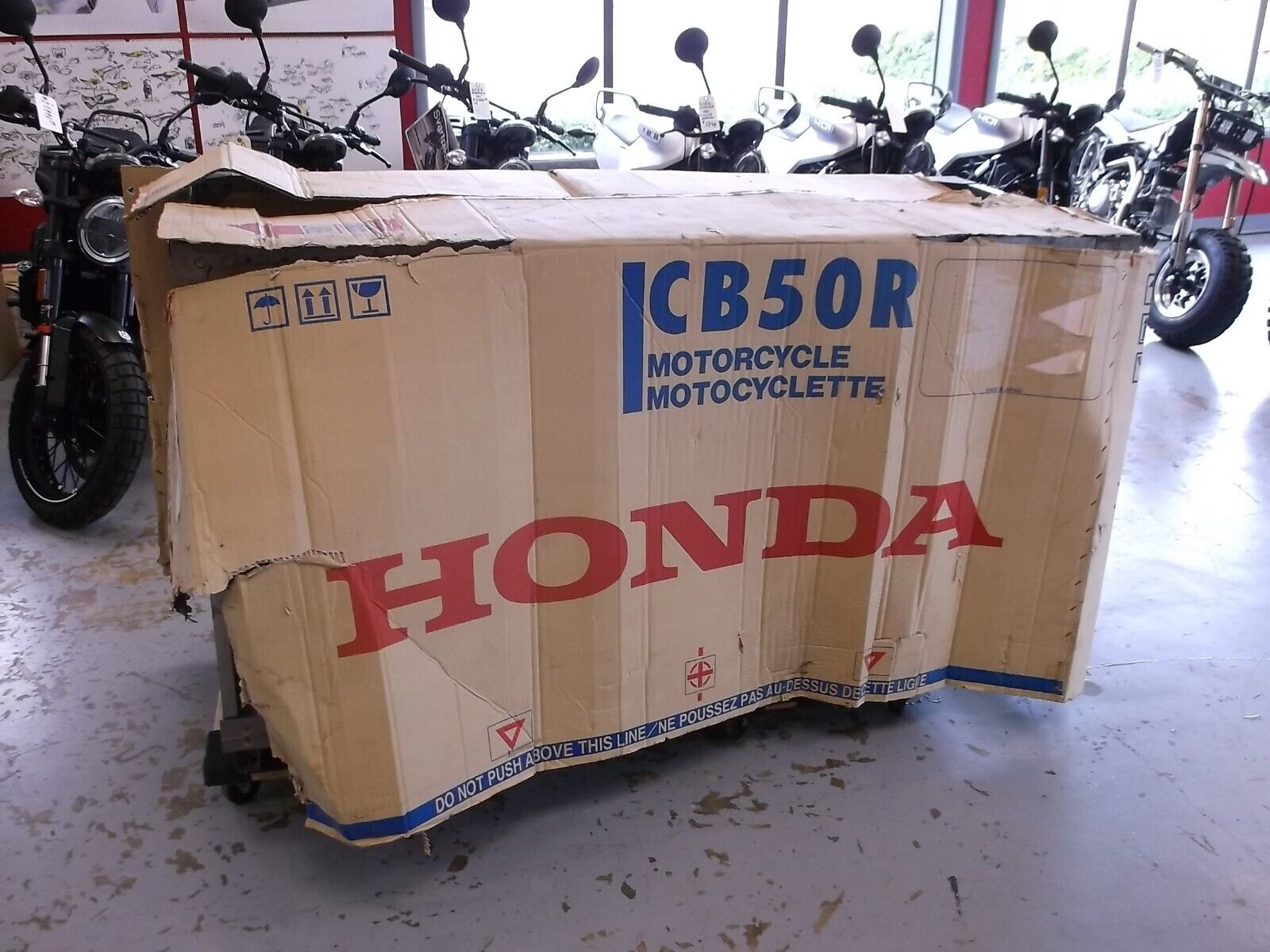 Today we have found a Honda CB50R, better known as the Dream 50 that has remained inside the box since 2004.  Collectors have loved the little retro bike since day one.  Offered in the USA in limited numbers the "off road use only" machine had the look of a 60s GP bike with some interesting modern tech in the engine.  It was also at a very attractive price point.  These bikes come to market every now and again, and it is not uncommon to find one that has lived on display and never ridden.  What is uncommon is to find one that retains the shipping crate.

2004 HONDA CB50R NEW IN CRATE

Frame number AR02-1000550
Engine number AR02E-1000576.

New in crate 2004 Honda CB50R. Complete with most of the original shipping cardboard. Has been carefully stored indoors for many years. 1 Owner. Bike was bought locally.

No rust or corrosion. Paint is perfect. Original cardboard box of goodies in the bottom of the crate has never been opened.

Original shower cap still installed on the seat cowl. Original intake cap is still on the velocity stack.

Fantastic investment for museum or Honda collector.
The eBay Auction does not list a Buy It Now price, so no clear understanding of what the dealer is expecting.  The Dream 50R market is well documented and prices have been steadily rising over time.  At this point it appears that $10,000 will buy you a nice example, so it will be really interesting to see what premium the crate brings.  Will a collector just have to have it, or will they nit pick that the cardboard is not perfectly flat?