1994 brought new fox eyes to the CBR900RR, but didn't increase the weight or sporty intent.  Today's example is destined for back road fun, leaving the show stand to others.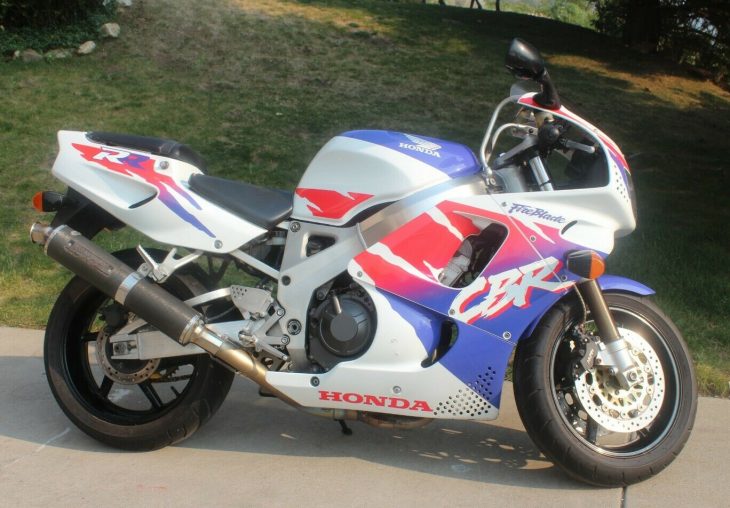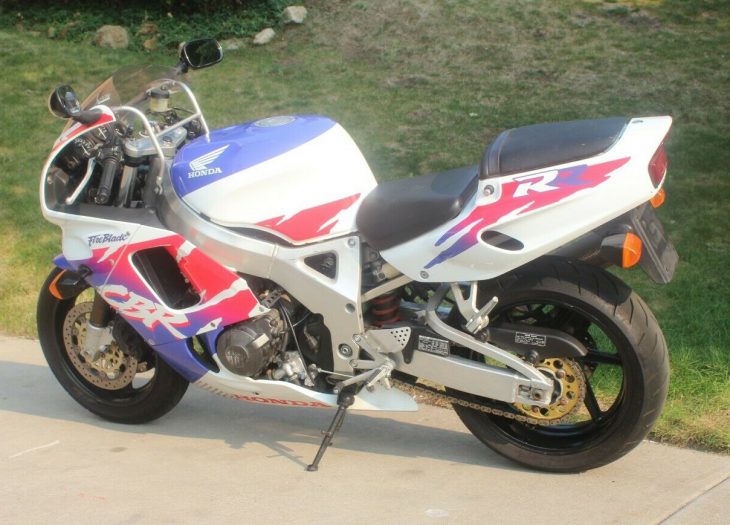 Almost superbike sized, the Fireblade is more of a beefed-up supersport than a lightened superbike.  Its 122 hp, 43mm cartridge forks, and 296mm four-piston brakes are stretched over a 55-inch wheelbase and lightened to just 454 lbs.  Compare that to the liter-size GT's and see why it did well at the more technical AMA venues.  But it was most at home on the canyon road, with plenty of usable power and easy-to-access handling.  Just one update was advertised for 1994, a redesigned shift drum for smoother action.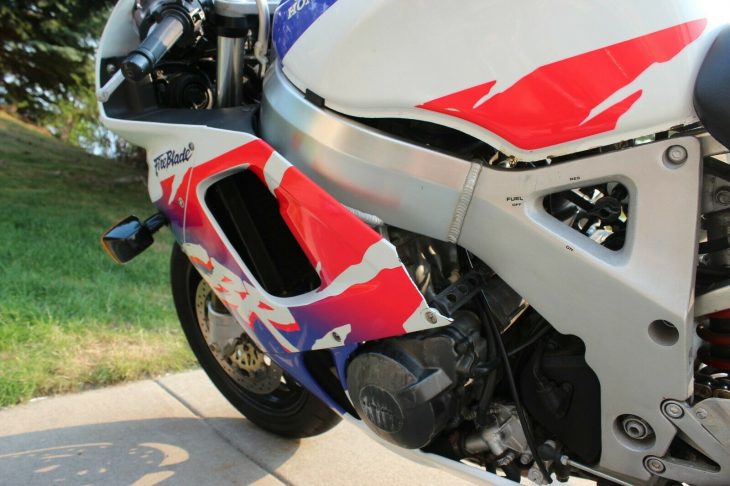 Though this CBR would be a project to restore, it appears to be clean and free from any career-ending incidents.  Though it has a carbon muffler, almost conspicuous by their presence are the rear mudguard, droopy turn signals, and clear windscreen.  No info on why an available model was imported, but more knowledgeable readers will please weigh in.  Notes from the eBay auction:
The color scheme is awesome and it goes like stink and handles as well as any modern sportbike. It only weighs 185K dry. It put out 111HP to the shaft and for a 25-ish-year-old bike, that was game-changing. I got this one a few years ago out of Gary's collection, but just don't ride it, as I have two others and an RVF. When we do ride it up the canyons, it keeps up with everyone. It's a head-turner too. Anyone who knows motorcycles knows this bike and how it changed the game in the early 90s. Lots of people stop and take pictures, just warning you. There are VERY few of these around, but if you are looking at this listing, you already know that. This thing is stock and has a Yoshi carbon slip-on. Sounds amazing and runs perfectly.

Everything works and the tires are only a few years old and in great shape. Always garaged. There is a chip in one of the fairings around the clutch plate (see pics) and a few love bumps here/there, but the body is in perfect shape. Clean fluids too. A couple of rips in the seat, but they are super small. Anyway, again, you know what this is if you are looking at this listing, so I don't need to list any specs…you already know. If you are a beginning rider, DO NOT buy this bike. Just because it is old/vintage, it is a lot to handle for a beginner This bike is in amazing shape…I'm not going to say museum quality, but it is beautiful, and I hate to get rid of it, but I need to clear some motorcycles out of the garage. Odometer is in Kilos btw, which is about 8,500 miles here in the lower 48. Very low for a 27-year-old bike.
Hard to believe this CBR900RR was right across the showroom aisle from the CBR1000F, fully enclosed and around 550 lbs ready to ride.  Different missions, product managers, and designers – and really different roads or tracks in mind.  Probably better to choose another if a scratchless creampuff is your goal, but this one could be the go-to bike, close by the garage door.
-donn