Today's bike, a very nice GSX-R 750 definitely falls into the "rare in this condition" rather than "genuinely exotic": Suzuki sold boatloads of these when they were new. And it's no surprise the original Gixxer sold like hotcakes: the GSX-R 750 was the very first mass-produced race-replica of the modern era, a truly affordable bike that you could thrash at the limit on track, and then ride to work on Monday morning without missing a beat.
First-generation Gixxers are often referred to as "Slabbies" due to their very slab-sided styling. Engines featured air and oil-cooling that kept weight to a minimum but allowed maximum power and flat-slide carbs and a six-speed gearbox completed the package, helping the bike produce over 100hp in stock form. A lightweight aluminum box-section frame was state-of-the-art, although the bikes rolled on 18" wheels, making tire choice a bit limited today…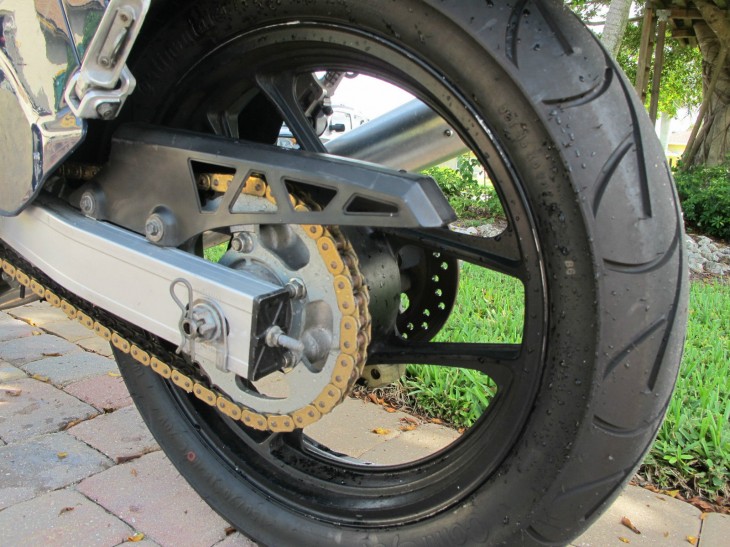 Previous Japanese race-replicas like Suzuki's own GS1000S were huge, heavy beasts that stressed power and durability over nimble handling. But the GSX-R had it all: power, light weight, handling, and rock-solid reliability.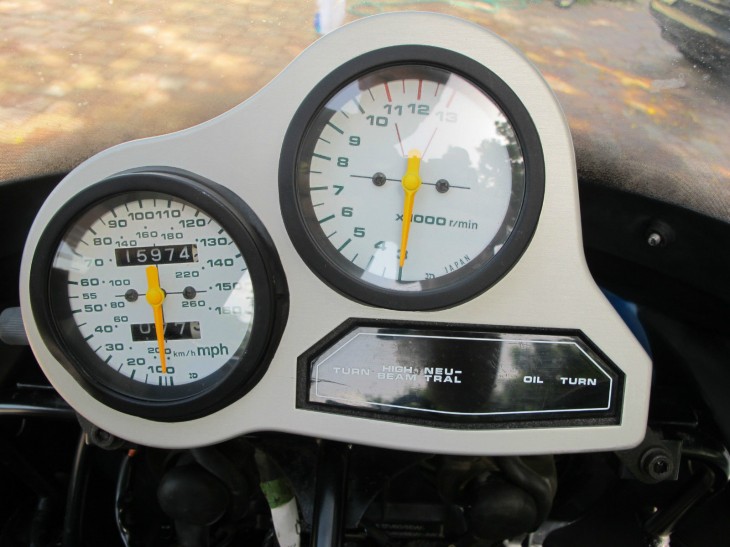 It basically set the stage for the two-year production-cycle wars between the Japanese manufacturers that continued until the market crash knocked the bottom out of the motorcycle market. The Euro gained ground on the Yen, making formerly out-of-reach exotics from Italy a far more affordable prospect at about the same time those manufacturers realized that people wanted to actually ride their motorcycles, not take them in for service every 6,000 miles or wait for backordered parts to arrive…
From the original eBay listing: 1987 GSX-R 750 for Sale
Up for auction is a very well prepped and maintained 1987 GSXR 750.  By "well-prepped"- I mean, at close to thirty years old- I wanted to make it reliable and safe.  So, there are brand new chain and tires (Michelin Pilots) (less than 50miles on both).  All hydraulics were professionally disassembled, cleaned, new seals and new pads in calipers and rebuild kits on all master and slave cylinders.  Forks serviced with new wipers, dust seals, Race Tech bushings and 5W oil.  Wheels have brand new wheel bearings.  Carbs- again, professionally rebuilt, new genuine part fuel floats, tuned and balanced.  New-Old stock (period correct) Kerker full system, (as the rubber intakes get old and hard- new intakes and exhaust gaskets to prevent air leaks) and brand new (not just re-oiled 20yr old) K&N filters.  Brand new black kevlar brake lines.  New battery, fresh Motul oil change/filter, etc…

For being almost a "vintage" bike-  she starts, rolls, pulls, turns and grips probably better than she did when new.

Tank -you can see in the pics- is rust free, bike still has original factory wind screen -not some lockhart replacement.  Still has original grips, rear view mirrors (bright, not scratched) and passenger foot pegs.  Comes with solo cowl -which I understand are worth a good $ all by themselves.  Gauges you can see are clean and bright -probably only 25% fade on the orange needles.

Everything was cleaned and detailed- so you won't find 30years of chain grease and road grime under the sprocket covers.
The 1987 model year GSX-R introduced beefier 41mm forks and Suzuki's New Electrically Activated Suspension [NEAS], along with a steering damper and a 21-liter fuel tank.
By now, most Gixxers have been either been badly abused by several generations of squidly riders that followed the original owners, or are 0-mile collectables. While the 18″ wheels may make tire purchases more of a hassle when the time comes, this one won't need those for a while, since the tires currently fitted still have the stickers on them! To find a first-generation GSX-R in this sort of well-used, but well cared for condition is really exciting if your goal is to use your new purchase as intended and terrorize local road and track. This one looks ready to go: the perfect usable, collectable sportbike.
-tad