By the late 1990s, Ducati's success in production-based racing and general iconic-ness meant a new emphasis on v-twins for many manufacturers. It helps that a v-twin package makes for a great roadbike, with flexible midrange torque and lots of character at any speed. As a bonus a v-twin just sounds like a motorcycle. With 916-level specifications and a price that was lower than a Ducati 900SS, the Honda VTR1000F Super Hawk, or "Firestorm" in some markets, should have been a hot seller. But anonymous looks, road-biased handling, and a few annoying quirks combined to make Honda's "Ducati-killer" a bit of a miss. Everything about the VTR1000F looked great on paper: a 996cc 90° v-twin with liquid-cooling and four valves per cylinder, lightweight aluminum beam frame, and adjustable suspension certainly fit the bill. Side-mounted radiators looked trick and were supposedly more efficient than a traditional unit. They probably also helped keep the wheelbase short, something that can be tricky on transverse twins like this one, but the location also made them a bit of a liability in a crash. Cam-chain tensioners were supposedly a weak spot, but the engine is generally blessed with the expected Honda-levels of reliability.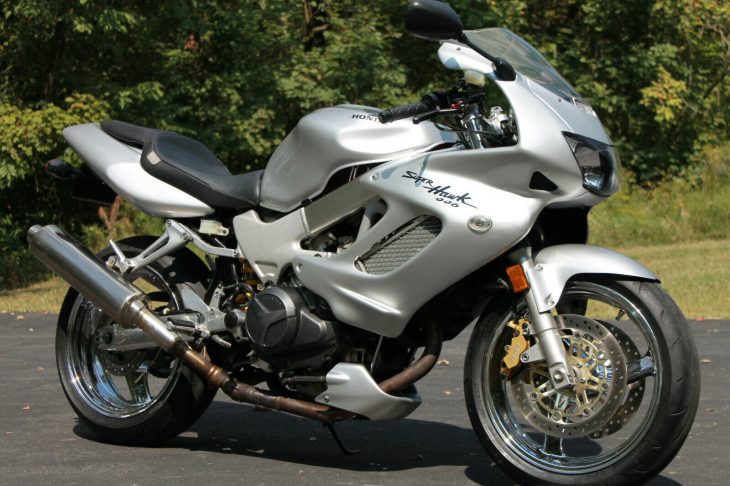 So what went wrong? The specifications may have been impressive, but power wasn't quite up to Ducati 996 levels, and handling wasn't even as good as the 900SS. At 423 claimed pounds, it was light enough, but the bike was really never designed to be a serious sportbike: the frame was light and had flex tuned into it to provide great feedback on the road, but it was too willowy for serious track use, let alone racing. I read an article years ago about a British privateer team trying to race a VTR1000F, back before the SP-1 was released, and their biggest challenge was stiffening that frame. A pair of carburetors may have seemed pretty retro in 1998, but the big mixers meant great fueling for the twin. Unfortunately, they also meant pretty poor gas mileage and limited range: the thirsty Super Hawk got less than 30mpg and a 4.2 gallon tank meant no more than 130 miles between fillups, with the reserve light staring you in the face at around 100 miles. Bikes from 2001 and beyond had a larger 5 gallon tank, but it still didn't really qualify as a sport-tourer, in spite of all-day comfort from the reasonable ergonomics.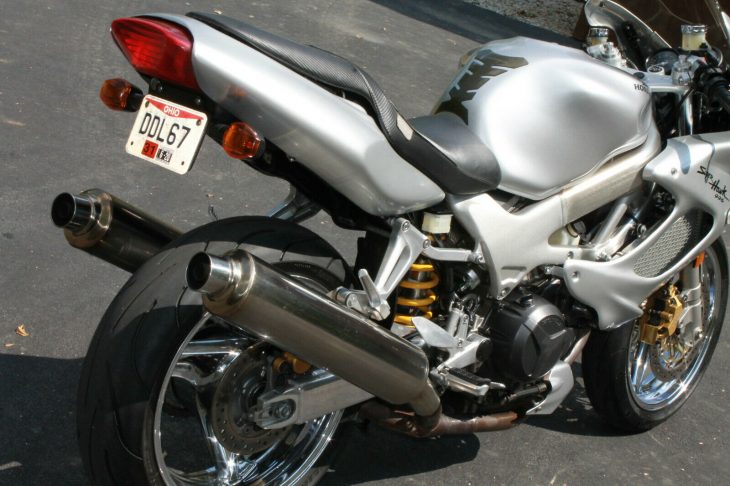 It may not have been a serious sportbike, but it was a pretty great motorcycle for anyone looking for a versatile street machine. Handsome and competent, without being particularly pretty or even distinctive, it's been largely forgotten today. Launched at almost the same time as Suzuki's TL1000S, it was probably a better bike, but the widowmaker Zook stole all of Honda's thunder and was generally much more exciting, owing to it's sometimes wayward handling and wheelie-prone character. It's a shame because, limited range and bland looks aside, it doesn't have any real vices.
From the original eBay listing: 1998 Honda VTR1000F Super Hawk for Sale
Honda Super Hawk . This is a VTR1000 Superhawk v-twin. The bike looks, and runs great. This is Honda`s version of a Ducati without all the trouble, and expense, and much more comfortable. Bike has low miles with lots of extras, and everything is ready to go. Had to relist due to a Scam buyer. Shipping is the buyers responsibility. I will help load. 1/2 hour NE of Louisville, 1 hour SW of Cincinnati.
It'd be nice if the seller actually went into details about what "lots of extras" means. I see aftermarket levers, reservoir caps, signals, fender eliminator, polished wheels, and maybe an aftermarket seat. Most of it seems of average quality, but your mileage may vary. All-in-all, it looks pretty nice and it can all be reversed, if you want more originality. With 15,800 miles on the odometer and an asking price of $3,199 you're certainly getting a lot of bike for the money, something that's characterful and pretty unusual, as long as you don't mind stopping for gas more often…
-tad