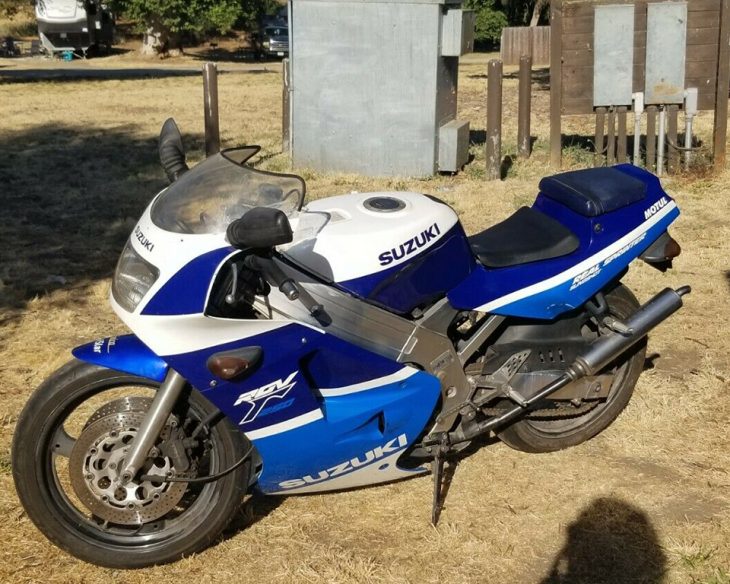 It's a shame that we never really got any of the incredibly focused quarter-liter sportbikes from Japan here in the USA. Luckily, a few have sneaked in over the years, followed by a veritable flood of Japanese market bikes that have been brought over in recent years, since most are now over 25 years old and much easier to import. The spec sheets would have you believe they're all virtually the same bike, but each had its own unique character, and today's Featured Listing Suzuki RGV250Γ was the wild-child of the bunch.
Introduced in 1987 as a 90° v-twin followup to the parallel-twin RG250, the new RGV250 "Gamma" went through VJ21, VJ22, and VJ23 iterations before disappearing. The liquid-cooled two stroke engine displaced the expected 249cc, with a bore and stroke of 56mm x 50.6mm, and was backed by the equally expected six-speed gearbox. The bike used a 17″ front wheel and an 18″ rear as was common in the class, although later models featured matched 17″ hoops.
The "Real Sprinter Slingshot" emblazoned on the tail sounds like the sort of technical jargon the Japanese are known for but, as far as I can tell, it's just a bit of a tie-in to the four-stroke GSX-R of the period that featured "Slingshot" carburetors. Later bikes featured swanky asymmetrical "banana" swingarms and electronic power valves, all shoutingly-proclaimed in bright acronyms on the fairings. Those bikes were more developed and more refined but, at just 282lbs dry, the VJ21 seen here was the lightest and most powerful of the bunch, and perhaps the most pure as well.
From the original eBay listing: 1987 Suzuki RGV250Γ for Sale
NO RESERVE This model not sold in USA, Direct import Japanese Domestic Market bike, 62hp pre-restrictions model, lightest weight year. Pretty much 250GP bike with lights added, cassette gearbox, all the right stuff! This is my favorite bike I have ever owned, absolute joy to ride, moving to where there are no roads, so gotta part with it. Runs great, shifts great, rides great. Recent sticky Dunlop Alpha 13 dot race series tires. Current MD tags and title. Original front fender cracked, see pic small cracks on fairings nothing major. Includes racing replica plastics from Hong Kong. Includes lots of extras, complete good running and shifting spare black Walter Wolf engine (no carbs, shift lever or kickstarter), original white wheels (18 in rear.) Zeeltronic programmable ignition box/ exhaust valve controller, spare exhaust valve actuator. Only bad, fork seals leak therefore front brake pads are oily. 29,614 km, or 18,401 miles. Unrestricted first year production for the V2, year after these were made Japanese law limited engine HP output. Also advertised locally so if ended early, that's why.
Note that the seller does have this listed as a 1987 model and it's probably titled that way, but it looks like a VJ21 model from 1988. That may just be a quirk of titling and registration, or the bike was a very early production VJ21. This is obviously not a perfectly-preserved museum piece. It's a rider, and comes with some spares to change the look, or just keep the bike running. Or maybe you just happen to have an engine-less Walter Wolf RG250 lying around and can use the included engine to get that project rolling. The aftermarket panels might not be remotely original, but I like the idea of installing the included aftermarket, race-replica bodywork for a bike that's intended to be ridden hard, instead of being displayed in a hermetically-sealed garage.
-tad