Endurance racing doesn't have much of a following here in the US, but it's popular in Japan and Europe, and the French especially seem to love it. If you're not familiar with the Bol d'Or, it's a long-running 24-hour race held in France, literally the "golden bowl." The second-generation of Aprilia's v-twin superbike managed to update the bulbous styling without aping its most direct competitor over at Ducati. The new bike looked thoroughly modern, with viciously angular shapes and striking graphics, although this RSV1000R Bol d'Or Replica pretty much redefines "bold." The lilac, white, and red design shouldn't work, but I think it compliments the angular bodywork, and it definitely stands out in a crowd.
Under the skin, the bike used an updated version of the durable and powerful Rotax 60° v-twin, with a restyled beam frame that compliments the wedgy fairing. Honestly, I much prefer the smooth curves and industrial artistry of the original frame, but I guess Aprilia thought it would clash with the new bodywork. Power was up to 143hp, although the bike used a single plug per cylinder in place of the Mille's two. It also gained a few other magnesium engine bits and other evolutionary tweaks.
In an interesting twist, the RSV1000R was actually the standard version of the bike, with the Mille R's role being taken over by the Factory. But being "entry-level" is no bad thing, as the standard bike was pretty high-spec to begin with, and should keep even the most experienced rider entertained. Power was identical to the Factory, and the R got an Öhlins TiN fork up front and a fully-adjustable Sachs shock out back, with radial Brembo calipers. The whole thing weighed in at 472lbs wet, pretty much on par for a big v-twin sportbike of the era.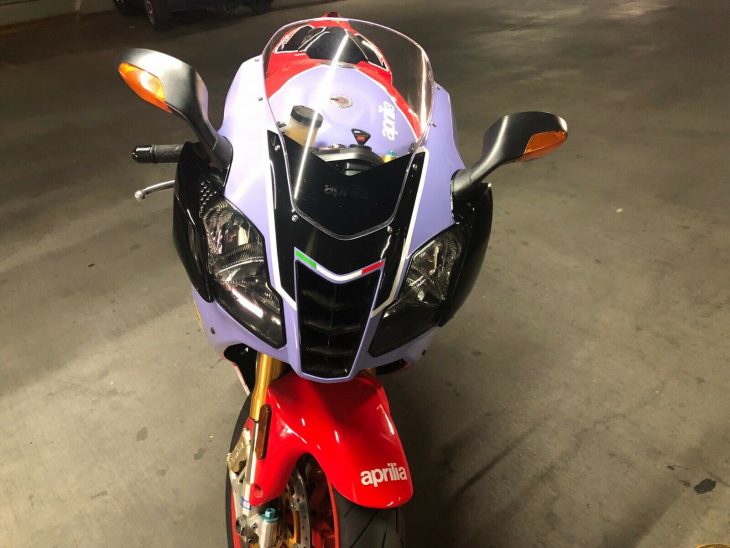 Reliability-wise, there really isn't much to worry about with the RSV-R, and they can cover pretty serious miles with minimal muss, which isn't something you'd expect from an Italian superbike. There are the usual hydraulic clutch issues, the water pump seals can leak, and apparently the charging systems aren't the most robust, but I can't remember a bike I've researched that didn't seem to have that issue. You think sportbike manufacturers would look into that…
From the original eBay listing: 2007 Aprilia RSV1000R Bol d'Or Replica for Sale
Extremely rare, very well kept, one owner (adult owned), limited edition Bol d'Or in excellent condition. All work done by certified Aprilia dealer, including recent 18,000 mile service/valve check, performed at EuroCycle Las Vegas. Always garaged, no accidents and spent entire life in southwest weather. Akrapovic Aprilia Racing slip-on exhaust, Ohlins steering damper, new battery, plenty of tire tread and fresh fluids. Clean title in hand, along with both keys, passenger seat, racing cowl, owners manual and tool kit.
Well, for a change, the seller isn't exaggerating: the Bol d'Or is pretty rare, especially here in the US. With 19,700 miles, it's not a garage queen, but the Rotax motor is famed for being durable and low-maintenance, so that wouldn't put me off in this case. The listing could do with more photos, but the bike looks complete, with a few nice extras, including what appears to be aftermarket rearsets and a pair of Akrapovic cans should liberate some of the v-twin boom without deafening everyone within five blocks like some other systems would. The stealth-fighter style has managed to age pretty well, and these generally attract a lot of attention
-tad