Okay, so here's the thing: all of my early opinions about the 750 F1 were informed by Mick Walker's Illustrated Ducati Buyer's guide where the bike got one freaking star. I'm not sure where I put my copy, so don't crucify me if I got that bit wrong, or if you have an updated edition where he revised his opinion, but it really stuck out in my mind.
The review absolutely hated the F1: "uncomfortable, extremely unreliable, and slow," were words I remember being applied, with a big heaping of distain…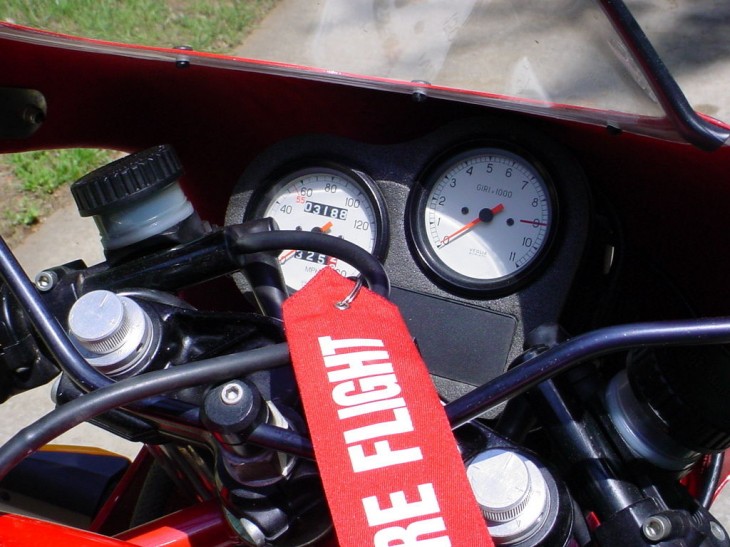 Powered by a 750cc version of Ducati's air-cooled, two-valve Desmo v-twin, the F1 was styled after the TT1 and TT2 race bikes. The Pantah engine is eminently tunable to make serious power, and many of the criticisms leveled at the bike can be rectified. Early bikes were definitely down on power and quality, but gradual improvements improved the package, and the 1988 bikes are generally considered to be the best of the bunch.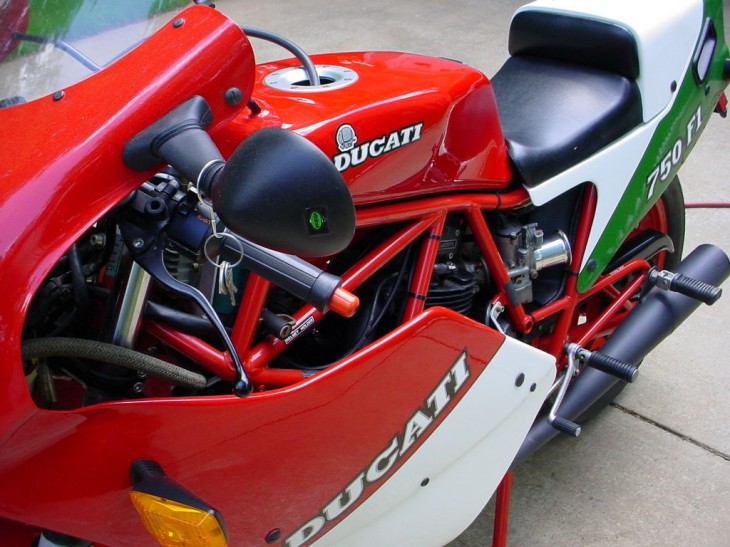 These occupy a very interesting place in Ducati history, as they form a bit of a bridge between the older BatBike-looking Pantah models and the much more modern 900SS bikes. In addition, the bike's rarity has caused values to skyrocket in recent years: for a long time, you could get one of these for less than the price of a good 900SS/CR. But looking at the asking price on this example, you can see just how much that's changed.
The original eBay post reads a bit like a poetry slam and includes lyrics from Chris deBurgh's "Lady in Red" [seriously]. Excerpted from the full listing: 1988 Ducati 750 F1 for Sale
Yes
another RARE beast
that came to AMERICA!!!
the beloved F1

3188 original miles
original dated (dot) coded tires to prove it
close to MINT
ALL ORIGINAL PAINT

STUNNING ITALIAN CRAFTSMANSHIP
11 SECONDS IN THE 1/4 MILE
OBNOXIOUSLY LOUD!!!
HIGH MAINTENANCE of course

fluids have been drained for
about SIX years. seafoam creeper
used in tank and pumpers. this was also the
last time it was running. what's it sound like.....
exactly like a 427 corvette
NO KIDDING-ask the neighbors

missing bits and pieces, but very, very original.
ALL ORIGINAL PAINT
wrong exhaust (but i love em)
EXTRAS INCLUDED
It's great that the seller is so passionate about the bike. But what "bits and pieces are missing"? And what extras are included? He also may be overstating the "stunning Italian craftsmanship" a bit in ALL CAPS and, as a carbed, air-cooled Duck owner, I'm not sure if calling the bike "high-maintenance" is a good selling point, or even true. Definitely a case where grinning, hard-sell enthusiasm may be getting in the way of important details…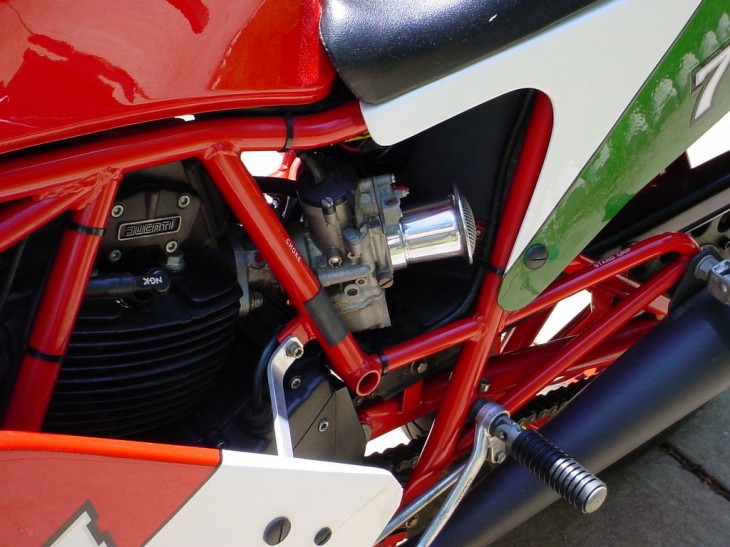 There's something a bit crude about the F1, something sort of clunky-looking, but these do make a staggering bellow when breathing through open pipes: I saw one at a track day recently with a pair of oval high-mount pipes and fresh paint that looked and sounded the business.
With 5 days left on the listing and a $24,500 asking price, this seems very high, even considering the 3,200 miles on the clock. Although with plenty of lurkers… sorry, I mean "watchers," who knows what this will go for and what the seller might accept as a best offer.
-tad