Update: This bike was sold within two days of listing on RSBFS exclusively using our Featured Listing service. Congratulations to buyer and seller! -dc
Homologation specials sometimes might seem like pretty poor deals from a "performance-for-the-dollar" perspective: they're intended to make sure manufacturers can use certain parts or even whole machines for production-based racing, so the road bike is going to be priced like the very low-volume exotic it is, but may be somewhat restricted for street use and lack some of the elements that will make the racing machine competitive on track. So you get exotic technology and exotic price in a package that isn't necessarily any faster than lesser machines.
But for folks who want something truly special, a bike with such direct links to racing is worth any price, and Honda's RC bikes are very, very special indeed.
Honda's RVF750R RC45 was their follow up to the iconic RC30, a bike that won the World Super Bike Championship in both 1988 and 1989.
The RC45 was powered by 749cc, 90° V4 with gear-driven cams and while displacement was almost the same as the earlier RC30, the cam gears were moved to the side of the engine to improve packaging and the bore/stroke were changed significantly, making the engine more oversquare to reduce piston speed and increase revs.
A sophisticated fuel injection system fed the almost impossibly smooth engine, a slipper clutch helped with downshifts, and a single-sided swingarm made tire changes fast and easy during endurance racing.
The RC45 is perhaps the ideal package: it's one of the best-looking sportbikes of all time, with a nearly perfect balance of purposeful, understated aggression and a wealth of exotic details to capture the eye of cognoscenti, all wrapped up with Honda reliability and attention to detail.
But with only 105hp at the rear wheel, the RC45 was just a bit faster than a 600 of the time, making the nearly $27,000 this cost new a very tough sell. Or it would have been a tough sell, if they had attempted to sell very many…
With only 200 made worldwide and approximately 50 sent to the US, these are extremely rare, with as few as 20 circulating among US collectors. And the seller offers a choice to the buyer: keep this in its current, museum-ready condition, or have him prep it for road-use.
From the seller: 1994 Honda RC45 for Sale
US-spec 1994 Honda RC45 for sale.  Number 47 of only 50 produced for the US market in 1994, of which 20+ were delivered to private race teams… very, very rare bike with valid title. The bike was manufactured February 1994 and originally titled in California.  It currently has a valid Florida title. The motorcycle is located in central Florida.

This RC45 is in exceptional condition with only 6,001 miles. The bike has been in a museum since 2008 and was professionally prepped for display. Please look at the pictures to see that there are almost no nicks anywhere on the bike. It is 100% OEM.  The buyer has a choice; available in its current pristine museum form, or I will prepare it for the road. I guarantee there are no flaws with this bike. I have sold off most of my 21 bike Honda collection over the past 3 years and have received zero complaints. I only have this RC45 and a pristine RC30 left from the collection.
Out of the box, the RC45 was not as immediately successful as its predecessor: it won races, but it took a while to fine-tune the bike's handling and get it right, and Honda scored only a single WSB title with the bike. While the RC45's history wasn't quite as illustrious as the RC30, it was a hugely versatile machine that won regularly at the Isle of Man TT and in endurance racing in the years following its WSB career.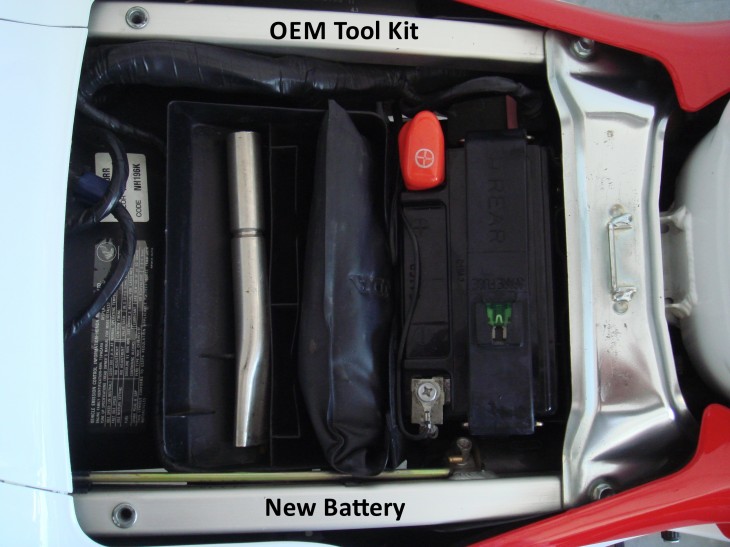 Then and now, these are expensive machines. Expensive, but very polished, with smooth power and stable, but nimble handling. And whatever the price of the road bike, Honda fans can't put a price on being able to get this close to what is literally a race-bike for the road. With an asking price of $28,000 and a seller who clearly loves the marque, this looks like a great opportunity for the right buyer!
-tad